UPCOMING INDUSTRY EVENTS
The Mondato team actively attends industry events around the globe, from large-scale conferences to more intimate panel discussions. Whether as sponsors, speakers or attendees, we participate in these events in order to stay up to date with industry trends and to build our extensive network of industry leaders and visionaries.
EVENT CALENDAR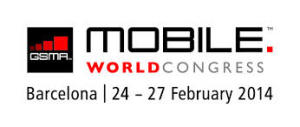 Mobile World Congress is one of the world's largest exhibition, conference and networking events in the mobile industry.  Over the course of four days, the event, taking place at the Fira Gran Via in Barcelona, will host tens of thousands of mobile industry experts and professionals.
If you are interested in scheduling a meeting with a Mondato consultant or representative, please send a request to info@mondato.com or search for Mondato LLC on your MWC networking application.
GSMA's Global Mobile Awards 2014 at Mobile World Congress
February 25th, 2014 in Barcelona, Spain
Established over 19 years of astonishing mobile industry growth, the GSMA's awards continue to evolve reflecting the most relevant, topical and significant areas of mobile evolution. From devices to applications, technology and services, these awards are first and foremost about showcasing the continued growth in value and benefits that mobility brings to users, to industries, to businesses, communities and economies.
Judah Levine, Mondato CEO, was selected as one of a group of experts invited to judge the the "Best NFC / Mobile Money Product or Service" category at the GSMA's Global Mobile Awards in 2014.
Please contact us at info@mondato.com if you would like to schedule a meeting with a Mondato representative at an upcoming event.