Mondato Summit Africa 2022: Key Themes and Takeaways
~9 min read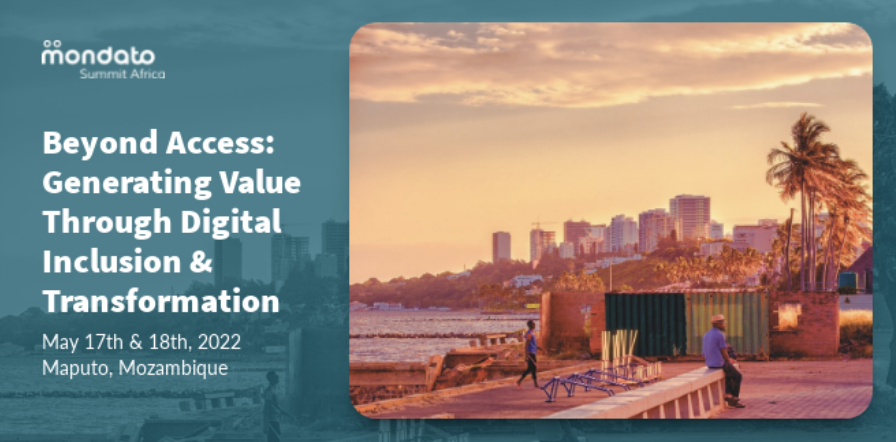 After a two-year hiatus, Mondato welcomed executives, entrepreneurs, experts and public sector leaders in Maputo, Mozambique this week for the seventh Mondato Summit Africa. This year's theme, "Beyond Access: Generating Value through Digital Inclusion & Transformation in a Pandemic-Altered Africa," proved a particularly pertinent topic given the global discussions of equity and inclusion that have guided our transition to a "new normal." In partnership with Financial Sector Deepening Mozambique and INCM, Mondato selected Mozambique as the host market for this year's event in consideration of the rapidly growing opportunities for digital services targeting the country's low financial inclusion, which follows the evolution of Mozambican policy and regulation seeking to promote fintech innovation and development. The two-day conference created the space to discuss these trends and opportunities in the context of Africa's COVID-19 recovery.


Same Vision, Different Approaches
With remarks by leaders from FSDMoç, INCM and Banco de Moçambique, the Summit began by situating the future of the African economy in the context of the events which put this Summit on hold for the past two years – the COVID-19 pandemic. Mondato CEO Judah Levine presented the Summit's first keynote on how the adoption curve for financial inclusion in Africa has advanced as a result of COVID-19. Following the pressure to digitize during lockdowns and stay-at-home-mandates, the global economy began to bounce back in late 2020, yet we observed a divergence across economies as to how they responded. That divergence was more pronounced within certain populations and sectors, as the digital finance and e-commerce space enjoyed accelerated growth compared to others.
This contextualization set the stage for a keynote panel discussing various approaches to digital finance, guided by the same vision of financial inclusion, achieved in different ways. Mr. Levine was joined on the stage by representatives from BCI, Vodafone M-Pesa and Pan-African Payment and Settlement System (PAPSS) for a lively discussion moderated by ADM's Chairman & Chief Executive Officer, Americo Muchanga. While each panelist's company pursues their own niche opportunity within the fintech space, the panel discussion centered on how they can collaborate in a mutually beneficial way to advance financial inclusion across the continent. Alluding to themes that would recur over the next two days, the primary collaboration opportunities discussed were advancing financial literacy and leveraging infrastructure and logistical data to optimize distribution networks.
The next series of presentations focused on specific real-world applications of fintech across sectors — and how they can be mutually beneficial for companies and the populations that benefit. MFS Africa's Nika Naghavi spoke on the evolution of the African digital payment ecosystem, which emerged initially to facilitate remittance transfers but quickly evolved to meet the need for individuals to switch their payments from digital to cash and back again. Though the digital ecosystem has grown, cash remains many people's primary form of monetary use, said Naghavi, citing the GSMA's reports that while the mobile coverage gap has narrowed since 2014, there remain major gaps in usage due to a lack of affordability, local content/services, and digital literacy. She was followed by Sérgio Dista, Private Sector Development Advisor for the UK's Foreign, Commonwealth, and Development Office, who presented innovative approaches to financing complex agricultural value chains through public-private partnerships through involvement at the local level.
This led to a panel discussion, moderated by Mondato's Arielle Jaffe, on strategies to connect and ensure access for rural populations. Speaking with representatives from Fundacíon Capital, FSD Zambia, INCM, and Mastercard Foundation's Fund for Rural Prosperity, Ms. Jaffe posed the question, "Which comes first: digital transformation or digital inclusion?" Discussing how COVID helped bridge the divide between "the urban and rural, the connected and unconnected," as FSD Zambia's Charity Chikumbi put it, panelists considered how to make a case for commercialization and the ROI of rural areas, which are crucial to bridging the gap. Connecting people to digital services is one thing, while enabling their autonomy to use and embrace them in their everyday lives is another. Ashini Patel from the Mastercard Foundation's Fund for Rural Prosperity stressed the need for patience, capacity-building, and trust on both sides to enable fintech adoption and effective digital inclusion in local, rural communities.


Fostering Financial Inclusion
The Summit transitioned to a discussion of post-pandemic digital transformation and digitization opportunities that can further inclusion and equity across the continent. The United Nations' Bernardo Mariano Junior spoke on the opportunities and challenges of digital transformation in Africa, as well as the power of the United Nations to convene the public and private sectors for these initiatives. He warned that we must not create systems of digital technology that only work in developing countries, as that siloed, two-tier system will not be sustainable in the long run. Instead, he shared his dream "that M-Pesa will one day be able to interoperate with the likes of Visa and Mastercard, so when an African woman gets the chance to travel to America, she can access her M-Pesa money while there." Esselina Macome, CEO of FSDMoç, followed this discussion by speaking on the use of digitization techniques to drive financial inclusion within the Mozambican market and how open data can help to overcome the persistent challenges in pursuing digital transformation there.
Continuing with the theme of digital transformation, the World Bank's Julián Casal provided opening remarks for a panel on sector-based adoption and usage of digitization techniques. Panelists from WIN, Visa, and INCM discussed strategies for employing effective digital tools within other, non-financial sectors, including informal markets, health, and education.
Discussions on digital technology tools carried over the mid-afternoon coffee break into the last events of Day 1, where they were applied specifically to fintech. CGAP's Ariadne Plaitakis presented survey results from the study she co-authored, "Open Banking: How to Design for Financial Inclusion and Consumer Risk in Digital Finance." As open banking regimes take open data and transform it into insights on saving and spending behaviors, they are able to better inform financial inclusion efforts for under-banked populations by meeting people where they are and creating solutions that work for their real-life spending habits and financial needs, according to Plaitakis.
As digital financial services continue to play a transformational role in financial inclusion, CGAP's recent global research on the evolution of DFS consumer risks shows that not only new risks are arising with technology innovation, such as app-related frauds, but the scale of risks has grown over the past few years in particular in the area of frauds and data misuse. This concerning evolution calls for a more responsible DFS ecosystem, with increased market monitoring from supervisory authorities and more responsible practices from digital finance providers.
These conclusions informed the closing panel discussion of Day 1, moderated by Mr. Levine, on how regulation can be used to balance innovation and stability during the digital transformation. The expert panel of bank representatives and mobile money specialists stressed that evolving regulation is necessary to facilitate financial inclusion, which is not just an abstract goal but an entire ecosystem that must be tenderly balanced. The question of responsibility figured prominently in the panel, considering how fintech straddles the regulatory authorities of both telecommunications ministries and central banks – requiring careful thought and consideration by both entities for effective management.
As the moon rose over the Indian Ocean, INCM graciously hosted Summit attendees at South Beach Maputo for a networking reception after Day 1.


Bridging The Gender Gap
On Day 2 of the Summit, delegates transitioned from presentations on the digital transformation opportunities in Africa to discussions on actual innovations and entrepreneurship within this space. While continuing to visit themes of inclusion and equity from Day 1, Wednesday's agenda turned its eye towards the future of these efforts across the fintech sector.
The first event of the day, hosted by New Faces New Voices, was a women's breakfast containing a popcorn-style discussion of early-stage innovative approaches to grow the role of women in finance across Africa. With possibilities ranging from local-language radio dramatizations aimed at teaching rural women financial literacy to mentorship programs that foster confidence in young professional women in banking, innovations must aim to reach women and girls wherever they are, the discussion detailed. WIth inclusion a backdrop throughout the discussion, participants described how it is not enough to just appoint women at the top echelons of financial institutions — financial institutions must also ensure that poor, rural women have access to their own checking account.
The breakfast was followed by the first panel of the day, moderated by Gerald Munyaradzi Nyakwawa from the Alliance of Digital Finance Associations, in which participants discussed collaboration strategies spanning from sector entry to consolidation. The second panel of the day picked up on some of the key themes from the morning's women's breakfast to discuss bridging the gender gap in fintech as well as digitizing informal markets where women tend to have a larger presence. UN Women's Lesira Gerdes provided opening remarks in Portuguese and was joined by an all-women panel to continue the discussion from the morning's breakfast.


Innovations And Opportunities
For the morning's coffee and tea break, attendees were treated to an "Innovation Arcade", which displayed fintech innovations from Mozambique and across Africa. Companies including Eclectics International, iMali, MóvelCare, Multipay, Mukuru, Xiphefu and others demonstrated their innovations and answered questions about their products. This exhibition pivoted the Summit towards considering the innovations and businesses that will be the future of digital finance.
The Mondato Award Finalists, representing six of the most promising and exciting new innovative business solutions within fintech, were invited to present their digital finance innovation pitches and answer the judges' questions. This year's finalists included Paycode, Waynbo by Papersoft, Inclusivity Solution, PesaKit, Citibeats and MóvelCare. These presenters' innovations spanned from using biometric data for digital identification, creating open banking opportunities and providing digital insurance policies.
Post-lunch festivities began with a presentation from Mondato CEO Judah Levine on how geographic information systems (GIS), data analytics and machine learning can be leveraged for distribution optimization. Knowing what infrastructure already exists in a market is crucial to advancing connectivity within it, remarked Levine, and with good data, entities can identify the best use of investment funds and spot opportunities to pursue fintech. Introducing Mondato's sister company, HIP Consult, Mr. Levine displayed the analytical possibilities housed within its platform of telecommunications data, InfraNav, and how it can be leveraged for financial inclusion efforts as well.
This was followed by a presentation by Paul Mbugua, Group Managing Director at Eclectics International, on innovative offerings for banked and unbanked populations. Considering rural and urban inclusion, he spoke to the ubiquity of digital finance in a post-pandemic world.
"Banking is no longer somewhere you go, but something you do."
Paul Mbugua, Group Managing Director, Eclectics International
The lack of need for a brick-and-mortar facility naturally comes with its own set of problems, described Mbugua — but it also creates opportunities that must be faced head-on as fintech advances.
The last panel of the Summit discussed the opportunities for fintech entrepreneurship and investment in Africa. Speaking to the unique challenges for entrepreneurship in African markets, the panel discussed how it is crucial to get local entities who are willing to coordinate investments. Likened to a marriage throughout the Summit, business partnerships must be founded on alignment to a common goal – the betterment and inclusion of their community in the future promised by financial technology. The success of foreign investment in entrepreneurial markets like Nigeria and Kenya led to a question on how to create new hubs of business and investment across Africa. Given the increasing involvement of younger populations and women in new financial technology niches, the panel expressed their hope that Maputo, alongside other African cities, will become a new hub for entrepreneurial pursuit of fintech innovations.


Looking into the Crystal Ball
The final segment of the Summit, aptly entitled "A Look into the Crystal Ball," aimed to do just that. A role-play activity sought to translate skills into solutions that could be the future of digital finance in Africa. Our participants took on the unique roles of major players in this transition; Kennedy Kipkemboi of GSMA spoke to the future role of the regulator, Mondato's Mr. Levine on the telco's role, John Ngari of MFS Africa spoke on fintech's future, and Israel Molete of Inclusivity Solutions on digital finance's future impact on insurance. Adopting personas that differed from their day jobs allowed participants to see the future opportunities and challenges from another angle, better understanding how all pieces must work together to advance the digital transformation across Africa.
Following this solution-building activity, the judges presented Mondato's Digital Finance Innovation Award for 2022. The decision was a tough one, as each solution was a promising option for distinct, real-life problems that must be solved in order to advance financial inclusion across Africa. Between the top two finalists, Paycode and PesaKit, the judges ultimately awarded Paycode with the 2022 Digital Finance Innovation Award.
Paycode's unique biometric identification scheme targets the largest barrier that rural, unbanked communities face in the digital economy – the lack of an official identification card with which to open a bank account. Their solution consists of utilizing an individual's biometric data to create a digital ID card, which can serve both as official identification and an access card for monetary transactions. Requiring a fingerprint to deposit or withdraw money from any bank, Paycode is a technology provider for identification – working in collaboration with the existing financial system, rather than as a standalone product. While Paycode's data and privacy protection rules will require continued thought and consideration, Paycode was awarded this year's award for their unique approach to a difficult problem precluding financial inclusion in rural areas.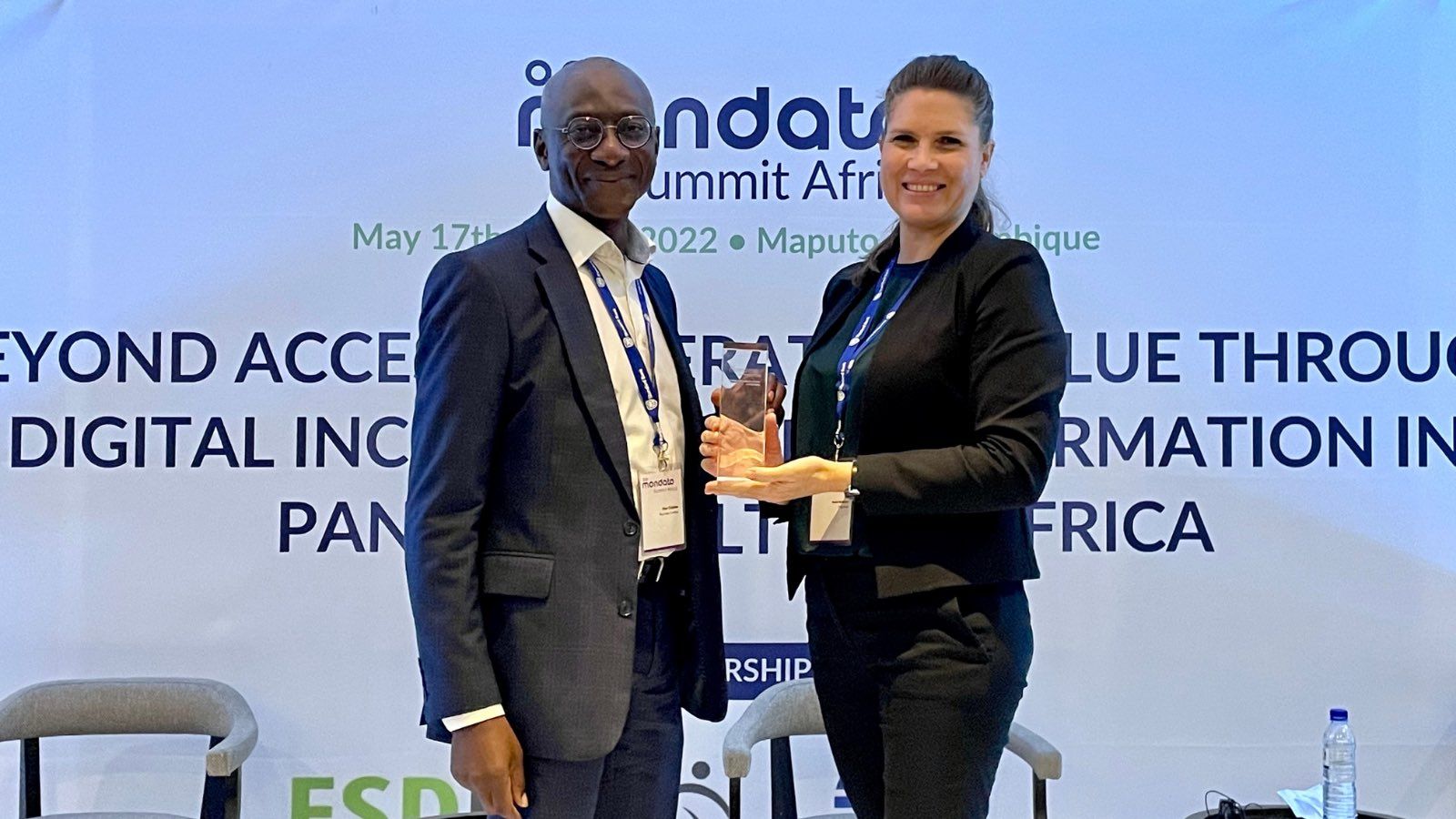 To close out Mondato's Annual Summit, Carla Fernandes Louveira, Vice Minister of the Economy and Finance for the Government of Mozambique, remarked on the future of digitization in the fintech sphere in Mozambique, as well as across Africa, concluding with words of hope in one of Africa's burgeoning fintech hubs.
Mondato would like to warmly thank its partners, Financial Sector Deepening Mozambique and INCM, as well as the conference participants and speakers who contributed greatly to the success of our seventh Mondato Africa Summit. We hope to see everyone again in 2023.
© Mondato 2022
Image courtesy of Mondato
Click
here
to subscribe and receive a weekly Mondato Insight directly to your inbox.