Mondato Summit Latin America: The Emergence of a DFC Ecosystem
~6 min read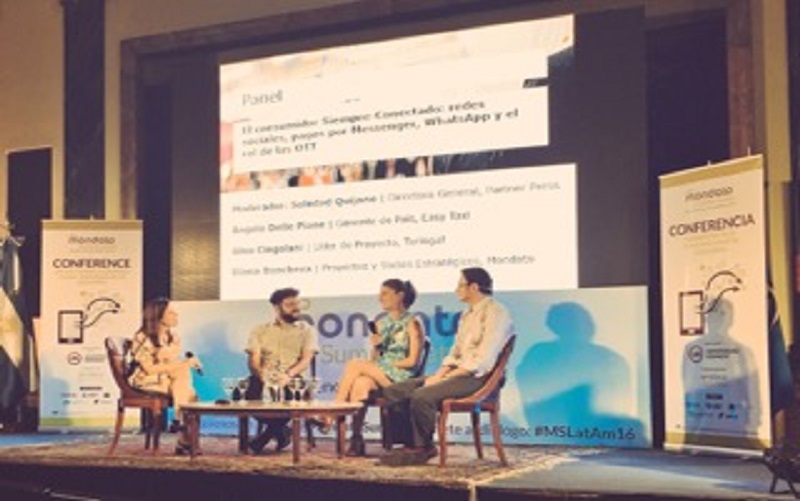 Last week, Mondato hosted the first annual Mondato Summit Latin America, a regional digital finance & commerce (DFC) executive conference, held at the Buenos Aires Stock Exchange in the heart of the beautiful Argentinian capital. Made possible by a local partnership with the prominent Kennedy University and the support of Amdocs' Mobile Financial Services Group, Mondato Summit Latin America, which brought together 100 regional stakeholders from across various sectors, focused on the current opportunities and use cases that would serve to promote the emergence of a DFC ecosystem on the continent. With a highly urbanized population and diverse array of markets for digital finance, potential use cases for DFC present a complex, yet highly potent opportunity across the region.


A DFC Genesis
Opening up the show, Agustin David, Chairman of the Board of Trustees of Kennedy University, introduced the importance of bringing such a forum to Buenos Aires, considering the growing demand for innovation, imminent convergence of sectors and increasing need for strategic alliances.
Chief Executive Officer of Mondato, Judah Levine, then delivered an overview of the state of DFC and financial inclusion in Latin America. Airtime and peer-to-peer (P2P) lending are still the main forms of mobile money, and so he touched upon the viable use cases that can push customers up the adoption curve to more valuable services – from both supply-side and demand-side perspectives. With several markets in Latin America having hit the over 1 million registered users mark, the region may be more fertile ground than even Africa and Asia. That said, it will be vital to build specific metrics for success and a clear pathway for further innovation and growth.
Building off of Mr. Levine's comments on innovation in the financial services sector, Carlos Pallotti, the Sub-secretary for Technical and Productive Services at the Argentinian Ministry of Production, delivered the second keynote, highlighting Argentina's promotion of innovation in DFC. The knowledge economy is currently the second largest industry in the country, and the government hopes to expand international trade in regards to e- and m-commerce as well as further encourage investment in digital finance entrepreneurship.
A key debate of the opening sessions was how to foster innovation through cross-industry partnerships and how to encourage the digitization of various sectors – from traditional financial services to education and retail, which still remains a debate among traditional players.


Creating Value through Financial Inclusion
Sharath Dorbala, Head of Mobile Financial Services Group at Amdocs, talked about the diversity of mobile money markets and how a one- size- fits- all approach does not work across regions. Even within a single market, a universal model will rarely work, since consumers with differing socio-economic and geographic markers within a country require varied value propositions for several use cases and thus customer preference must be seriously taken into account when deploying a mobile money service.
Another essential consideration in deployment is ensuring that the infrastructure for a given service exists even prior to pushing customer adoption. "There is no point in having a card if there is nowhere to use it," explained Leonardo Coca, the General Manager of Nacion Servicios. "Building ecosystems of convergence have different pathways and a minimum scale economy is needed in order for an ecosystem to grow." He suggested that either a private or public sector organization must drive the supply-side of the ecosystem quickly, in order to attract demand. In order to encourage a digital ecosystem – and to welcome much of the unserved, or underserved, which is most often in the case of Latin America, public policies must incentivize the financial services and telecom sectors to become interoperable before expecting mass adoption.
A more inclusive digital payment ecosystem will make the financial system more efficient and transparent, according to Gaston Medico, the Director for Business Development in the Americas at the money transfer powerhouse TransferTo. The Mexican government has saved billions of USD per year by digitizing their payment system. This is just one example – beyond governments, other sectors can optimize their spending by digitizing payments.
Just before lunch, Jonathan Kaftzan, Head of Marketing for the Mobile Financial Services Group at Amdocs shared use cases of digital payment technologies from Latin America and across the world. He broke down the metrics for success for MFS deployments across the world to try to ascertain commonalities. To name a few, he emphasized the importance of interoperability, citing that interoperable operators have found much more success in adoption and usage of MFS. Investment in credit and loans for the SME retail sector, which Mr. Kaftzan coined as the "Productive Poor" in emerging markets, can improve the lives of millions while generating revenue for both financial services providers and telcos alike.
Although Latin America is less known for its financial inclusion initiatives, Pablo García Arabéhéty offered an optimistic overview of the state of financial inclusion in the region and how players are disrupting their industries to promote greater inclusion for last mile populations.
This was followed by Javier Buitrago, the Head of Mobile Money at Nacion Servicios who noted that the Central Bank of Argentina's willingness to work towards more open innovation in commerce and financial inclusion initiatives was extremely encouraging for the DFC ecosystem in Latin America. Companies at the conference seemed to be aware that the copy-and-paste approach was not the best model, and felt that as regulation evolves and funding becomes more available, the region was heading in the right direction.


The Rise of Fintech in Latin America
The second day of the conference opened up with Cesar Rebollar, the regional Director for Mobile Products at Visa, who spoke about how to drive mobile payment adoption – and the factors necessary to create an optimal environment to do so. Acceptance, registration and infrastructure are what he defined as the requirements for adoption. There is a growing penetration of smartphones in the region, and the "X-Pays" are beginning to arrive, though most are not yet widely available in the region. Visa took the opportunity of the Olympic Games in Rio this year to partner with Samsung Pay in order to launch a mobile wallet equipped with payment and promotion functionalities as well as information on the Games.
From Asia to Europe and back again, blockchain remains a hot topic and Latin America is no exception. The Founder & Executive Director of Bitcoin Argentina, Rodolfo Andraganes offered a holistic prediction of the future disruption of blockchain technology and other cryptocurrencies in the region. Blockchain will surely be applied to many new and inventive use cases as it becomes more mainstream, and according to Mr. Andraganes, the technology will transform the way we trust in the digital world. And since trust is one of the key constructions of value, it will offer increased value for digital propositions.
A fundamental theme of the conference was how to bridge the gap between legacy institutions and the more nimble digital finance and commerce players in order to evolve business models to promote digitization. Governments in Latin America, and Argentina specifically, seem keen for fintech players to solve the issues that traditional players may not be able to, but as of late, bank and fintech partnerships have not been particularly common in the region.


Disruptive Convergence Across Sectors
In promoting convergence across sectors, security and regulatory considerations remain key issues. Santiago Cavanna, a cyber security expert, shared insight on how organizations can work to find a balance between a slick user experience and strong security measures.
Twitter's product and brand guru Renata Altemari then gave a captivating overview of how some institutions are leveraging the social media platform to better engage the next generation of tech savvy customers. She gave the example of Coca Cola and McDonald's partnership with Twitter to generate "socially-enabled commerce" by allowing customers to send a free Cokes to friends via Twitter, redeemable at McDonald's in Brazil, Argentina, Mexico and Colombia. Both companies saw an increase in both sales and loyalty.
Building off of the topic of social media, the last panel discussion of the conference considered the psyche of always-connected users. Angelo Delle Piane, Argentina's Country Manager for Easy Taxi, a mobile-enabled taxi hailing application and Gino Cingolani, Product Manager of Taringa!, a Spanish content distribution social network for Latin America, spoke about their experiences leveraging social media and messenger apps to register and engage users.
Right before the final remarks, the 2016 Mondato Awards winners for Digital Finance & Commerce (DFC) Latin America were announced. BIMA, a micro-insurance platform, was selected for the Digital Finance Plus (DF+) Social Impact Award, and Juvo, an alternative credit company, received the DFC Innovation Award.
The event concluded with a champagne toast for the awards winners and event participants, and an overview of what had been covered over the past two days. The potential benefit of digital payments for both consumers and corporates is clear, and now the question will be how to move forward in such a diverse set of markets. The excitement surrounding innovation in Latin America in DFC is certainly palpable, and there is sure to be further interesting deployments in store for 2017.
For access to the video footage of Mondato Summit Latin America 2016, please contact a Mondato representative at contact@mondato.com.
Click here to subscribe and receive a weekly Mondato Insight direct to your inbox.