Back to the Drawing Board?
~6 min read

A little over 12 months ago, Mondato commissioned a poll to test consumer attitudes towards Apple Pay just after its unveiling. The poll was conducted in the middle of a major publicity blitz and wave of hype that surrounded Apple Pay, and explained that the iPhone 6 would allow consumers to use their phone to make payments in a store. It asked respondents whether they thought they would use the iPhone 6 to make payments, and the results were positive, though not overwhelming.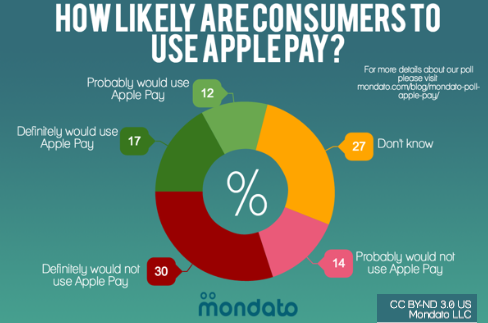 2014 poll main findings
A few weeks ago we commissioned another poll, that asked the same question again, along with a few others about Samsung Pay and other mobile payment and P2P transfer services. The results make interesting reading, and illustrate a number of points that Mondato Insight has been making with regard to mobile payment plays from device manufacturers and OS developers.
A Big Yawn?
The standout result is the significant decline in enthusiasm among consumers generally, when asked whether they thought they would use an iPhone 6 to make payments, if they owned one. Interestingly, the proportion of respondents who said they definitely would not use Apple Pay remained essentially static, while there was a very small increase in the number who responded that they probably would not use Apple Pay. If we take this latter group at their word, these two groups together represent a fairly consistent 45% of consumers who are outside the addressable market for m-payments.
As can be seen from the above graph, the numbers who said they would definitely or probably use Apple Pay declined significantly, while the number who said they didn't know showed a large increase. This would indicate that Apple Pay's value proposition for consumers is increasingly unclear to them. Notably, when a separate sample was asked the equivalent question about Samsung Pay ("The Samsung Galaxy S6 allows you to pay with your phone [Samsung Pay]. If you owned a Samsung Galaxy S6 would you use it to pay for things in a store?"), almost exactly the same proportion replied that they were unsure, which would suggest that Samsung's deployment in the United States also has significant ground to make up in terms of consumer adoption and usage (more on that later). The "balance of likelihood" (all likely minus all unlikely) has shifted form -15 to -30 in one year. That is a significant decline.
Kids to the Rescue?
As Mondato Insight noted a few weeks ago, forgetting or not knowing whether Apple Pay was accepted were by far and away the two most cited reasons for not using Apple Pay when it was a viable payment option. This is consistent with the findings of our poll: Apple Pay has yet to become habit forming. It is not sufficiently imprinted in many consumers' minds to use it, while many who do remember but are unsure whether it is accepted do not care enough to inquire. In this environment, and with the relative lack of visibility of Apple Pay (and Samsung Pay) transactions going on around them, it is little wonder that consumers are unsure of their value and whether they would use m-payments themselves.
Accenture has also concluded through its large poll of consumers that mobile payment usage has stagnated, in line with Mondato's and InfoScout/PYMNTS' findings. (Some of their other findings raise more questions than they answer: one in three mobile payment users uses their phone to pay in a convenience store while a similar number claim to use it in full service restaurants. Neither of these statistics are exactly in line with what we know about iPhone 6 sales (Samsung Pay is too new to be significant), or the usage of in-app payments in Open Table and similar smartphone apps.) Nevertheless, the proportion of Accenture respondents who claimed to regularly use mobile payments (18%) was very much in line with the number of Mondato poll respondents who though they definitely or probably would use Apple Pay or Samsung Pay (17% and 20% respectively).
Furthermore, we surveyed another group of respondents, to ask which of a series of mobile payment or money transfer methods they had heard of. PayPal was the runaway winner, with Apple Pay a distant second, and Bitcoin taking third place. Venmo, allegedly the darling of P2P-ing Millennials was familiar to a measly 7% of respondents, including a mere 19% of 18-24 year olds, and 12% of 25-34s.) Indeed, the appetite for mobile payments, while higher among younger and more urban demographic groups, is still not surging among the young: Accenture found that fewer than one in four Millennials regularly making mobile payments. Does this mean it is time to go back to the drawing board?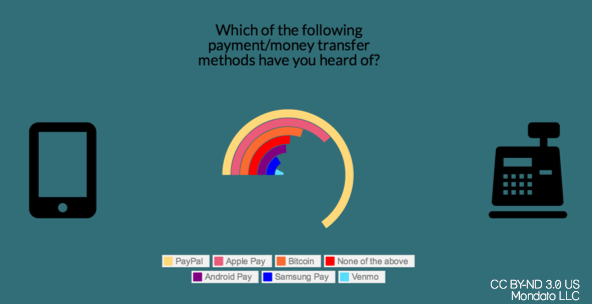 Consumer awareness of payment methods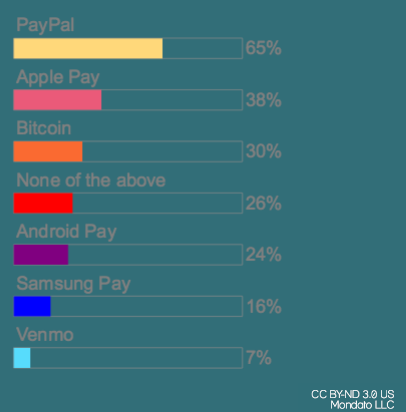 Apple Pincered?
It is probably much too early to reconsider the fundamentals, though there are emerging indications that Apple Pay is not going to be the best indicator of potential usage or uptake. As Mondato Insight has been observing for some time, Apple Pay has two major weaknesses:
Apple Pay is not very consumer friendly.
Due to the relatively small number of merchant locations in which it is accepted, Apple Pay is not habit forming (hence, "I forgot".) This is an area in which Samsung Pay, with its MST technology, has a significant advantage, and may be able to turn Galaxy S6 owners into regular m-payment users.
Apple Pay is not very merchant friendly.
Tangentially connected to point one, is the fact that even in the locations where Apple Pay is accepted, merchants have no real incentive to publicize it or make efforts to increase consumer awareness. In this regard, Chase Pay, from the U.S. card-issuing giant, who is also the largest wholly-owned merchant acquirer in the United States. This could significantly change the equation by making Chase Pay more merchant friendly, may change things significantly. Chase Pay will reportedly be offering merchants a reduced fee, unlike Apple Pay, who is the beneficiary of Apple Pay usage, to the detriment of banks and of no consequence to merchants. Chase Pay is also tying up with MCX, which appears to have survived a major wobble among some big box merchants last year, and now looks potentially poised to outflank Apple Pay with merchants.
Apple Pay appears to be caught of something of a pincer movement, with Samsung taking the consumer flank, and Chase/MCX attacking on the merchant side. This is likely to have one of two effects: the rising tide of consumer and merchant interest in mobile payments could lift all boats, and benefit Apple Pay indirectly. Or, as has happened elsewhere, two many players in the ecosystem with closed systems cause too much fragmentation. This seems unlikely at the moment, but it remains a possibility.
We appear to be well past the peak of inflated expectations in the hype cycle, and are hurtling towards the bottom of the trough of disillusionment. It may be some time yet before all the players have made their pitch and we reach the plateau of stability. Although Apple is undoubtedly responsible for kicking off a wave of interest in mobile payments, when we get there, the Cupertino giant looks increasingly unlikely to be the leader of the pack.
---
Fieldwork was carried out for Mondato by Google Consumer Surveys on October 14-16 2015. The sample size for each question was 450 before weighting by age, gender and location to match the internet population of the United States.
---