What's the Next Big Thing in Fintech - Finovate Fall 2015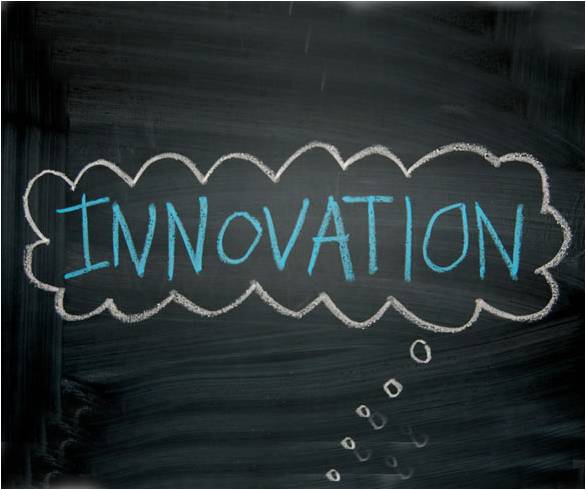 Finovate Fall took place last week in New York City, showcasing some of the most cutting edge advances in financial technology (fintech), presented in a demo-only format to several thousand attendees. Spanning the full range of financial service offerings, from mobile wallets to platforms for securitizing P2P loans, the Finovate series of events often present good markers that indicate the direction in which the fintech sector is headed. Some well-known fintech names including Dwolla, Dashlane, Moven and Loop Pay have previously walked away with one of the coveted 'Best Of Show' accolades, leading observers to be on the lookout for any of the presenting companies that might just be the next big thing.
Trends
While it is difficult to pick out any unifying theme from this year's event, a few trends were certainly on display, not least of which was the continued and seemingly inexorable drift of fintech towards mobile. Some of the demos showcased products or services that are strictly mobile phone based, while others were designed to utilize the computing power contained in the average smartphone (which is more powerful than all the computing power available to NASA in 1969 when they put two men on the moon). The proliferation of apps that has accompanied this step change in the function of the mobile phone formed the basis of a number of demos as well as how to pull together in one place an array of apps and functions (see last week's Mondato Insight for a discussion of the role of APIs in this).
The other trend that grabbed the attention of those working in the mobile finance and commerce (MFC) space was the attempts to bridge the gap between the digital and physical worlds, such as new iterations of the cardless ATM. Some of the ideas presented were not exactly new, e.g. cardless ATM functionality, but their renaissance suggests that perhaps the MFC and fintech worlds are reconciling themselves to the fact that an all-digital future isn't even currently on the map, let alone on the horizon. For all the buzz it created at Finovate Fall 2014, Apple Pay's sluggish progress has perhaps been a salutary reminder that old habits die hard. Perhaps Samsung Pay, powered by Finovate Spring 2014 Best of Show winner Loop Pay, will have greater success, but you wouldn't bet on it. Below are a few of the demos and products that caught Mondato Insight's eye last week.
Names to Watch
In the age of WhatsApp, Viber, Facebook Messenger, iMessage, Kik etc., the humble SMS might seem a throwback to the distant era of the opening years of the 21st century. One of the 8 (out of 70) winners of the Best of Show, Dyme, has demonstrated that text messages remain a potentially powerful tool for engagement – in Dyme's case with oneself.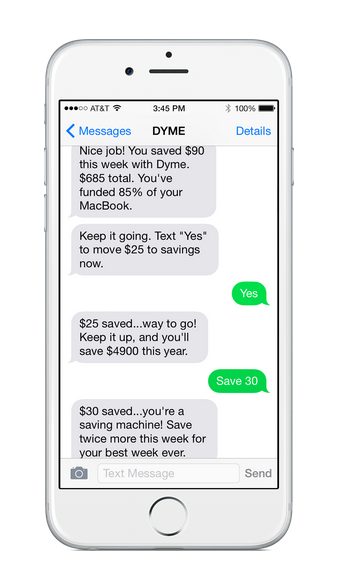 A text-message based tool that both facilitates and encourages saving for specific goals, Dyme brings with it a touch of irreverence and humor that is likely to appeal to Millennials. Users are given the choice of a number of different voices in which they will receive the SMSs encouraging them to respond and authorize a transfer from their checking to their savings account. Users can choose from '80s Aerobic Instructor', 'Sad High School Teacher' and 'Terrible Parent'. As a product Dyme offers an attractive simplicity yet an engaging UX. However, savings are not sexy, and whether it can successfully onboard customers remains to be seen.  
HelloWallet, by contrast, offers a range of tools, available via a web browser or app, to help members with their finances. Offering a helicopter view of each member's financial situation, the platform aims to give customers greater control over their finances by enabling them to access all their financial information in one place. Interestingly, the product is targeted at employers, apparently based on the belief that employees who have less financial stress in their lives are better employees. Mobile app-based functionality is integral to the platform, which also contains individualized scores that compare the user's financial health with that of people of a similar age and income level to let them know how their financial health is faring. The digitization and aggregation of all components of users' financial lives, combined with the ability to access the platform while on the move or during dead time, makes HelloWallet a potentially useful vehicle on the road to financial health for those who may not consistently enjoy it.
In a similar vein but with a different purpose, Finanteq, also invited the audience to say hello to the "super wallet". The company predicts, and is making a strong bid to ensure it becomes reality, that "mobile payment capabilities will naturally evolve to be embedded in mobile banking apps." Finanteq's SuperWallet manages to combine the three elements of banking, payments and m-commerce and houses them securely within the customer's mobile banking app on their smartphone.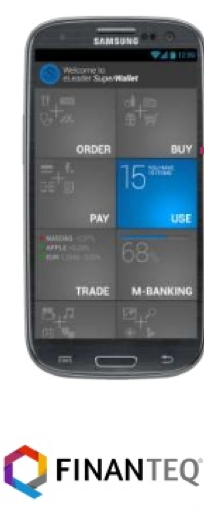 And while some might wonder whether having all this functionality within one app actually offers the customer (particularly younger or tech-savvy ones) much additional value as opposed to navigating their app collection on their phone, there is certainly a demographic for whom the consolidation of existing apps in one place could prove attractive and a catalyst for further app activity. Customers who don't currently use their smartphone to transact may be attracted to its convenience; one of Finanteq's bank customers gives testimony on the company website that transactions (undefined) "over the year" (though it is not clear which year is under discussion) grew by 250%. As was clearly (if a little cheesily) demonstrated during Finanteq's 7 minutes onstage at Finovate, checking your bank balance before ordering cinema tickets, a hotel room, some groceries and then an Uber, all from within one app with a smooth and unified UX, potentially offers value to all stakeholders, customers, banks and retailers alike. This trifecta of aligned interests could well make the consolidated SuperWallet a major trend in the years to come.
Quisk offers similar functionality to the 'SuperWallet', but like Dyme and unlike Finanteq, it is not encumbered by the need for a smartphone and access to mobile data or wifi and uses SMS to carry out transactions. The company claims that Quisk is "the next step in the evolution of mobile money", offering digital cash to any customer with a mobile phone number. The Quisk platform offers P2P, remittance and bill pay functions, as well as the ability to handle bulk payments and loyalty and rewards. Perhaps significantly, Quisk is both NFC compatible and offers the facility to make in-store payments through its integration with Verifone and Ingenico POS or via a relatively simple SMS, raising the prospect of it potentially competing simultaneously head-to-head with Apple Pay and Safaricom's Lipa Na M-PESA. For those working on expanding financial inclusion in developing markets, Quisk's POS integration creates the possibility of every Quisk-updated Ingenico and Verifon POS becoming a cash-in/cash-out location: users just need to enter their mobile number and PIN into the POS and once approved give or receive their money to/from the merchant's cashier. Where no POS exists, an SMS will perform the same function. Quisk is proud of its origins as being a bank-led rather than an MNO-led mobile money platform. 2015 was touted as the year when banks would begin the fightback against MNOs. Although there has been little evidence of that fightback to date, Quisk would appear to be a strong candidate to play a leading role in it when or if it does come.
Honorable Mentions and Non-Barking Dogs
In addition to the four companies mentioned above, honorable mentions are also deserved by Socure for their use of mobile cameras for facial recognition authentication and (in a totally non-mobile play) Dynamics – also a 'Best of Show' – for their dynamic credit cards that are essentially useless pieces of plastic unless activated by the owner's five-digit code. Both have the potential to pose significant challenges to the mobile wallet authentication and payment options that currently lead the field. And finally, Soundpays (a demo that Mondato Insight did not manage to see), but which has been described as "intriguing". Soundpay uses sound waves to communicate payment information, and has uses in-store, in public or at home watching TV (see the video below for more information on how it works).
Notable by their absence – the dog that didn't bark, much – were blockchain-/Bitcoin-based solutions; after the torrid time that the cryptocurrency has experienced over the past 12 months, perhaps those working with the technology have gone back to the drawing board to bolster their products' design. Wearables were also notably absent, perhaps as that part of the space waits to see whether Apple Watch can make the breakthrough in this area.
2015, so far, has turned out to the Year of Mobile Payments But Not Really (final judgment must await the launch of Samsung Pay), while two stalwarts of the "disruptive" fintech scene for the past few years, wearables and blockchain, appear to have shuffled into the background for the time being. The evidence from Finovate Fall suggests that 2016 may see banks trying to take their mobile offerings to the next level. Will one of them be the next big thing? Only time will tell.
---
©Mondato 2015. Mondato is a boutique management consultancy specializing in strategic, commercial and operational support for the Mobile Finance and Commerce (MFC) industry. With an unparalleled team of dedicated MFC professionals and a global network of industry contacts, Mondato has the depth of experience to provide high-impact, hands-on support for clients across the MFC ecosystem, including service providers, banks, telcos, technology firms, merchants and investors. Our weekly newsletters are the go-to source of news and analysis in the MFC industry.
Click here to subscribe and receive a weekly Mondato Insight direct to your inbox.