Don't Worry; Be 'API
~5 min read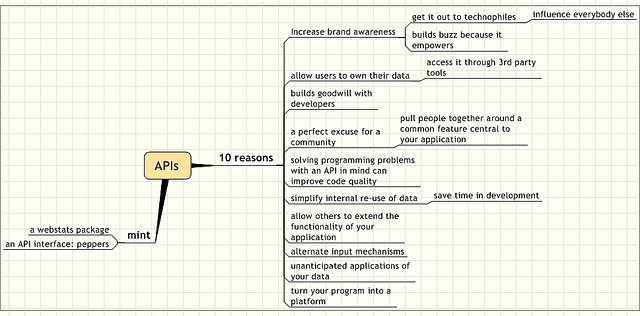 Formerly only a subject for computer geeks and digital media workers, 'application programming interfaces', or APIs, have lately become a topic of conversation and interest to a much wider audience in the world of mobile finance and commerce (MFC). In the past week alone, Safaricom has followed through on its April announcement that it would make its APIs 'open' to third parties, while Google showcased the launch of Android Pay, which is predicated on open APIs (though slightly embarrassingly for Google, as of the time of writing the link to access the APIs was dead). Nevertheless, APIs, and the degree to which they are 'open' or 'closed' are likely to remain a significant part of the framework of the future evolution of the MFC ecosystem in the years to come, as more and more applications, machines, platforms and devices need to communicate with each other.
Dumb Pipes
While the future of MNOs as "dumb pipes" has been a topic of discussion for over a decade, even dumb pipes are of limited use if they are not connected to anything. For MFC services that use, or want to use, mobile wallets as a payment or money transfer platform, APIs are the digital pipes that connect the service into the platform. Open APIs mean that the entity that controls the platform (in this case an MNO) has made public the code necessary to plumb a third party app, such as a payment service, into the system; think of it as being akin to publishing an instruction manual on how to attach a new and complicated washing machine to a house's mains water connection. Closed APIs, conversely, have no instruction manual, and the water utility won't let anybody have the necessary attachments needed to install it. You may have invented the cleverest, most water-efficient washing machine the world has ever known, but if the water utility won't give you the necessary information to plumb it in to the water and drainage pipes, you will be left with nothing more than an expensive place for the cat to sleep.
Of course, if you are a water utility that turns a small profit with every liter of water used, you may not want to see a highly efficient washing machine become widely available, out of fear that it will hurt your bottom line. Or you may fear that it could lead to contamination of the water supply. MNOs in Africa have demonstrated a deep reluctance to open fully (or at all) their APIs to developers and programmers for equivalent reasons, among others. The corollary of such an approach, however, is that if the utility or MNO does want to enter into a partnership or open access to an approved third party, it will take time to bring the external party's plumbers up to speed on how to get their washing machine fully working on the system. So for example, it currently takes around 90 days for a third party to be able to integrate their systems with Safaricom's API.
For a long time, MNOs regarded the inability of third parties to connect into a mobile money or mobile wallet platform as being the third party's technical problem, rather than the MNO's business opportunity. That appears to be changing, however slowly. CGAP reports that MTN has opened up its APIs to select third party aggregators in a number of countries, while Orange has made its APIs partially open, through its Orange Partner scheme. Tigo, although open to the concept, has made few efforts to develop it, whereas in Africa Airtel has not opened its APIs at all. Two main forces appear to be driving this shift: the proliferation of smartphones and apps, which require APIs to function, and a growing realization that APIs and their usage are an emergent and potentially profitable business concern for MNOs.
Business Concerns
For MNOs with mobile money deployments, open APIs have a number of potential benefits: by making the "instructions" widely available and familiar, more quickly integrated systems can mean cost savings and make partnerships more attractive. They have the potential to create new revenue streams for the MNO through new use cases and applications, and similarly reduce churn among customers by allowing them to perform a greater number of functions in a more intuitive fashion via their phones. In addition, open APIs present an opportunity to increase mobile money usage for the same reasons, and allow for the collection of more data about more varied aspects of customers' lives and spending habits. And where an MNO is an early mover in this area, it can potentially accrue an advantage over the competition by developing early, strong links with developer communities. But none of this will easily be achieved without clear, well-defined, easily accessible and stable APIs.
Although there are at least 20 API business models, for MNOs they can essentially be boiled down to three options: free; developer pays; and developer gets paid. Experience from other deployments within the mobile money ecosystem has shown that misaligned or imbalanced incentives often result in failure, or at least sub par performance, for new use cases and act as an inhibitor on innovation. For this reason a business model in which the developer gets paid, normally through a revenue share model, may be best for maximizing all the potential benefits previously outlined, and creating a win-win-win for MNO, developer and consumer alike. Obviously, this may not always be the case, though, and market-led models that promote innovation and experimentation are preferred. The key is to adopt a responsive rather than a prescriptive approach, with an eye remaining firmly on the medium rather than the short term.
Expanding Horizons
Just a few years ago, before the launch of the iPhone, few of us knew what an 'app' was. By making its APIs open and allowing third parties to experiment and innovate, Apple and Google (via Android) have created a world in which there is an app for just about everything. Open APIs, and open source code more broadly, have helped create a world in which it is possible to do just about anything via the mobile phone. Very little of the credit for this goes to either Apple or Android, except both possessed the vision and foresight to realize that the success of their products would largely be built on the backs of external innovators creating use cases that the smartphone producers never dreamed of. The success of this approach was to be seen by the fact that twelve months ago, at the launch of Apple Pay, one of Tim Cook's proudest announcements was that the APIs for the Apple Watch would be available immediately to all developers. While clearly there is no other company in the world quite like Apple, a great many aspire to replicate its profitability. For eight years now one of the cornerstones of that success has been open APIs that allowed innovators to innovate. It is high time that developers who want to ride new products along mobile money rails are given the same opportunity
© Mondato 2015. Mondato is a boutique management consultancy specializing in strategic, commercial and operational support for the Mobile Finance and Commerce (MFC) industry. With an unparalleled team of dedicated MFC professionals and a global network of industry contacts, Mondato has the depth of experience to provide high-impact, hands-on support for clients across the MFC ecosystem, including service providers, banks, telcos, technology firms, merchants and investors. Our weekly newsletters are the go-to source of news and analysis in the MFC industry.
Click here to subscribe and receive a weekly Mondato Insight direct to your inbox.