Live Commerce: Is Culture A Deal-Breaker?
~6 min read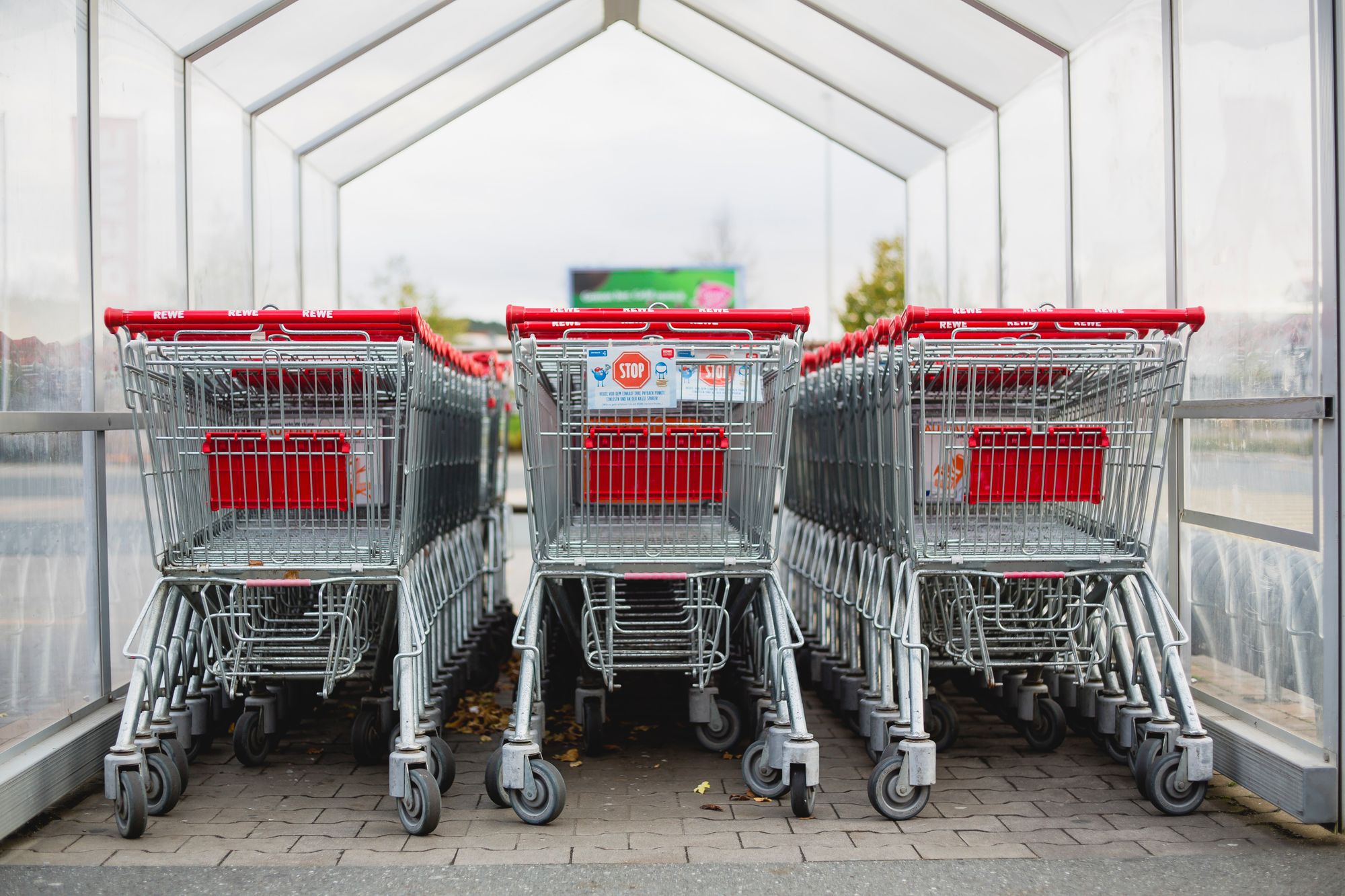 From mobile payment technology to super apps, China long ago leapfrogged the world in fintech innovations. Ecommerce is no different, with China witnessing superior integration of social and commerce, as Mondato previously detailed. Residing under the umbrella of social and commerce integration is live stream ecommerce, or live commerce, an area that has seen tremendous growth in the East yet far slower growth in the West. Live stream ecommerce is a fusion of live shows with shopping capabilities, making online shopping more interactive through a chat function and other social functions. Live commerce often plays out in two different ways. In one iteration, platforms that are predominantly social media sites with live stream functions may include ecommerce features, like Instagram incorporating shopping capabilities on its platform. The second alternative is where ecommerce sites add live stream functions to their platforms, as seen with Taobao Live in China and Amazon Live in the US. As the West seeks inspiration from the East and works towards growing live commerce in its market, the question then emerges: will this new model of social commerce succeed in the West? And if so, how could it play out?


A Different Market Setup
A major factor that sets East Asia up for success is its integrated market that ensures a handful of firms remain in control over the market share, especially in China. Taobao's parent company, Alibaba, controls a majority of the ecommerce market and, together with Tencent, owns over 90% of the digital payments market. Alibaba added a social component to its offerings with the establishment of Taobao Live in 2016, a platform enabling merchants to sell products to people through live, interactive shows. Without much competition, Alibaba was able to experiment with different offerings including live commerce, tailoring streams to their target audiences and increasing purchases through deeper engagement while utilizing scale that is difficult to reach elsewhere.
By contrast, the US market is highly fragmented, despite steps to integrate it. Content platforms like Instagram are great to discover products and get recommendations and reviews from influencers, but purchasing from them often requires a third-party website or platform, unlike China's integrated platforms. In a bid to remedy this, companies have begun to form partnerships. Walmart and TikTok partnered to hold a couple of live stream shows on TikTok, during which Walmart's audience could purchase items directly through TikTok. Facebook and Shopify also formed a partnership that gives merchants selling on Facebook access to Shopify's checkout system, Shop Pay — a step that streamlines the purchasing process for customers and enables live commerce on Facebook. More integrations are on the way as firms rush to incorporate live commerce into their offerings. Such trends may see big tech firms like Meta amassing even greater power over the market as they seek to capitalize on livestream commerce. The potential increased power is, however, reliant on how readily embraced the new offerings are — a factor that, as the China example shows, is impacted greatly by the cultural inclinations of the target audience.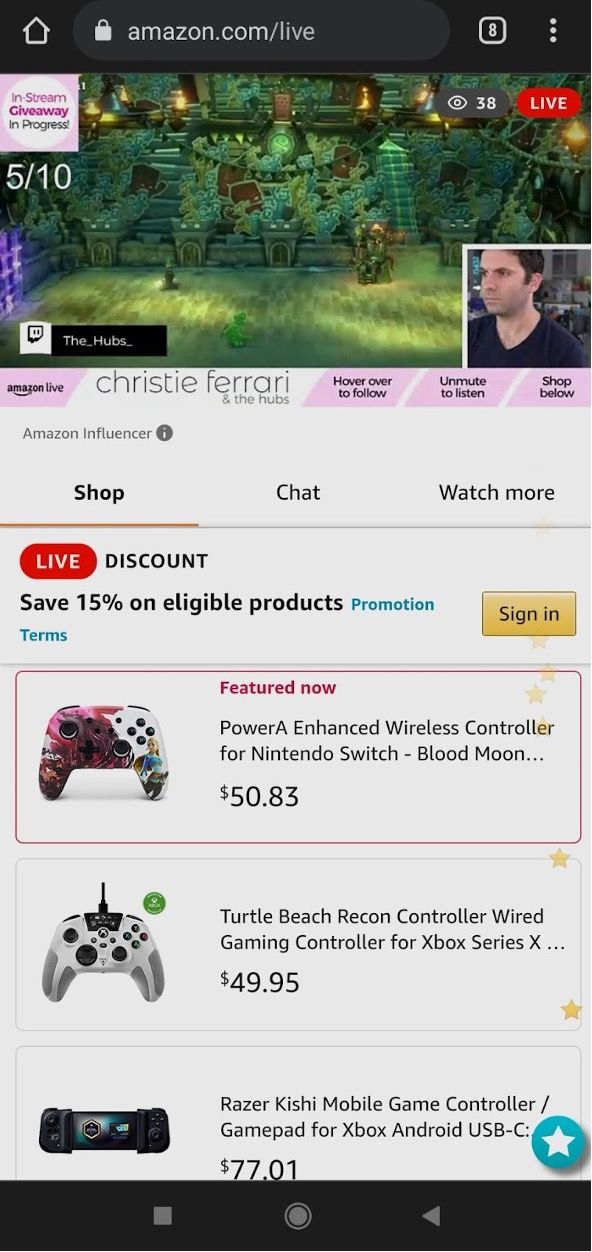 Source: Amazon.com


In Alignment Or At Odds
Culture influences people's values and how they perceive their environment, which are crucial factors to succeeding with an immersive and participatory proposition like live commerce. Beyond the market share differences, these cultural differences are already impacting the success and shape of what live commerce looks like in respective markets.
Relation vs. Categorization
When considering how people process information, the West has a categorization culture, while the East is more relational. The relational nature of the East has been crucial in the rapid adoption of super apps like Tencent's WeChat. Those in the East are more likely to quickly adopt the consolidated technology that enables them to do anything online from shopping to gaming, chatting with friends and family, and booking dentist appointments all on one app. Essentially, live commerce is an extension of this norm, enabling people to socialize and make purchases on one platform. Jianyi Ding, a researcher on consumer behavior in China, points out a shift in preferred media there. More people are moving to the sites with greater traction, including Douyin, a social-focused platform with integrated live commerce features. The emphasis on socializing in the East will likely facilitate a change among the first movers like Taobao to embrace social-focused models like Kuaishou, a video-based platform.
The West's categorization of information has encouraged a more fragmented ecosystem in which different platforms are used for different needs. As entertainment and commerce are packaged separately, consumers grow accustomed to a more direct shopping experience, a norm that may make it hard to embrace live streaming commerce on predominantly social platforms. A typical customer journey would have the individual browsing through Instagram for recommendations or inspiration, possibly going to YouTube to research before purchasing. They may then go to Amazon, having already made up their mind. That is not to say that live streaming is not useful in the market. Rather, a focus on live stream shows via ecommerce platforms may yield higher conversion rates than on social media platforms. Amazon's live commerce platform, for example, has seen early positive results. As CNBC reports, Quivr, a company that makes tea and coffee, saw high conversion rates of about 150% on the live streaming platform, higher than on social media platforms like TikTok and Instagram.
Individualism vs Collectivism
In the East's collectivist culture, the social aspect of live commerce aligns well as people seek a sense of belonging. The growing social commerce site, Douyin, is a natural fit, owing to its deeply social model that encourages a communal, participatory approach to otherwise staid ecommerce. In China, a greater impulse to conform may encourage product sales during live streaming.
The individualistic culture of the West manifests in the live stream platform they prefer. With an inclination towards freedom and autonomy, they may not be as immersed in the social aspects of the live commerce platform and may select a more ecommerce-focused platform. The shows may also differ by largely focusing on the products being sold, with flash sales, in-depth reviews and try-ons — like the setup of product display shows on Western television — and less on the social aspects seen in China, which often includes interactive games, polls and reactions.
Age and Culture
Though the general population may be more skewed towards individualism or collectivism, the age component modifies further how live streaming manifests and is adopted. Age greatly impacts the person, group or place that yields the most influence in a consumer's decision to purchase. While still a tiny percentage, Gen Z adults have shown a higher likelihood to be influenced by experts, celebrities, or influencers than the rest of the age groups in the West, with 39% citing social media as the greatest influence when considering a product or influencers than the rest of the age groups in the West, with 39% citing social media as the greatest influence when considering a product or brand.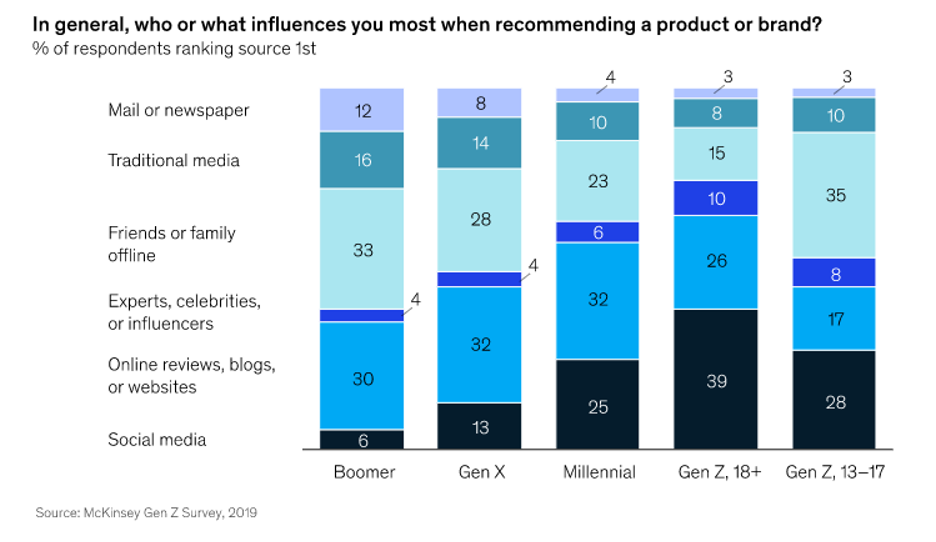 Yvette Donghee, an associate professor of Informatics at the New Jersey Institute of Technology, tells Mondato of the potential for micro-influencers to increase sales for brands through live commerce on social media. These micro-influencers can take their small yet dedicated following to ecommerce-based live streams, increasing the likelihood of conversions into sales among Gen Z. Thus, while live streaming singularly focused on ecommerce may prove more fruitful in the West, micro-influencers will at the same time prove essential in attracting younger Western audiences. As live stream matures and grows more diffuse in nature, two kinds of Western live commerce may thus spring forth — the streamlined Amazon Live version focusing on content rather than community, and the sponsored content streaming already exhibited in the early stages among micro-influencers at a smaller scale.


The Path of Least Resistance
Though live commerce is taking shape in the West, it will not see adoption as readily as the Chinese market. Western Big Tech may already have the scale to reap rewards, but the fundamental fragmentation and orientation of the Western market makes the prospect of cross-channel adoption uncertain. As firms cater more readily to Gen Z over time, they will undoubtedly attempt to incorporate live commerce into their platforms, but without a shift in the mindset of their target market in the West, live commerce's potential may be limited to niche audiences. Awash in scale and revenue already, western Big Tech firms may subsequently take the path of least resistance, sticking to advertising or creating ecommerce-focused platforms separate from the social media sites to capture their intended audience.
© Mondato 2021
Image courtesy of Markus Spiske
Click
here
to subscribe and receive a weekly Mondato Insight directly to your inbox.