Sex Work: Safety In Digital?
~6 min read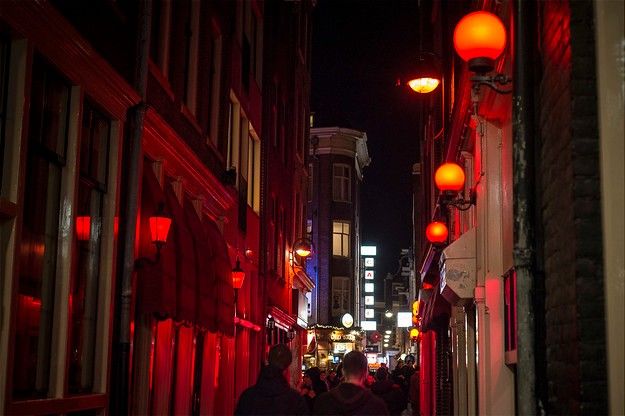 Humanity's oldest profession has gone digital. Facing legal perils and issues in safety, health and lack of financial access, sex workers fit to a striking degree the profile of users who benefit most from secure mobile money wallets and digital transactions. The savings and control they offer, in particular, are transforming the vulnerable existence of sex workers — with some looking to overhaul the USD $186 billion industry entirely.


A Purse That Can't Be Stolen
It doesn't take insider knowledge to recognize that sex work, especially in the vast majority of countries where it's illegal, can be dangerous and unstable. In many locales, sex workers cannot open an account with a bank, unable to provide formal documentation of employment. Sex workers relying on cash, meanwhile, are more vulnerable to client violence or financial control from pimps. The effects of this cash dependency in high-risk situations are far-reaching.
For several years now, sex workers have increasingly adopted mobile money and other digital solutions. Carolyne Njoroge, a Programs Officer at the Kenya Sex Workers Alliance as well as a sex worker herself, described the empowerment bolstered by M-Pesa and other mobile money options for Kenyan sex workers — of whom, approximately 80 percent subscribe, according to her estimate.
Some benefits of sex workers transitioning away from cash are obvious — they handle their own money in a secure form, thus being less prone to violence and robbery. In Kenya, bribery demands of sex workers from city officials and club bouncers have diminished because the bribes would be documented on M-Pesa. At the same time, there have been instances of fraud on M-Pesa, according to Njoroge, in which clients would later call Safaricom and claim the money was sent to the wrong account, leaving sex workers unable to make a valid, legal claim. But such instances pale in comparison to the previous number of violent robberies, she said, and tightening telco policies now mandate that the original recipients must confirm the payment was a mistake, giving sex workers more say in the matter.
But beyond the material safety mobile money offers, it is fundamentally changing how sex workers behave financially — with effects percolating beyond the financial realm. Through mobile money options, sex workers can better control the nature and frequency of transactions, now able to arrange with clients from wherever and whenever they wish. Another important change in behavior comes from the withdrawal fee to convert mobile money to liquid cash, which deters sex workers from making frivolous or dangerous cash transactions.
"[Mobile money] empowers sex workers because it gives you the choice to decide the transactions you are going to do during the day. And you're not going to withdraw money [as frequently], so it's a mode of making someone save." Carolyne Njoroge, Programs Officer at Kenya Sex Workers Alliance
Njoroge described a decrease in drug use among Kenyan sex workers as the purchase of drugs requires cash and workers want to avoid the M-Pesa withdrawal fees. In Kenya, where lending extra cash to family and friend is a cultural tenet, possessing only money in less liquid mobile money accounts offers a good excuse for sex workers to avoid such a "social appropriation" tax that may otherwise prevent sex workers from saving money. This extra savings puts them in a better position to avoid feeling compelled to do risky sexual transactions.
With transaction histories archived every month, sex workers can better manage their finances as a whole for saving and compartmentalizing money for different uses. Njoroge was able to account for the million shillings she had in her mobile money account last month, for example. Collectively, M-Pesa accounts have enabled sex workers to create far more secure and manageable rotating savings clubs by pooling their earnings in one M-Pesa account so an individual member can buy important commercial purchases, like a motorcycle. Though these rotating savings clubs existed before, the previous pooling of cash through one person came with great risk.


The Trickle Effect Of Savings
The economic empowerment that digital money options bring to women and sex workers coalesces into several positive externalities beyond the self-evident. Middlebury College Professor Erick Gong and American University professor Kelly Jones recently released a study looking at the relationship between mobile money, transactional sex and indicators of financial and medical wellbeing. In previous research, they and Stanford professor Marshall Burke had connected economic shocks like drought in Sub-Saharan Africa with higher rates of HIV. Gong and Jones believed economic shocks led to more frequent engagement in high-risk transactional sex (about 20 percent of sexual relationships in Kenya are formed for the purpose of financial assistance) which contributed to higher rates of HIV.
"In a developing country, you have an incomplete market, where you don't have a full supply of savings, loans and health insurance. You might sell a productive asset, cut expenses or engage in transactional sex. Certainly, some women use it to cope with unexpected economic shocks." Erick Gong, Professor at Middlebury College
If sex workers have a better means of saving, they will engage in less high-risk transactional sex, they hypothesized. With this in mind, Gong and Jones gave M-Pesa mobile accounts to Kenyan sex workers labeled for savings. All the experiment participants already had M-Pesa accounts; Njoroge described mobile money adoption among urban sex workers as all but ubiquitous by now in Kenya.
Yet through the mere psychological nudge of having a second mobile money account designated for savings, sex workers saw an increase in mobile savings, a reduction in transactional sex as a risk-coping response and a decrease in symptoms of sexually transmitted infections compared to a control group (both groups did weekly educational discussions). With more savings, they could now better manage economic shocks — like an illness — without resorting to risky behavior. The differences in savings between cash-based and mobile money-based sex workers are likely far greater and longer lasting than what the research revealed, Gong noted.


Crypto: A Fickle Match
Though mobile money has been a valuable tool for sex workers operating in the shadows of the law, cryptocurrency is a tool that has both proven promise yet wrought perils on sex worker, depending on its legality.
When skirting the law, crypto and sex work have often been a recipe for scams and abuse in the past. The anonymity of clients can also make sex workers more vulnerable, not less. One start-up, PinkDate, ventured to become the "Uber of escorting," but red flags were quickly raised by sex workers that the extralegally and anonymously run PinkDate demanded escorts have an active Twitter account and provide PinkDate with copies of government-issued IDs, making them more susceptible to entrapment. Sex workers, including a former employee, also complained that PinkDate did "zero know-your-customer and anti-money laundering" checks, permitting dubious and potentially violent customers to act with impunity.
Some adult entertainment crypto startups, like IntimateCoin, have had some early success incorporating sex work in a repertoire of adult entertainment services that accept crypto. Most recently, Gingr is venturing to be the first worldwide direct end-to-end booking platform for sex work services using blockchain smart contract technology. Gingr, which finished its public ICO sale and is now in private ICO sale, also seeks to stake its claim as the "Uber of sex work," with both sex workers and clients using a ratings and comments system to better process transactions and protect sex workers from abusive clients.
This system of mutually agreed upon "dates" provides more choice and autonomy for sex workers, said Sergio Rigert. With strong KYC rules in place internally, Gingr, which is based in Switzerland with plans to initially spread to other European countries, is better prepared to protect sex workers and cooperate with law enforcement in the case of crime. Monitoring whether the same IP address registers multiple "gingr" accounts will help ensure that a pimp is not in control of multiple women, although agencies or establishments can still facilitate multiple bookings. The use of smart contracts also greatly protects sex workers from robbery and improves their ability to pay taxes (Gingr will only operate in countries where sex work is legalized).
"We can actually bring fairness and transparency by implementing smart contracts that files taxes directly to governments, which would help [sex workers] greatly considering they travel a lot." Sergio Rigert, Co-Founder and CEO at Gingr
Rigert reiterated that while Gingr promises to support sex workers with safety, client screening and autonomy in legal situations, the prohibition of sex work in the majority of the world's countries impedes the spread of Gingr to black market countries where crypto is already used for illicit, anonymous sex transactions. Sex workers can only adjust to the legal parameters they must operate under, whatever that means for their safety and health. Though risks certainly remain, mobile money, and even possibly crypto, can help sex workers both save and operate in not simply a safer working environment, but a more malleable one where they have choice. These small changes can add up to empowerment.
© Mondato 2019
Image courtesy of Allison Richards
Click
here
to subscribe and receive a weekly Mondato Insight direct to your inbox.