Telcos and the Connected Consumer
~5 min read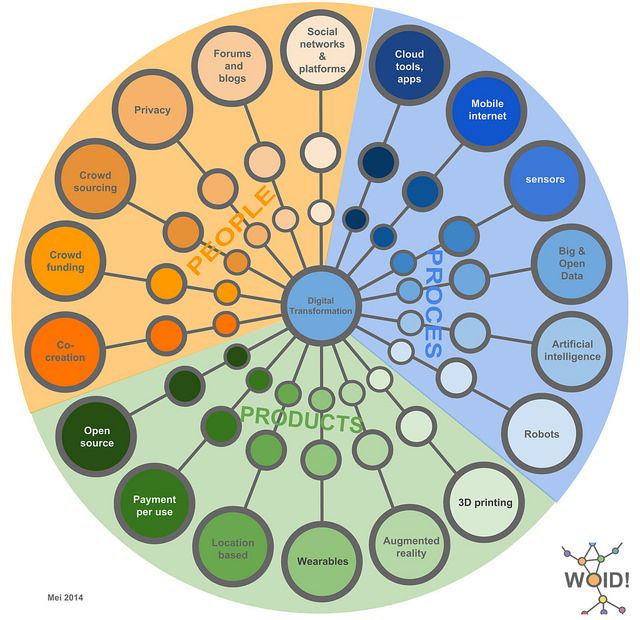 When two of Europe's largest telcos, Orange and T-Mobile, combined their services in the UK, they decided the new merged company would be known simply as 'EE'. Orange and T-Mobile's combination to become 'everything everywhere' to their customers is clearly not a realizable goal. It is, however, representative of the broader transformation of the telecoms industry into a business form that has the potential to touch every aspect of the connected consumer's life. In order to avoid becoming mere tubes, the carriers of the digital services that are increasingly set to become further integrated into almost every aspect of human experience, telcos must insert themselves into the middle of the digital transformation.
The Digital Transformation
Amid the hype that surrounded the launch of the iPhone 6 and Apple Pay, it was little remarked upon that EE and T-Mobile have both entered into an agreement with Apple to allow wifi calling as a feature of the iOS 8. While there are clearly cost savings for the telco in routing calls through someone else's internet infrastructure rather than primarily using their own towers, the move is also a defensive one in the face of the growing popularity of Over The Top messaging and VoIP services such as Skype, WhatsApp and Viber. Furthermore, it is an acknowledgement of the increasing frequency with which customers find themselves in situations where mobile phone reception may be poor (on trains or in rural areas, for example) but where there is a strong wifi connection. As Paul Krugman once observed, "Bit by bit, everything that can be digitized will be digitized," and voice and messaging are no exceptions.
This all points in a direction of travel wherein text messages and traditional voice calls continue to recede in importance to businesses many still often refer to as "mobile phone companies". While the practice of referring to the device in your pocket or purse as a 'phone' is unlikely ever to die, in reality what you are carrying around with you is a small computer with a built-in tracking device that maps your social interactions, movements, interests and perhaps, soon, also purchases.
However, the fact that 4G LTE connectivity can sometimes be faster than wifi connections to fiber-optic broadband means that, in contrast to wifi calling, MNOs still have the opportunity to remain central to the delivery of digital content. Allowing customers to continue their phone conversations or tweeting, even in areas with poor reception, rather than turn to another of their wifi-enabled devices helps preserve, in the short-to-medium term prolong, the stickiness of the idea of the phone as a phone. In the longer term, however, telcos will need to grasp the opportunity to be involved in the digitization of everything everywhere in the connected consumer's life.
No longer will these companies be telcos, let alone MNOs, but instead digital services companies, in which telecommunication is but one part of a portfolio of digital services that could range from TV-on-demand to health monitoring, and encompass almost all aspects of life in between. The scope to become involved in everything everywhere is real, but narrow.
Many telcos have been quick to recognize that in order to avoid being squeezed by competing pressures, becoming the connected consumer's access conduit, both at home and on the move, presents them with the opportunity to become central to the heart of the digital transformation. Some have managed this shift with greater facility than others, in part dictated by the degree to which ARPU from voice and SMS has held up and the demand for digital services remains relatively weak.
In Africa, for example, Millicom's traditional revenue streams still account for around 83% of its revenue. By way of contrast, to cater for a rapidly growing middle class and higher rates of smartphone penetration, through a series of purchases by its Tigo brand in Latin America, Millicom operates in that region as the provider of triple (internet, TV, fixed-line telephony) and quadruple (triple plus wireless) play services.
The UK's Virgin Media Group has similarly bundled all its offerings into a quadplay service, with contracts starting from around USD $50 per month. For the quadplay digital services company, voice and data are likely to become free or "fremium" services designed to drive loyalty and open the gate to other, more content-rich (and lucrative) services. And for the digital services companies, the lucrativeness of the customer is not just as a source of revenue, but also as an asset that can be mined.
The Desire for Data
The messaging/tracking/social media/internet browsing/voice calling device in your pocket or purse contains vast amounts of information about you, both as an individual and as a member of a market segment. Aggregating and overlaying the data from your mobile browsing and social media interactions with your TV and music preferences, and internet browsing data allows a much more complete (some say creepy) series of facts and assumptions about each consumer to be compiled, which can then be used to create customized digital experiences (and accompanying advertising) just for you.
For example, the advent of digital television means that advertising will soon be tailored and targeted in the same manner that advertisements for baldness treatments pop up on the Facebook page of the follicly-challenged. U.S. cable companies already sell to political campaigns information about individual viewers' viewing habits that will help them determine which party they lean towards, along with the viewers' home addresses. Addressable advertising will very soon mean that advertisers will no longer purchase an advertising slot in a particular program, but will buy the right to advertise to particular viewers, who will be shown the advert irrespective of which channel they are watching. And, of course, it goes without saying that it is assumed that the consumer will be watching the show at the time of their choosing, and not the broadcast networks'. As Esther Dyson observed all the way back in 1995, "In the new era, the ancillary market is the market."
Nothing Nowhere
In order to survive and compete, telcos need to formulate a vision of the sort of digital services company they want to be, and begin to implement a strategic transformation focused on product and positioning in markets where voice and SMS will be bolt-ons to a range of other services, from smart fridges to fully-personalized television scheduling. The impact of this transformation on every part of the value chain will be profound. It will require collaboration and the deepening of what will in many instances be 'frenemy' business relationships. Consumer demand for bundled, complementary, and indeed overlapping, services mean that no one player will be able to own the ecosystem. As the anchors of loyalty loosen, different modes of incentivization, or perhaps contractual subscription, will evolve, with consequential effects on customers who used pre-paid in the days when telcos were telcos. These are all issues that will be explored in future Mondato Insights.
While trying to be 'everything everywhere' is clearly attempting too much, it encapsulates the range of opportunities currently available to telcos, should they grasp the opportunity and implement the strategic change necessary to realize it. Having brought change to the world in a manner and at a pace that few could have anticipated, the unavoidable risk they now face is that they will be bypassed and circumvented. The fear must be that without a reinvention, they will be left behind, nothing and nowhere.
©Mondato 2014. Mondato is a boutique management consultancy specializing in strategic, commercial and operational support for the Mobile Financial Services (MFS) industry. With an unparalleled team of dedicated MFS professionals and a global network of industry contacts, Mondato has the depth of experience to provide high-impact, hands-on support for clients across the MFS ecosystem, including service providers, banks, telcos, technology firms, merchants and investors. Our weekly newsletters are the go-to source of news and analysis in the MFS industry.
 
Click here to subscribe and receive a weekly Mondato Insight direct to your inbox.
(Image courtesy of Detlef La Grand under a CC-BY 2.0.)