Are Colleges Failing At Blockchain?
~5 min read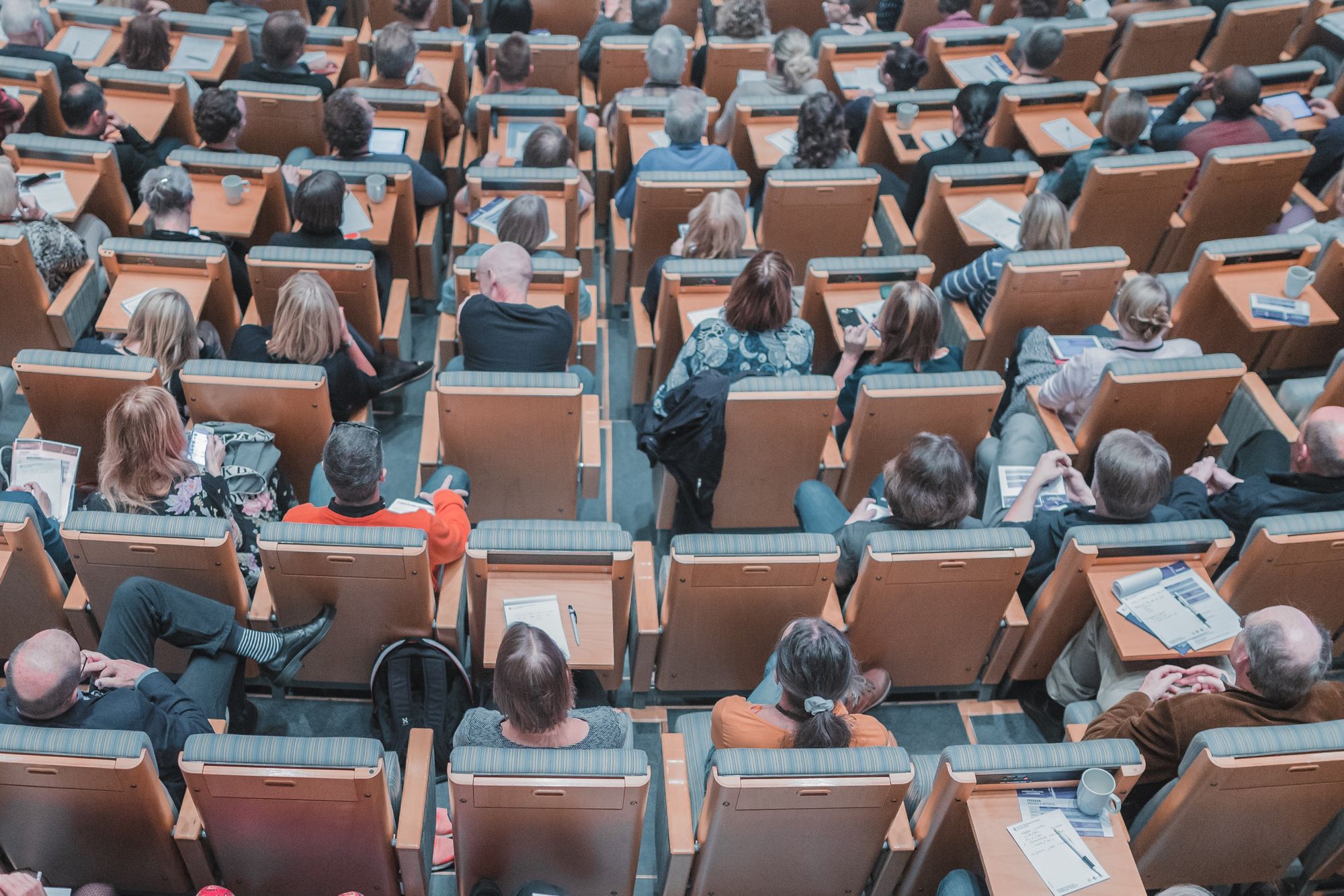 Surf the internet, and you'll find countless Twitter wars and Op-Eds about blockchain and cryptocurrencies, especially following the turbulent events from recent months. Walk around a college campus, however, and you'll find a population that hardly even acknowledges its existence. That is, until you walk into a blockchain club or sit in on a Special Topics in Distributed Ledger Technology (DLT) lecture. Small pockets of American college campuses will reveal a network of young blockchain developers, enthusiasts and entrepreneurs. While the broader public may be reassessing views on this polarizing technology, the next generation of innovators arguably have their heads in the sand, raising questions of whether a course correction or a doubling down is nigh when this young generation become the entrepreneurs and tech talent of tomorrow.


Dealing With Reality
Outside college campuses and among VCs and accelerators, blockchain technology is currently marred by failures in the industry to convert conceptual promise into practical application. Famed economist and NYU professor Dr. Nouriel Roubini recently stated that 99% of crypto is "a scam, a criminal activity, a total real-bubble Ponzi scheme that is going bust." Calls for increased regulation and tightening restrictions are already moving into place. The EU's Markets in Crypto-Assets (MiCA) regulation seeks to prevent events like the FTX collapse. The US Federal Reserve outlined new crypto banking regulations as recent as early February.
In spite of the wider uncertainty and pessimism, key players in the blockchain industry are still active on college campuses. Binance Academy continues with campus tours in the US as well as emerging markets such as East Africa. Investment on college campuses has continued, with examples like Algorand funding the blockchain lab at the University of Florida and Sunday Group funding Purdue's blockchain lab.
With this outside support buttressing a forward-thinking spirit on campus, sentiment among American colleges regarding blockchain hasn't really budged amidst broader skepticism. Blockchain classes weren't canceled, nor did attendance at blockchain clubs dwindle. Rather, in the cloistered environment on campus, company scandals and collapses serve as a learning tool for future enterprise. Classes like Boston University Law School's Crypto Regulation course prepare students for a future — albeit one likely quite different than today — where blockchain and cryptocurrency are regulated components of the everyday digital economy.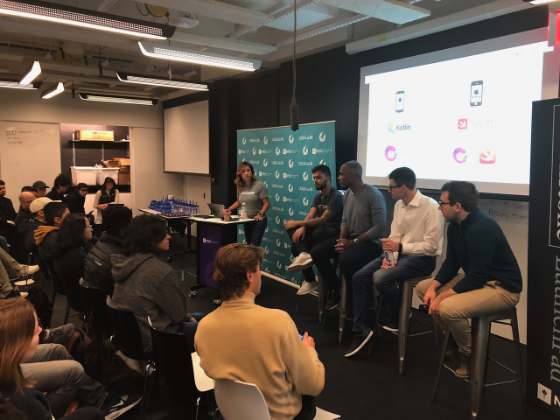 Source: Blockchain Lab @ NYU

One of NYU Blockchain and Fintech Club's first meetings in the fall of 2022 took place as the Terra/LUNA collapse transpired. Posing questions and throwing out postulations based on their online sources, students discussed possible engineering mechanisms less susceptible to collapse, or future steps in regulation — while considering implications for the industry as a whole.
Even at such meetings, the vast majority don't actively participate in blockchain discussions. While there's indeed a disproportionate amount of blockchain proponents among younger cohorts, the fact remains that most on campus aren't zealous or even really care for the nascent technology. According to Akhlil Vajjhala, president of NYU's Blockchain and Fintech club, club members are often wary about blockchain when considering their own job prospects.
"Sentiment in the club is fairly optimistic, but most participants (to my understanding) are still fairly risk-averse and prefer starting their career in an established industry. The ones who are crypto-native don't necessarily care for our club I guess."
Akhil Vajjhala, President, NYU Blockchain and Fintech Club
Such observations from NYU's Blockchain Club president belie the sunnier attitudes stereotypically espoused regarding blockchain's possibilities: even if blockchain does find its proper economic niche (or more) in the future, students aren't necessarily convinced of its short-term prospects on a professional level. The turbulence of an immature, unregulated industry can't be ignored altogether.


Distributed Echo Chambers
Like the outside world, college campuses sort themselves regarding blockchain into three categories: the enthusiasts, the critics — and the agnostics. But even within intimate settings on campus, enthusiasts and critics hardly ever clash. Vajjhala says that "crypto-native" students who are more deeply involved on a personal level with blockchain and crypto do not actually participate in the club; those who are already employed as blockchain developers have no use for introductory material being discussed at club meetings. Rather, such clubs serve primarily as a more introductory experience into blockchain.
Nonetheless, blockchain classes and clubs typically attract students who already have a curiosity or interest in blockchain, and this does foster echo chambers in which the potential drawbacks or failings of blockchain are glossed over. The general unsaid assumption is that blockchain technology is innovative and good, which encourages students to get more involved, reflecting the wider WAGMI (We're All Gonna Make It) subculture that made crypto's 2022 failures seem only more spectacular.
Ultimately, with how the incentives and interests align — and diverge — on campus, there is little real debate among students regarding blockchain, one of the most polarizing topics in technology today.


A Closer Look At Classes
As opposed to student-run clubs, blockchain classes taught by industry professionals provide more structure and outside perspectives. Professor David Yermack, Chair of the Finance Department at New York University, and Dr. Merav Ozair, a global leading expert on Web3 technology and Rutgers Business School professor, both say they constantly update their class syllabi, supplementing them with discussion and analysis of real-world events.
"I change my classes on a daily basis. Even as the semester progresses, I change my information all the time because it has to be up to date. Otherwise, it's obsolete."
Merav Ozair, Professor, Rutgers Business School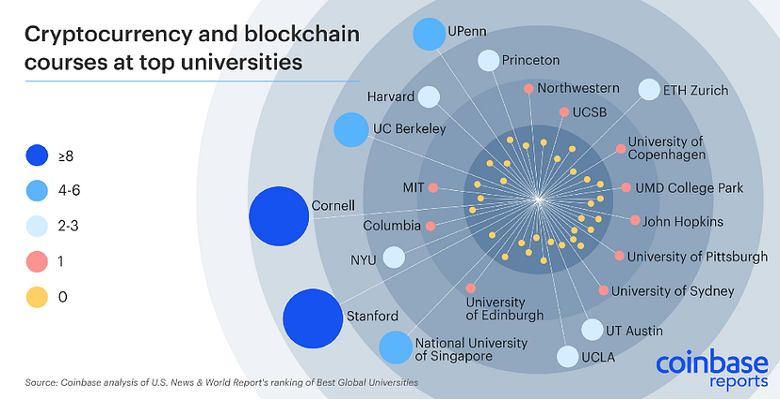 Source: Coinbase

"I can tell you that my course changes every semester in response to real-world developments … Digital currency and other applications of blockchains are very new, and we are continuing to learn more about it month by month. We rely on guest speakers from industry and government to help inform our students."
David Yermack, Chairman, NYU Finance Department
Though insufficient for the knowledge gaps that remain, an increasing number of universities are offering courses on blockchain technology. A Coinbase analysis even back in 2018 found that 42% of the US top 50 universities offer some sort of course related to blockchain technology or decentralized finance. Keeping up to date with rapid industry developments naturally can be a challenge in a classwork setting, however.
"Most blockchain courses are still primarily the barebones and fundamentals. The space has progressed pretty rapidly – various consensus mechanisms, Ethereum roadmap adjustments, DeFi, NFTs, and so many more – and academic curriculums haven't caught up yet. They're still firmly in the 'Explain PoW' world."
Akhil Vajjhala, President, NYU Blockchain and Fintech Club
Vajjhala's views in comparison to comments of leading blockchain professors like Yermack and Ozair highlight a fundamental disconnect that might be inherent to trying to teach concepts about such a complex and in many ways still-developing technology to young students — a dilemma that only makes for a steeper learning curve for new graduates.


Reining In The Reckless
Even as blockchain companies attempt to rebuild trust among the public and governments by offering more transparency, industry-funded campus initiatives continue to cultivate an overly optimistic image that steers students away from the complex milieu of hurdles and questions the blockchain industry is facing. And with "crypto natives" on campus largely removed from blockchain clubs and classes, the divide between blockchain reality and fantasy widens even further.
Certainly, there is a difference between the aims of campus and "real" life. Universities naturally provide a kind of walled garden full of experimentation and even innovation — a seamless fit for the epistemic pursuit of distributed ledger technology. But the disconnect between a reeling blockchain industry and the idea labs of college campuses threatens to perpetuate the toxic positivity that's often distorted expectations of blockchain until now. Maturity does breed wisdom, however — with students and (hopefully) blockchain alike.
© Mondato 2023
Image courtesy of Mikael Kristenso
Click
here
to subscribe and receive a weekly Mondato Insight directly to your inbox.