Investing In Latin America: The New Global Fixation
~8 min read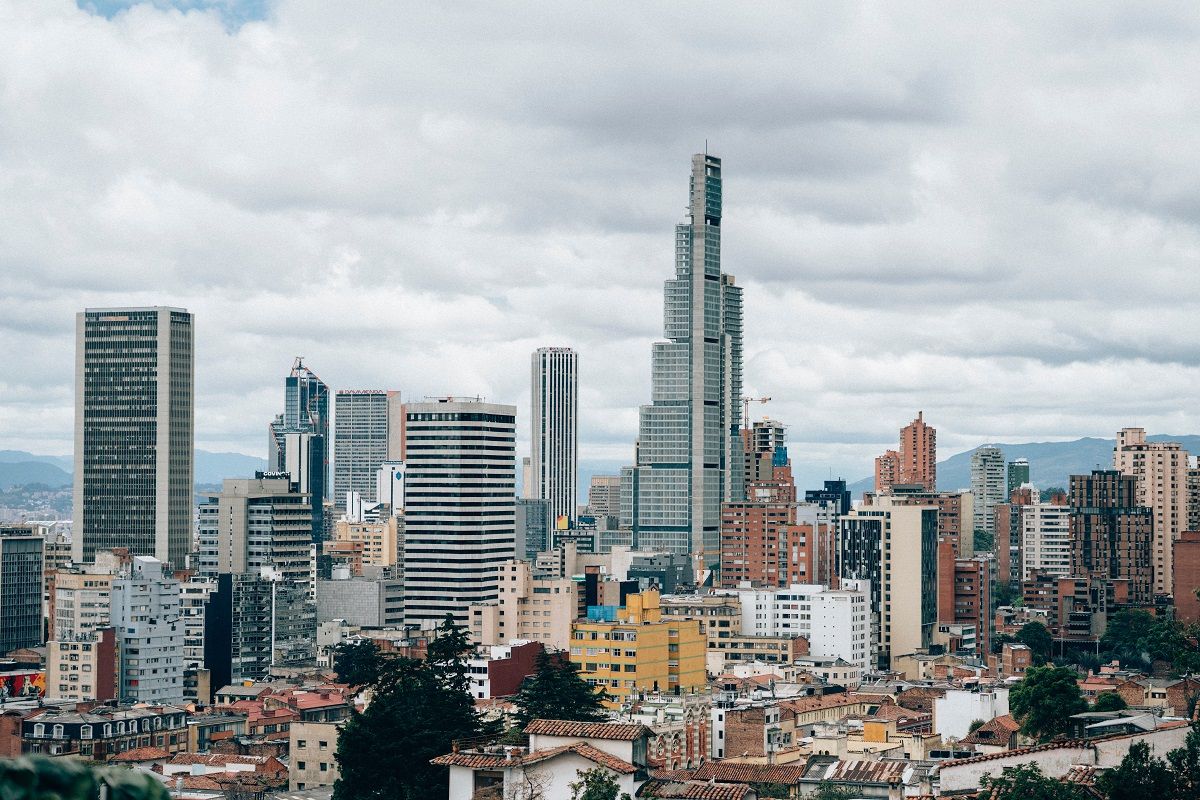 Last year saw a surge in startup (including fintech) funding across Latin America – from Argentina to Mexico and everywhere in between. Investors from North America, Asia, and Europe poured cash into the Latin American tech ecosystem in 2019, with an estimated seven new unicorns emerging across the region – including new payments and ecommerce players. Now, with world markets on shaky ground thanks to the pandemic, some think LatAm's runaway funding train is at risk of slowing down. Certainly, investors are thinking differently about risk now, but the region's upstarts are proving resilient and funding has not exactly slowed to a trickle – so was last year's enthusiasm for the region more than a flash in the pan? And could this be the year when Latin America finally comes into its own as a region where investors can expect steady, predictable, and profitable growth?


Full-Court Press
According to data collected by the Association for Private Capital Investment in Latin America (or LAVCA), venture capital investment in Latin America has doubled each year for the last four years, climbing from $500 million in 2016 to over $4.6 billion in 2019. This sum was spread over 440 transactions, with 10 "mega-deals" over $100 million and even one billion-dollar "giga-deal".
The $4.6B figure represents a new high watermark for Latin America's business community. It is still a drop in the bucket relative to global VC investment volume, which approached $300B last year across 32,776 deals, but in a year when global investment actually decreased relative to 2018, Latin American VC funding had its best year ever. Moreover, the average deal size in LatAm was $10.4M, surpassing the global average of $9M.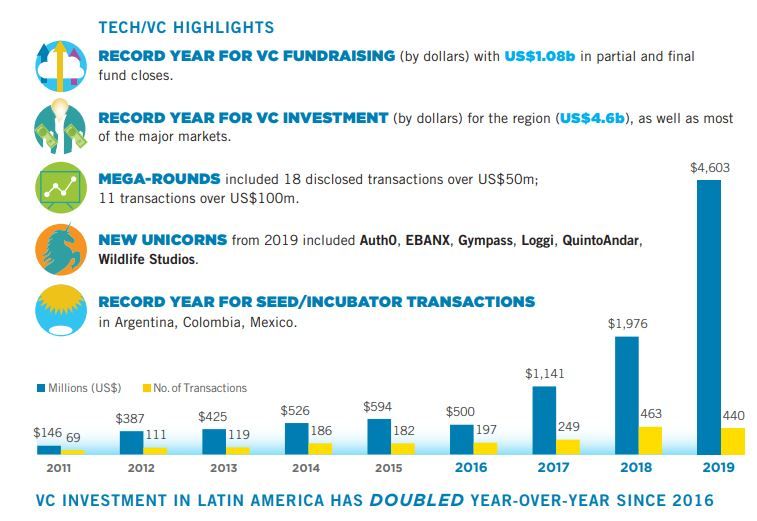 Source: LAVCA Industry Data
With such explosive regional growth, it is no secret where the money is going. Firms in the broader digital financial services area (encompassing Fintech, E-commerce, and Marketplaces) in LatAm had a particularly fruitful year in 2019, accounting for roughly 32% of funding rounds and attracting about 44% of all funding dollars (according to LAVCA). On the country level, Brazil was home to six of the ten largest rounds, as well as 50% of all deals; Mexico, Chile, Colombia, and Argentina were the next largest markets. But another significant development of the past few years is the region's newfound embrace of cross-border (foreign) money. As LAVCA noted:
"All but one transaction over US$50M involved a cross-border co-investment, signaling global cooperation to support startups with significant traction with growth capital that was not historically available."

Annual Review Of Tech Investment In Latin America, LAVCA
A fairly global cadre of investors participated in LatAm's record-breaking 2019. Among the "mega-deal" investors in 2019, groups from Japan, the U.S., China, the U.K., Sweden, and Spain were represented, along with concerns from Brazil and Argentina. Notably, the more money is involved, the less likely the round in question is to be led by investors in-region or in-country. According to Brian Walsh, Head of WIND Ventures, this could signal a unique risk to entrepreneurs:
"While some entrepreneurs can attract capital from abroad to fuel later stage growth, many will struggle. This then lends the question if there is enough growth capital in Latin America itself to fuel these entrepreneurs for the benefit of the region. If you dig into this, you will find that Latin America's 'in region' investing activity tends to be early stage investors who are unable to support later, larger financings. For entrepreneurs that do not attract capital from abroad, they are in a difficult situation of continuing to bootstrap or relocating from Latin America to the likes of Silicon Valley."

Brian Walsh, Head, WIND Ventures
Capital flows into the region represent an opportunity for local players to grow, but on whose terms? The so-called "SoftBank Effect", borne of the Japanese giant's $5 Billion LatAm-specific innovation fund, may very well have kickstarted the region's recent hot streak. However, it also upped the ante for investment, driving interfund competition and unlocking new business models for startups. Previously, limited access to capital meant that Latin American startups grew slowly, prioritizing profitability over market share. Now, with capital-intensive "blitzscaling" possible (and even expected), entrepreneurs may be forced to embrace riskier business strategies or else be left to wither on the vine. If indeed foreign capital is the only game in town past the early stage for startups, then foreign capital dictates the rules and sets the standard for risk across the region.


Home Field Advantage
In-region investors may have an ace or two up their sleeves, however. SoftBank, the big kid on the playground, has acknowledged the need for local know-how, and is partnering with or investing in local VCs to get it. In an interview last year, Managing Partner Andre Maciel said, "In some cases we've more than doubled the investment firepower available to those funds. We don't have the reach and structure to look at smaller transactions, but those funds do. They can irrigate the system for entrepreneurs." In other words: you bring the venture, we bring the capital.
Other counters to the dominance of foreign investors in LatAm include CVC -- corporate venture capital -- activity from regional heavyweights whose primary business is not venture investment. WIND Ventures is in fact the VCV arm of COPEC, a Chile-based conglomerate whose core business is in energy and natural resources, with operations in Argentina, Brazil, Canada, Colombia, the U.S., and Uruguay. Given the regional footprint of their parent company, WIND is justified in claiming "unfair" access to Latin America, without which foreign capital might not land in the right hands. Furthermore, the firm may be a suitable partner for foreign startups looking to expand into Latin American markets. Brian Walsh, the firm's head, explained to Mondato:
"Our 'unfair access' for global entrepreneurs is two-fold: 1) by leveraging assets of COPEC, a very large and well respected corporation with dominant market share across many countries in LatAm; and 2) through dedicated teams of experienced venture investors and entrepreneurs to help startups leverage these resources… Latin America can be an attractive growth market but [founders] want the benefit from a powerful strategic partner to do it well. This is where WIND Ventures can help immensely. We also invest within Latin America to accelerate growth and to participate within Latin America's digital transformation."

Brian Walsh, Head, WIND Ventures
The approach is perhaps a more localized version of other project like Telefónica's Wayra, which is branded as an "open innovation hub" and has operations in Argentina, Brazil, Colombia, Chile, Mexico, Peru, and Venezuela (along with Spain, Germany, and the U.K.). Although Telefónica is a Spanish Telco, Wayra made a name for itself as an accelerator in Latin America over the last nine years, helping launch hundreds of startups. Just last month, however, it was reported that Wayra will no longer be an accelerator, instead transforming into a CVC.
The CVC model appears to be growing in popularity across the region -- possibly in response to the new firepower brought to LatAm by the likes of SoftBank, Tencent, and U.S. investors like Sequoia Capital. In addition to WIND and now Wayra, CVCs active in Latin America include Bimbo Ventures by Grupo Bimbo, Cemex Ventures by Cemex, and approximately 100 others according to a study published this year by IESE Business School researchers. But while homegrown Latin American multinationals like COPEC are increasingly participating in corporate investing, the researchers found that overall CVC activity actually follows the same pattern as non-corporate venture fund activity when it comes to regional representation. In other words, most -- in this case, 75% -- of the CVCs active in Latin America are run by corporations based outside of LatAm.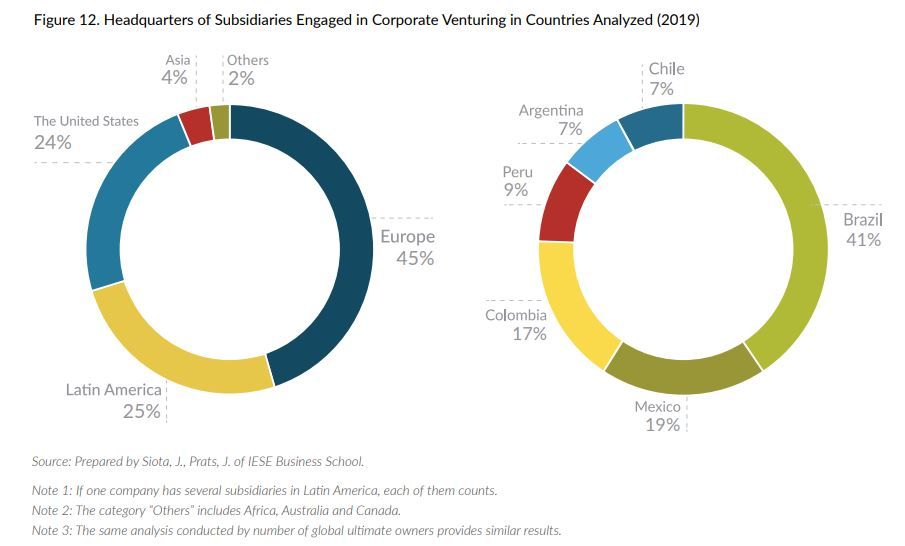 Source: IESE Insight
How will it affect the startup ecosystem in LatAm to have so much capital driven by foreign investors, whether VCs or CVCs? Healthy, sustainable scaling is not exactly synonymous with the breakneck-paced, loss-making, market-share-focused model favored by so many VCs in the U.S. in recent years, but LatAm may be ready to enter a more competitive phase of its maturation -- for investors and startups alike.


The Right Seeds
Regardless of whether one buys into the idea that cross-border investment will necessarily lead to greater risk in the LatAm startup ecosystem, it stands to reason that the participation of in-region accelerators and investors in the growth of LatAm's startups will lead to closer regional ties and, arguably, better outcomes for the region. It was with similar goals in mind that the government of Chile created Start-up Chile (SUP) in 2010. SUP was designed as a public startup accelerator whose mission was to create an ecosystem of entrepreneurship and innovation in a country with a conservative culture and economy. As of 2020, SUP has housed close to 2,000 startups worth $2.1 billion collectively, and has inspired governments around the world to create similar programs.
In addition to funding SUP and offering equity-free capital to startups accepted into the program, the Chilean government has taken steps to make the country an attractive market for the world's brightest entrepreneurs. In conversation with Mondato, SUP's Investment Manager Pedro Vicuña highlighted that founders might be drawn to Chile based on: appropriate market size to prototype and validate a product; start-up friendly policies, like the ability to easily set up a company online in a matter of days; global commercial agreements and free trade; and flexible Visa policies for foreign workers. So while Chile has not yet hosted the quantity of heavy-caliber funding rounds seen in Brazil or Mexico (and is a much smaller country, relatively), in-country stakeholders have not been gun-shy about adapting Chile's business environment to accommodate promising entrepreneurs.
Of course, the COVID-19 pandemic has complicated the work of investors. WIND's Brian Walsh expects overall venture funding to drop relative to 2019, and Pedro Vicuña of Start-up Chile noted that this year's second quarter saw investors focus mainly on follow-on investments to prepare firms for the expected economic downturn. That said, drilling into the details reveals unequal performance between sector, with some clear winners:
"Nowadays, attractive investment sectors are healthcare, logistics, cybersecurity and ecommerce, among others. As for transportation, mining, leisure and food, they've had both their demand and their attractiveness to investors plummet. As far as target customers, there has been some appetite for B2B companies because large companies urgently need leaner cost structures. As for B2C startups, ones that generate value for unforeseen new habits and trends are constantly on the radar of VC Funds looking for hot deals."

Pedro Vicuña, Investment Manager, Start-up Chile
As Mondato observed in the early days of the pandemic, adoption is rising when it comes to certain digital tools which enable commerce and finance in the era of social distancing. PayPal, for instance, had the "strongest quarterly performance in [company] history" in Q2, with payment volumes and new customer acquisition both skyrocketing. For investors or entrepreneurs bent on breaking into LatAm's ecosystem, 2019's dazzling investment figures and the general buzz around the region should be taken with a shaker of salt. By all accounts, opportunity is alive and well across LatAm, but users are living in a different world altogether, complete with new use cases, revenue models, and investment hypotheses. 2020 may prove to be a less thrilling year for investment in LatAm than 2019 was, but the region's ambitious trajectory over just a few short years proves that the groundwork has been laid for future growth and success.
© Mondato 2020
Image courtesy of Random Institute
Click
here
to subscribe and receive a weekly Mondato Insight directly to your inbox.