Innovations in Insurtech: Observing Fintech's Path While Forging Its Own
~7 min read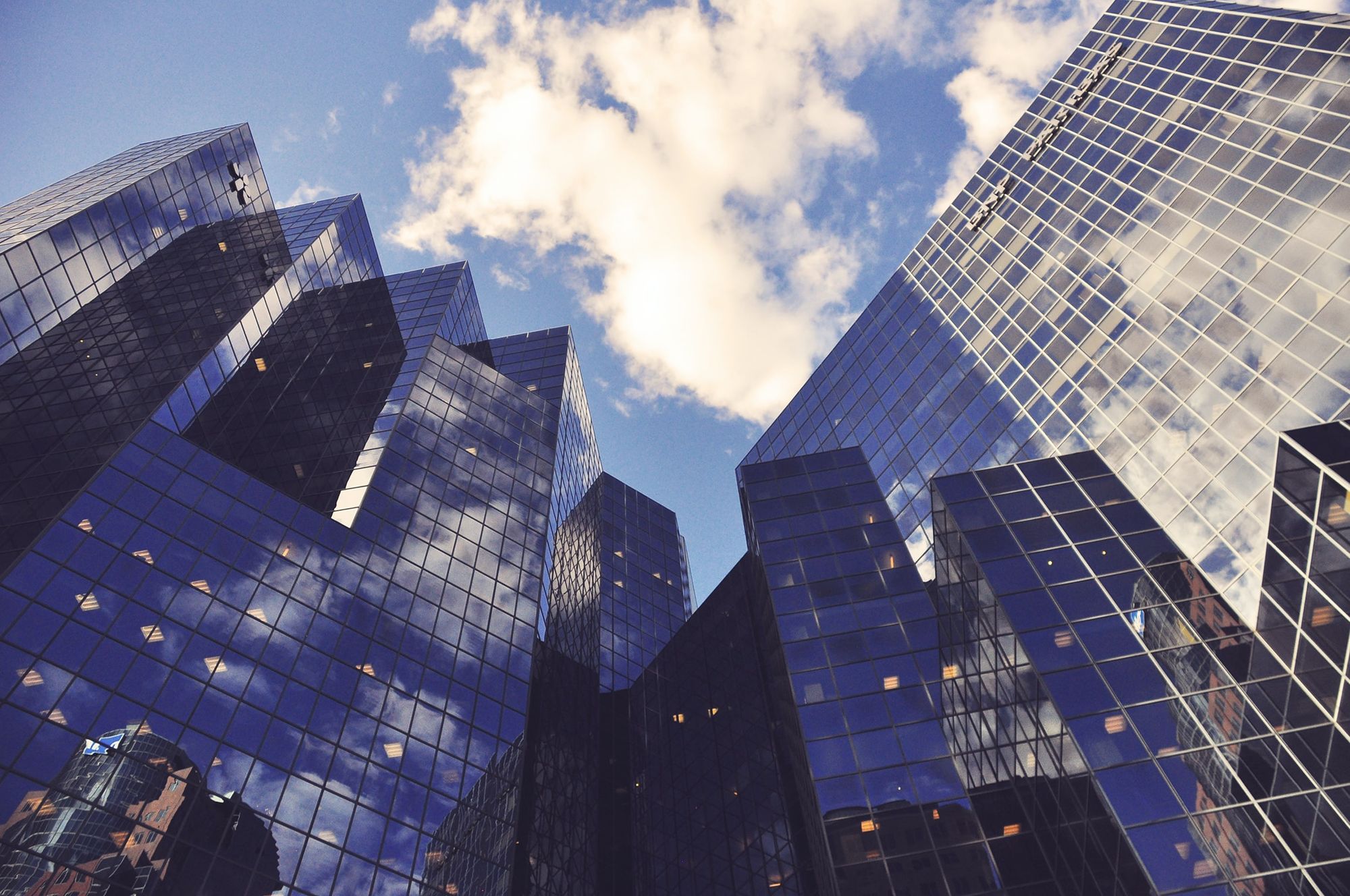 Insurtech is sometimes the forgotten child of the fintech revolution. Facing stiff regulations borne of an obsolete era, high capital constraints rendering market entry difficult, and diminished human capital, compared to more glamorous tech spaces, insurtech has taken longer than its fintech brethren to really take off. But as a legacy industry rife with tremendous inefficiencies and low customer satisfaction, the insurance space contains immense potential for innovation and transformation through digital means. Though a couple steps behind fintech in maturity, insurtech is already revamping longstanding industry practices and processes, offering bold new business models and reshaping the industry ecosystem itself. By adopting and integrating digitally native products spanning the numerous fields that insurance touches upon — including but not limited to fintech, proptech, medtech, and cybertech — the forgotten child of the tech revolution is morphing into its quintessential example.


Challengers and Incumbents: A Symbiotic Relationship
While market entrants must deal with high capital requirements that make disruption early on a hefty task, one McKinsey report found nine out of ten insurance companies struggling to modernize legacy systems on their own. Boosted by considerable investment in recent years — funding has increased in the U.S. by 60 percent and in Asia by more than 300 percent since 2017 — insurtech startups are thus frequently partnering with incumbents to help them digitize their systems and enable data-derived insights and programs.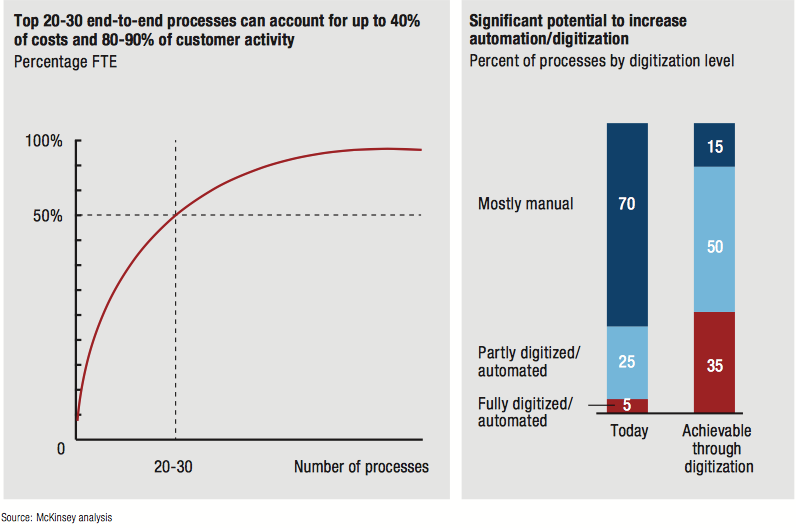 Source: McKinsey analysis

Insurtechs are now leveraging new, alternative sources of data about their customers and partners, as well as implementing artificial intelligence technologies to better manage workflow and automate much of the traditional underwriting process. This alone can greatly alter the shape of incumbents' businesses, as traditional insurance brokers are rendered increasingly obsolete; estimates claim approximately one million insurance jobs in the U.S. alone can be automated in the future. AI-powered technology is allowing onboarding and claims processes to be dramatically sped up and lower in cost, to the satisfaction of customers and insurance companies alike.
As they accumulate data offering granular insights into customer behavior, insurtechs and their digital native infrastructure are proving superior to legacy systems in nimbly catering to customer needs. Spot is a U.S. insurtech startup specializing in accidental injury insurance. Partnering with several legacy insurance carriers including Liberty Mutual Insurance, Spot offers a direct-to-consumer policy of US$25 a month to offer coverage of up to US$20,000 per injury through its end-to-end digital solution that takes a customer "a couple minutes" to sign up for and complete online. But likely its most innovative component is its partnership business. Spot partners with third party businesses to offer short-term insurance for events. While this side of the business has predictably lagged in growth during the pandemic compared to its direct to consumer offers — which has grown approximately 500 percent larger than estimated, according to Spot co-founder and president Maria Miller — the business model exemplifies where insurtech is going. At a partnering ski lodge, Spot's API connects with the partner institution's network to offer customers one-day insurance costing US$5 to cover injuries up to US$20,000 in cost at the point of sale.
"We want to distribute insurance to consumers in the way they want to purchase it and the times that they need it versus selling a product that an insurance company wants to sell and the manner in which they want to sell it."
Maria Miller, Co-founder and President, Spot
While Spot has already digitalized and expanded the distribution model of injury insurance, its utilization of AI is currently limited to aspects of the customer onboarding process. But as they gather more data from customers and partner carriers, they envision AI enabling them to automate much of the claims and payout process on an 18- to 24-month timeline.


New Data Breeds New Ventures
The path that Spot is on — specialize in one specific area of insurance while partnering with legacy institutions, with an eye for future expansion into related insurance fields — is common for insurtechs who are mostly in their earlier stages; one notable exception is Hippo's recent acquisition of its former carrier partner, Spinnaker, the first instance of an insurtech firm buying out an incumbent to continue its expansion. According to the World InsurTech Report 2020, 67 percent of insurers want to collaborate with insurtech, and 83 percent of insurtechs want to collaborate with insurers.
These partnerships aren't simply reforming the insurance space but expanding it. Some of this is due to new developments elsewhere; before Uber, there was no need for a car insurance company to know whether someone drives their car for pleasure or business. Beyond expanded need, however, is the expanded capacity enabled through new data sources. Internet of Things (IoT)-derived data are applied to areas like home, life, medical, and auto insurance. Better understanding personal behavior and traits allows companies to tailor policies to a customer's preferences and needs while reducing fraud and waste. This personalization of the insurance experience opens the floodgates to a range of creative approaches towards customized policies and risk prevention measures. In so doing, insurance outfits are no longer passive entities reacting to claims in blanket terms — they are engaged with customers on a consistent, proactive basis, helping clients reduce risk before claims are actually made.
In their early stages, telematics insurance companies install devices into vehicles to track a horde of data that can be utilized by car insurers to create tailored policies and target risk prevention measures, allowing for new business models like usage-based insurance, pay-as-you-drive, and pay-how-you-drive. Already a Series D company, Beam Dental utilizes a "smart toothbrush" that collects data about a user's daily hygiene to determine dental insurance rates. In so doing, the product accurately assesses risk while incentivizing healthy habits — and saving customers money.
This interconnectedness of personalized insurance and granular personal data derived through IoT invites new possibilities for what insurance ecosystems look like. Eugenio Gonzalez co-leads the insurtech program at Silicon Valley's Plug and Play Tech Center, an early-stage accelerator venture capital, and innovation ecosystem, where startups to large corporations are connected. Gonzalez cited the investments of telco conglomerate Comcast in the insurtech space as an example of the potential threat incumbents face from unexpected directions. After acquiring IoT startups, Comcast partnered with home insurtech firm Hippo to leverage Comcast's Xfinity base of millions to offer customized home insurance policies with the use of home IoT devices. Gonzalez cited similar investments by Cox as pointing to a future where telco companies begin offering, through partnerships or acquisitions of insurtech and IoT firms, customized forms of cyber insurance policies protecting against hacking.
Though still early on, this marks a shift away from siloed insurance products offered in segmented terms and towards the integrated customer experience pioneered by the fintech space.
"A seamless experience for customers being able to purchase insurance immediately within other platforms – I think that's where we're going. It's similar to a wave we are seeing in Asia with the rise of ecosystems where you can purchase insurance and make claims through SuperApps, like WeChat. We haven't seen that in the U.S. yet, but I think you will increasingly see digital wallets allowing you to pay for different things."
Eugenio Gonzalez, Principal, Insurtech Program, Plug and Play Tech Center
Anti-rebate laws are currently holding back a further step Gonzalez envisions — the bundling of IoT products with insurtech offerings. If such laws prohibiting insurance rebates are updated for the current moment, then a host of new business models appear.
"A life insurance company could give you an Apple Watch to monitor your vitals, and maybe they can provide you with a better rate. You make your policyholders safer; you're giving them IoT devices they otherwise likely wouldn't buy, a discount on their rates… and you're probably going to see a decrease in loss ratios. It's a win-win for everyone."
Eugenio Gonzalez, Principal, Insurtech Program, Plug and Play Tech Center
At the heart of many of these innovations is better assessing what people's risks are and how to adjust their plans from there. Following in the footsteps of fintech-enabled financial advisers like Albert, we are seeing the emergence of similar insurtech outfits, like Vero, that evaluate the risk profiles of businesses to better understand where they may be under- or over-insured, offering appropriate steps utilizing artificial intelligence.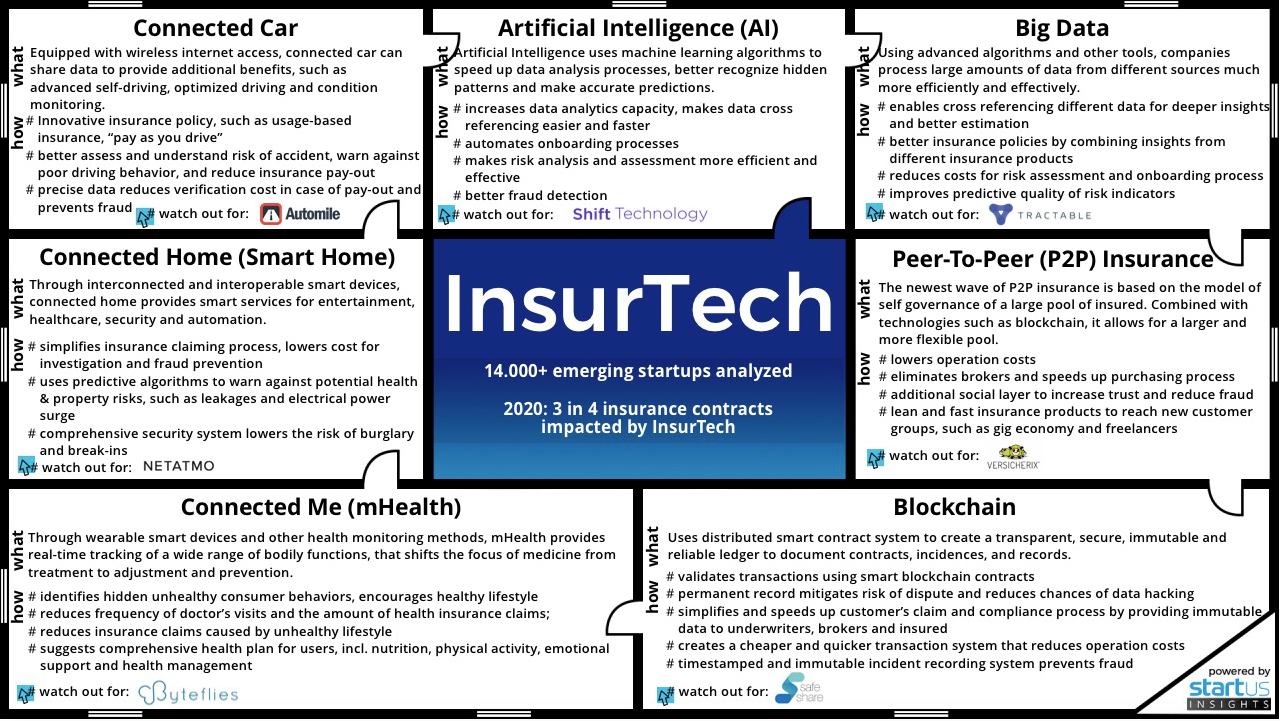 Source: StartUS Insights

In nascent stages, a few startups are also taking cues from inclusion-minded fintechs with offers of free basic insurance plans. Zenda.la is an early-stage startup in Mexico doing this, targeting urban millennials with initial offers of free basic insurance plans that can gradually be upgraded and customized to tailor to an individual's needs. Such offerings, with possibilities of bundling them with other services like banking, have the potential to expand inclusion in underinsured areas of the world like Latin America.


Leveling Hype With Reality
Insurtech may follow many of the same trends of fintech, but not all of the business models or technologies adopted from related spaces are panning out yet. Peer-to-peer insurance models threaten to greatly disrupt traditional insurance by cutting out insurance companies and enabling people of similar profiles to pool risk together through joint funds, refunding their remaining cash at the end of allotted periods. While the model promises to dramatically cut administrative costs and boost efficiency, according to Gonzalez, "time and time again" the model has failed to work, with fraud and other issues giving way to a myriad of problems.
Gonzalez also cited blockchain as an idea that three years ago "everyone was interested in," but with the technology's promise yet to reap significant gains for companies, "if you say blockchain right now, I'd say people are basically running away from you." Among its other prophesied benefits, blockchain has been touted as a potential windfall for reinsurers to enhance risk understanding and save billions through faster, more efficient and more accurate placement and claims settlement. But while smart contracts show promise in insurtech, blockchain has failed to deliver elsewhere.
That is not to say such models or technologies won't be effective in the near future — their potential benefits in efficiency are manifest, and these are still immature technologies trying to provide value in an evolving industry and ecosystem. But either way, the breadth of insurtech's innovations go far beyond technologies and models replicated from tech sectors elsewhere. As a uniquely all-encompassing tech sector with untapped potential through the sharing economy, the possibilities for insurtech to dramatically improve efficiency in time and cost to a hyperpersonalized level are considerable yet broad. For now, the rigid business models, inefficient processes, and satisfied incumbents of old are being revamped or replaced by digital solutions offering efficiency, convenience and hyperpersonalization. The insurance industry is vibrant and evolving once again thanks to insurtech, changing what it means to have insurance — and what to expect from it.
© Mondato 2021
Image courtesy of Floriane Vita
Click
here
to subscribe and receive a weekly Mondato Insight directly to your inbox.