Argentina: The Worst Of Times
~7 min read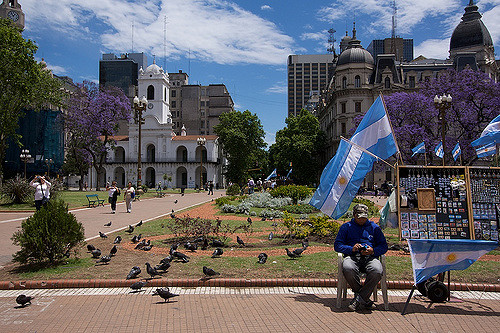 Anyone following the economic situation in Argentina is well-aware of its slow spiral. Since late 2015, the Argentine peso has lost 75 percent of its value compared to the US dollar (from about 10 pesos for every dollar in December 2015 to over 40 pesos for every dollar in September 2018). Inflation is out of hand. Between October 2017 and October 2018, the country-wide consumer price index (CPI) rose by over 45.9 percent; wages increased by an average of just 26.2 percent during that same period.
To ameliorate the crisis, Argentina's Central Bank set their interest rate to 60 percent overnight (the highest in the world) and the country secured a loan of USD$57 billion from the IMF — the largest in the organization's history. And yet, what role could digital finance play in helping South America's second-largest economy get back on its feet? Some indicators suggest that now could be the time, with Argentina as the place, for an economy-wide digital transformation.


The Here And Now
2018 was a particularly challenging year for the Republic. The peso depreciated 50 percent last year alone. In addition (but not unrelated) to the peso's troubles, the Argentine government is attempting to balance the national budget. Its efforts, in keeping with the stipulations of the IMF's loan agreement, include on-going, sweeping austerity measures, necessitating the cutting of utility and transport subsidies. These cuts in turn contributed to the cost of utility and transport services spiking by close to 70 percent year-over-year, sparking protests in the nation's capital.
As if that were not enough, a devastating drought last year cost the Argentine agricultural industry an estimated USD$3.4 billion. Argentina is the world's third-largest exporter of soy and corn, but to maintain normal soybean processing levels during the drought, the country actually imported soybeans from the U.S. for the first time in two decades. Why? Well, producers are not affected by low crop yields in isolation. Argentina's world-famous meat and dairy industry relies on crops to feed their herds. Even trucking and shipping companies, the diesel fuel industry and the government itself (who taxes exports) took hits.
Where does that leave ordinary Argentinians? No muy bien. No matter the occupation — whether a working professional, a pensioner, or a college student — money is worth much less than it was, and purchasing power is muted. The crisis cuts across classes too, affecting well-heeled and poor Argentinians alike; imported, hard-to-go-without goods like medicine and shoes are more expensive than ever.
Moreover, work is more scarce than in recent years, and those with steady work still live under threat of layoff. Local businesses are closing, like Buenos Aires's beloved Los Maizales restaurant, an 80-year-old institution. Other businesses and public sector groups are dismissing workers at even greater rates than a year ago; the first eight months of 2018 saw 39,000+ layoffs and suspensions across all sectors, compared to about 28,000 for the same months in 2017.
In general, unemployment is not significantly higher than it was a year ago (9.0 percent compared to 8.3 percent), but a rising unemployment rate among heads of household relative to last year could be cause for concern. Distressing, also, is that Greater Buenos Aires, the economic and governmental heart of the country which about one-third of Argentinians call home, suffers from higher unemployment (10.5 percent) than any other region in the country.


Desperate Measures
In addition to hiking interest rates, lobbying the IMF for aid, and introducing austerity measures, the government of Mauricio Macri is taking steps which it believes could bring long-term prosperity and increased foreign investment to Argentina.
Macri took over after defeating "Kirchnerite" Daniel Scioli in the 2015 presidential election. Under so-called "Kirchnerism," institutions like the state oil company and the state airline were nationalized, while the national deficit ballooned. At first glance, it may seem easy to lay the blame at Macri's feet for the peso's decline, which began almost the moment he took office. There is much more to this story, however, than meets the eye, and it has to do with a group called INDEC.
INDEC is Argentina's official source for statistics and census data. Under the Kirchners, INDEC published "distorted" figures, including a severely-understated official inflation rate and inaccurate poverty and GDP figures. The average inflation rate claimed by INDEC between 2008-2013, for example, was about 10% a year — "between a third and half of private estimates." Macri, soon after taking office, unmuzzled INDEC and lifted Kirchnerist currency controls to ensure that official economic data would, in sickness and in health, at least describe reality. Without a real sense of how the economy was doing, investors were navigating without a compass. Now — Macri supporter or no — they can make choices in view of the facts.
In fact, much of what Macri has striven to do, particularly early in his presidency, is make Argentina a more attractive place to invest and do business, which bodes well for anyone debating setting up a digital finance or e-commerce shop. So far, the Argentine government under Macri has:
One wonders what other pro-business measures Macri may have put in place were the economy not so hamstrung. If his 2019 re-election bid is successful, we may still find out.


A Digital Moment
To recap: Argentina is in the midst of a financial crisis and its currency is unstable against the dollar. Ordinary Argentine citizens are under huge economic pressure due to inflation and austerity measures. A pro-business president is opening the country up to investors while restoring the credibility of official numbers.
Does some of that sound familiar?
Argentina's economy features the second-highest level of inflation in Latin America after Venezuela, a country whose fall from fortune has been documented by Mondato Insight before. It was hypothesized then that Venezuelans might increasingly rely on digital payment platforms and cryptocurrencies if the Bolivar continues to flounder. Could something similar be unfolding in the land of silver?
The simple answer is: not just yet. Bank account ownership (including accounts with mobile-money-service providers) in Argentina in 2017 was just under 50 percent, far outstripped by neighbors Chile (74), Brazil (70), and even Venezuela (73). But there are promising signs. RedLink, a mobile payment and ATM service provider in Argentina, claimed in July 2018 that mobile banking use among Argentinians had risen 80 percent in the preceding 18 months. Interestingly, over 70 percent of this activity consisted of direct transfers between two bank accounts, with mobile payments for services, taxes and retail lagging far behind. This suggests that, in addition to the challenge of bringing the 50+ percent of unbanked Argentinians online, providers are still in the early days when it comes to promoting mobile payments as a viable medium for everyday purchases.
A couple of influential groups have already descended upon this task. The Central Bank of the Argentine Republic itself has made electronic payments "one of the core principles of its management" for three years, hoping to "normalize and reduce the amount of cash held by economic players while expanding the use of electronic means of payment." Outside of the Central Bank, Buenos-Aires-based MercadoLibre, Latin America's most popular e-commerce site by number of visitors, also operates the country's largest online payment platform, MercadoPago.
Although MercadoPago is hardly a household name, it may be building a head of steam; a high-profile, country-wide partnership with McDonald's offering 25% off any purchase paid for via MercadoPago QR code is proving popular. Furthermore, filings with the SEC (MercadoLibre is incorporated in the U.S.) indicate that in 2018, the company "obtained certain lines of credit in Argentina, Brazil, Chile and Uruguay primarily to fund the MercadoPago business." So, it is likely a safe bet that online and mobile payments will be more seriously integrated into the company's operations moving forward.
Companies such as Athena ATM and the Odyssey Group, instead, are filling out the cryptocurrency scene in the country. Speaking to Reuters, Athena's operations manager for Argentina said:
"With currency devaluations, we have seen a spike in bitcoin transactions. We see that as a safeguard to (the peso's) value, as well as an opportunity to invest in the market."
Obviously, cryptocurrencies like Bitcoin could serve as a long-term value store against the unstable peso. However, other cryptos could (much like MercadoPago's QR-code-based payment platform) replace, even partially, the peso for everyday transactions. Athena offers Bitcoin, Litecoin, Ethereum, and Bitcoin Cash for purchase without a bank account — all you need is cash and a smartphone. From there, crypto can act as a medium of exchange at participating retailers. And that's not a bad - or meaningless - deal for Argentinians; in July 2018, Forbes listed Buenos Aires as having the second-most Bitcoin businesses of any city in the world (141). That's more than San Francisco, New York or London.
Not only is there room for growth in Argentina's digital payment and commerce scene, but there is excitement. Leaders in business and government want to make new, innovative tools available to the public, who are in turn desperate to fight back against inflation any way they can. Plus, with the dawn of honest accounting practices and a business-minded administration in power, many of the old obstacles to investment have been cleared. It all spells opportunity.
© Mondato 2019
Image courtesy of [Natalia Romay](https://www.flickr.com/photos/nataliaromay/4109353870/in/photolist-7g8vJN-7HHo4G-7TWbcM-5iuChR-6tJvVW-7fnnAV-9HUYjm-48onN1-6LW9Tp-jFZXwW-am9g7c-3of59w-SweRA-a7v5f3-D82FD-atYNC2-9k9iKE-2iXkCm-CLCgo-bEgndf-7frfbf-4PqTyW-kvnpe-daSDQJ-8gfjD6-dssT7L-bUFdht-6rkfJg-ddoNaj-D82Uj-dTRXUn-q6WZ7F-cPn9kJ-BShDu-aSgwVV-6HXy2J-kjaUs-o4mMDk-cPn9gu-cckFdq-cPn989-q6WYYp-8cipRP-8BGv9c-q6XfrD-cPn9ch-aeFwte-4tkMhk-e7MT4v-7XNwYp)
Click
here
to subscribe and receive a weekly Mondato Insight direct to your inbox.