From Seed To Table: How Fintech Will Optimize Food Systems
~11 min read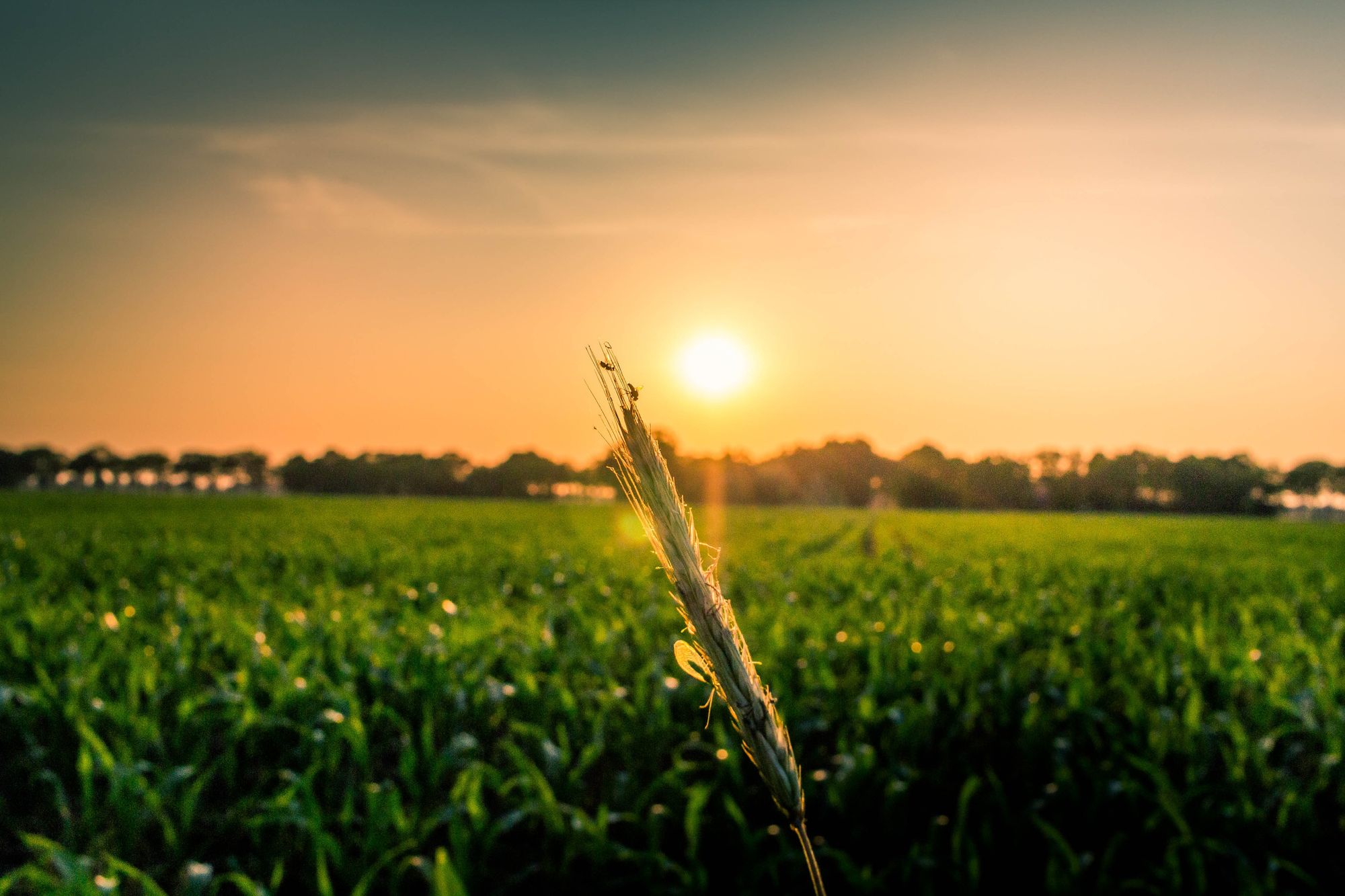 When it comes to food security and production, financial inclusion initiatives have long recognized the benefits of access to financial services as a means to combat hunger and poverty. More recently, digital finance and fintech have played a more central role in food systems by providing platforms that minimize waste throughout the agricultural supply chain. More than a third of the world's food supply is wasted every year, amounting to 1.6 billion tons of food and a $1.2 trillion loss. But the Food and Agricultural Organization of the United Nations (FAO) reports that global food waste can be reduced by 20 percent by 2025 and up to 50 percent by 2030 — and this can only be realized through the adoption of digital solutions at each part of the agricultural lifecycle, from production to consumption.
Digitization catalyzed by COVID, coupled with the uptake of the sharing economy, present a new set of digital finance opportunities for food systems. The food waste management sector alone is expected to grow by more than US$8 billion in the next few years, with significant investment in digital applications and platforms as part of its expansion. From optimizing food production and distribution to educating consumers and connecting buyers and sellers, fintech and related digital technologies are playing a significant role in designing more sustainable business practices for food management, all the while presenting attractive revenue opportunities for businesses and consumers. In this week's Mondato Insight, we explore the digital innovations taking place in the commercial food industry and the essential role value chain actors have in integrating technologies to confront the systemic challenges of global food waste.


Starting at the Source
The first step in the food waste lifecycle is production, where a third of food waste takes place. When it comes to food lost at production, farmers suffer from a few overarching challenges. They often lack an efficient way to get their produce to market at the freshest possible state, as well as easy solutions to connect directly with buyers – whether that be retailers, consumers or other intermediaries. Digital solutions can tackle both of these problems by offering a platform to connect farmers with potential buyers and, in some instances, allow farmers to bypass middlemen that take a valuable portion of profits as food passes through the agricultural supply chain. Studies found that in developing countries, over 30 percent of crops never make it to market, resulting in a US$150 billion loss annually for both the farmers who have lost income and consumers that lose out on food.
App-based platform Agromovil was built to respond to this loss by simplifying logistics for smallholder farmers in Colombia. The application matches producers, transporters and off-takers, allowing farmers to match with their desired transport and type of buyers to optimize transport routes and orders, allowing parties to "batch, match and pay" all within the app.
Pushing the transition from cash to digital payments at the food production stage can improve agricultural productivity and food security. Though digital payments have seen slow adoption in poorer communities, mostly due to lack of infrastructure or digital skills, the financially excluded have the most to gain from new payment channels that can onboard them onto digital marketplaces to exchange goods. Digital payments lead to more profitable harvests by reducing transaction costs and expanding the reach of potential buyers. Enabling farmers access to digital financial services from banks, microfinance institutions and insurance providers also optimizes production.
In East Africa, Acre Africa links farmers to insurance products like risk assessment and risk monitoring. Farmers can sign up for weather-indexed insurance plans that send disbursements via mobile money during times of drought or other natural disasters.
Another prevalent risk that can result in loss of crops at production is information asymmetry. The UN reports that approximately 14 percent of the world's food is lost between harvest and distribution due to farming practice inefficiencies. Data tracking and AI-enabled platforms can deliver real-time, essential data on crop health, yield forecasts, weather updates and other relevant information that helps farmers to optimize production. Regular updates on a crop's growing condition or water supply can greatly improve productivity. Because food productivity and poverty reduction go hand in hand, digital tools both decrease waste and improve lives, particularly among rural communities; a mere 1 percent increase in agricultural production was found to cause a 1.4 percent decrease in the number of rural people living under the poverty line.
Farmers must also contend with producing food that may not be compliant for export, causing more food to go to waste. Companies like Decapolis are using data analytics and blockchain technology to eliminate unnecessary crop loss by ensuring that produce is compliant, safe and traceable for foreign export.
"We are working with 100 farmers in Jordan, [and] we give them all the measurements and safety and quality parameters for the entire planting program, including water, soil and seed. We use our technology to generate data to decide the best times to plant seeds [and] to control pesticide and fertilizer usage. This helps to keep their yield positive and compliant with global standards."
Abedalrhman Habashneh, Founder of Decapolis
While emerging markets depend heavily on food exports, they often lack agricultural research that is typically the main source of innovations for food systems. Despite proven social and economic returns on digital applications like Decapolis, there is still an underinvestment in emerging market solutions for farmers. The Global Commission of Adaptation (GCA), led by Ban Ki-Moon, Bill Gates and Kristalina Georgieva, published recommendations to increase international agrifood systems research for Africa and South Asia in particular, where food demand is expected to increase and digital technology could have the most impact on yields.


Food System Digitization and Financial Inclusion
In addition to improving production, the transition to digital payments across the agricultural value chain is also seen as an onramp to financial inclusion, which can support farmers in seeking credit for expansion, funds for essential resources, or insurance in times of drought or flood. Farmers that obtain digital identities subsequently have the ability to receive social or government transfers, which can be particularly important for subsistence farmers that sell their crops irregularly.
The GSMA's mAgri Programme works on building these financial or economic profiles, leveraging mobile technology to help farmers access formal financial institutions. Case studies detailed below illustrate the diversity of agricultural use cases across countries and industries – from cocoa farmers in Ghana to dairy producers in Pakistan.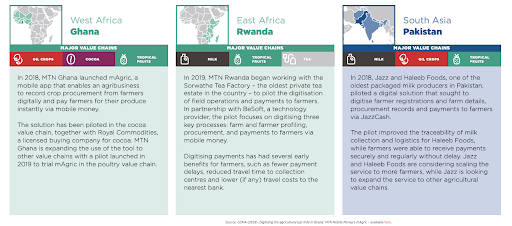 Source: GSMA, 2020
In addition to improving food systems, the digitization of agri-payments in emerging markets leads to a multitude of direct and indirect benefits for the mobile money ecosystem. Both mobile network operators (MNOs) and mobile money providers benefit from additional payment transaction revenue and new customers, as well as the potential uptake of more advanced services like loans and insurance. The potential mobile money revenue opportunity for emerging market agricultural payments alone is expected to increase to US$3.2 billion over the next few years. Even as smartphone penetration slows, potential revenue opportunities continue to grow as agricultural stakeholders graduate to more advanced digital financial services with higher profit margins.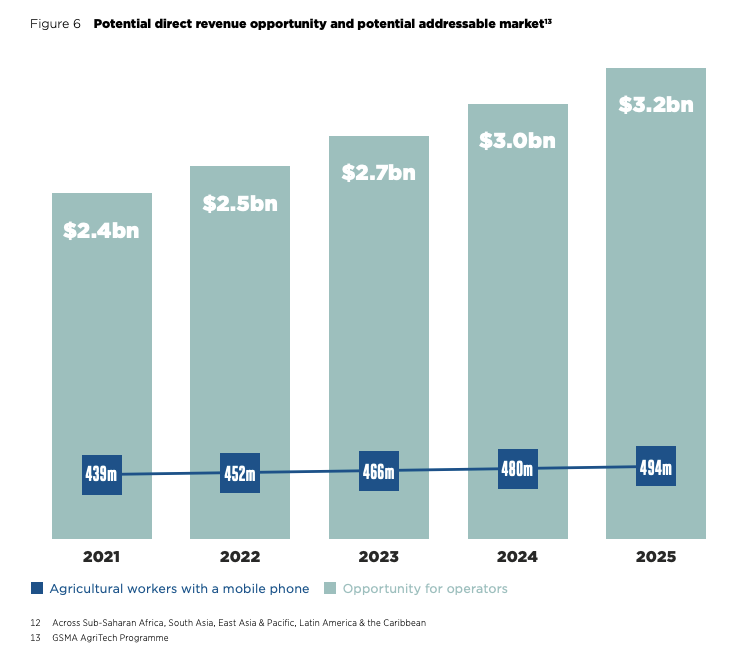 Source: GSMA, 2020
Smarter use and dissemination of data is one approach to realizing this revenue opportunity. Digital technology can improve farmer techniques like planting, irrigation and harvesting as well as provide better access to agricultural resources through more efficient communication networks and access to information. Challenges of connectivity and financial literacy still remain, particularly in rural areas, but localized initiatives are working to generate awareness of the benefits for digitizing agricultural payments, particularly for smallholder farmers and mobile money agents.


The Future of Food Systems
Emerging market farmers are not the only ones who stand to gain from the digitization of agricultural systems; farmers of all types, as well as large-scale buyers, benefit greatly from digital payments and their network effects. 13 percent of food is wasted along the agricultural supply chain before arriving at a retail outlet, largely due to demand unpredictability and overstocking. The digitization of processes between buyers and sellers improves the speed and security of transactions while supporting more efficient demand planning and time to market.
Digital marketplaces, or "virtual trading floors", that connect buyers and sellers help to track supply and demand patterns and behaviors, which reduces cost and uncertainty across the entire value chain. Digitizing the agri-procurement process through these marketplaces also increases transparency, quality and predictability of supply. More accessible information improves operational control and monitoring and streamlines communication channels between suppliers and their buyers, more closely aligning supply and demand. In India, mobile applications connecting farmers to retailers brought supply costs down by 15 to 25 percent, leading to more revenue and liquidity for farmers as well as more efficient distribution.
Supply chain efficiencies can also be realized through the implementation of blockchain and Internet of Things (IoT) technologies. Blockchain's digital ledger helps to tag food, materials and compliance to allow stakeholders to track items along the lifecycle, creating the ability to identify in real-time where delays or other challenges create food loss. For example, if a bad batch of produce requires specific equipment to prevent early browning or rotting, connecting systems through blockchain or IoT systems can put systems in place to generate messaging so that distributors can plan ahead.
Considering the interconnectedness of food supply chains and its dependency on communication and information-sharing, digitization of food systems holds massive potential to greatly reduce inefficiencies and global waste. Unfortunately, the food industry has a history of being slow to uptake new technologies relative to other industries, presenting stubborn challenges to improving legacy systems.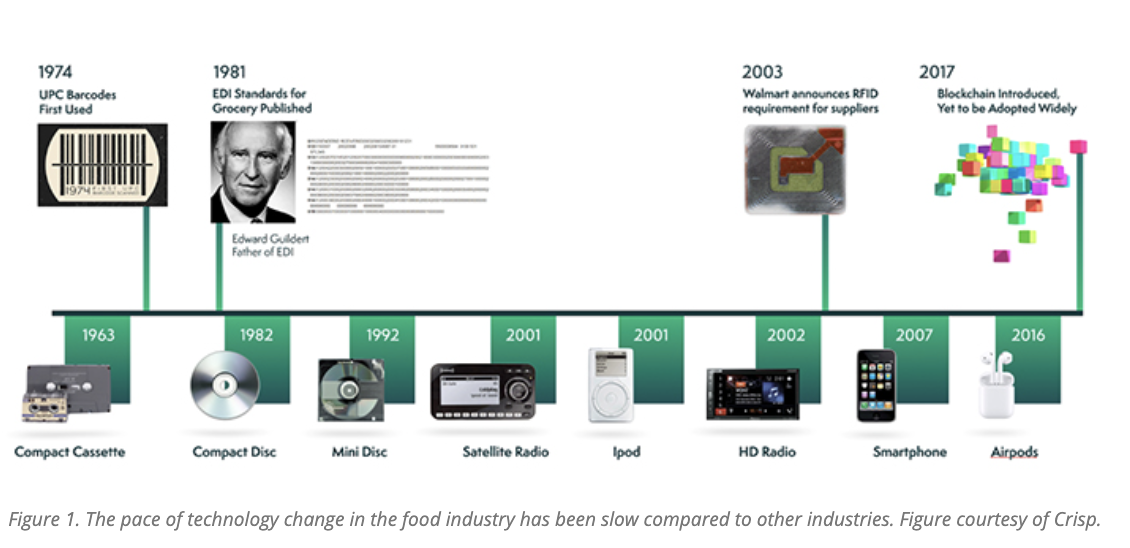 Source: Food Safety Tech, 2020
Yet the entry of Big Tech players is pressuring legacy institutions to adapt to forthcoming innovations. IBM's Blockchain Lab has invested in addressing the complexity of integrating technologies like blockchain into food systems through its IBM Food Trust initiative. One challenge in particular is standardizing data across the value chain so that transparency and interoperability can be implemented through blockchain.
"There is a dire need for a common view across the value chain to establish trust, but not just the ability to track and trace but true transparency across different parts of the ecosystem... If we're able to conform to the same data standards, it makes it easier for information to be shared by different networks and systems: platforms that are on blockchain, and those that are not."
Alan Lim, former IBM Head, Blockchain Centre of Competency & Blockchain Labs and currently Head, Fintech Infrastructure Office at the Monetary Authority of Singapore



Minimizing Loss at Points of Sale
While food loss in poorer countries predominantly takes place at the production stage, roughly a third of edible food is lost in retail shops and consumer homes in more developed countries. When it comes to points of sale like grocery stores, industry reports have found that food waste is a US$18 billion opportunity, with retailers able to make a median of US$5 for every dollar invested in food waste reduction. Unsurprisingly, many of the opportunities to invest in food waste reduction are the product of innovations in digital technology.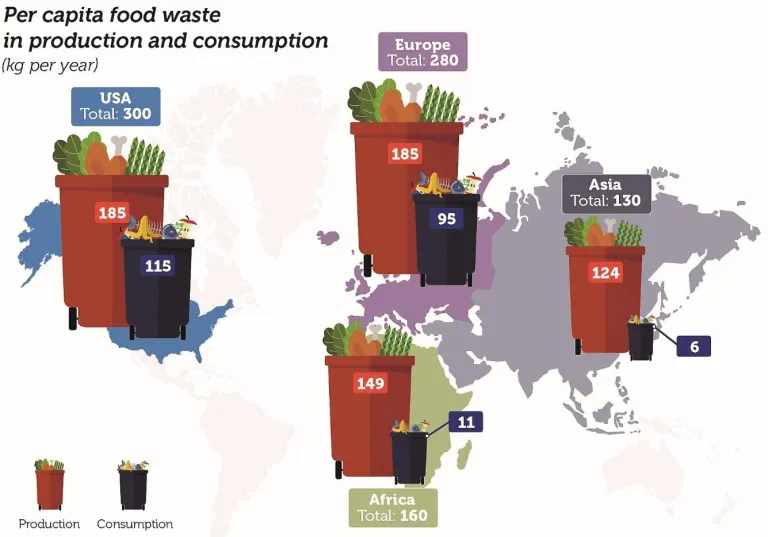 Source: FAO
AI-enabled smartphone and tech applications can now monitor freshness through smart sensors and cameras, allowing producers and consumers access to quality information on food that can overripen or expire. Artificial intelligence can provide data that guides operational considerations and helps retailers make better decisions, which has been critical to survival as ecommerce platforms like Amazon aggressively compete with brick-and-mortar grocers.
Afresh Technologies' AI-powered grocery optimization platform specializes in grocer fresh food challenges by tracking supply and demand trends to improve planning and minimize excess inventory and, subsequently, unrealized revenue. The company found that retailers using their platform were able to increase fresh food sales by 3 percent and revenue margins by 4 percent, while reducing in-store food waste by 50 percent. This impact on profit helped them to raise US$25 million in a Series A funding round last year.
Forecasting and inventory planning are essential to food waste optimization for all stakeholders. Next generation automation applications that increase data cooperation and sharing across supply chains are changing the way that inventory is managed. Taking innovation to the next level, robotic technology like Simbe Robotics' grocery robot Tally can be leveraged for scalable "shelf intelligence" to enhance an array of in-store operations like restocking and freshness monitoring.
Simbe Robotics - Introducing Tally 3.0 from Simbe Robotics on Vimeo.
In addition to inventory management, blockchain also plays a role in advertising the lifecycle of produce so that consumers can be more educated at the point of purchase, enabling better decision-making processes that can lead to more profit for farmers and distributors who invest in more sustainable practices.


The Customer Is Always Right
Once food leaves the point of sale, the final stage in the food system lifecycle lies with individuals, and in many ways, individuals inform the rest of the value chain. Shifting consumer preferences towards more environmentally conscious products have the power to raise awareness across the entire agribusiness industry and incentivize businesses to get on board. Many public-sector or regulatory initiatives are focused on food loss at the farm or supply-chain level, but the fintech industry is driving the B2C food space to digitize and enhance consumer purchasing practices. At the consumption stage, an estimated 340 million tons of food is wasted, or 22 percent of food waste, representing a US$500 billion opportunity.
The main cause of waste at the consumer level is lack of awareness around labelling, expiration dates and sustainability. One of the most notable enterprises tackling this challenge is Too Good To Go, now operating across 15 countries with more than 42 million users, with the aim of connecting consumers with grocery stores, restaurants, bakeries, hotels and other food retailers to monetize unsold food at discounted prices. With payment for goods seamlessly integrated, consumers are offered a wide variety of options – from prepared meals and desserts to fruit and vegetable baskets. In some of the communities where it operates, the company also leverages its platform to inform public policy initiatives and donate excess food to charities.
Too Good To Go's success and plans for aggressive expansion across both developed and emerging markets proves that the food waste revolution is quickly catching on by presenting a business model that makes operations more lucrative and sustainable.


Changing Behavior Through Data
As headlines draw greater attention to the global climate crisis, consumers and businesses alike will look to invest in more environmentally conscious systems, making way for digitization to permeate each step of the agricultural value chain. Changing consumer behavior takes time, and fintech applications are playing a critical role in building attractive propositions, collecting and analyzing data, and educating the public. Studies show that 70 percent of people are now more aware of the human impact on climate change than a few years ago, with 87 percent believing businesses should address environmental concerns. As consumers demand more sustainable commerce, businesses are sure to follow.
The opportunity surrounding food waste has also piqued the interest of corporates, with executives discussing the topic a record-setting amount of times in 2020 as the pandemic exposed supply chain issues for many retailers. The trend towards creative food waste solutions will likely translate into more funding for digital innovations that can offer producers, retailers, or consumers more efficient ways to distribute and consume food.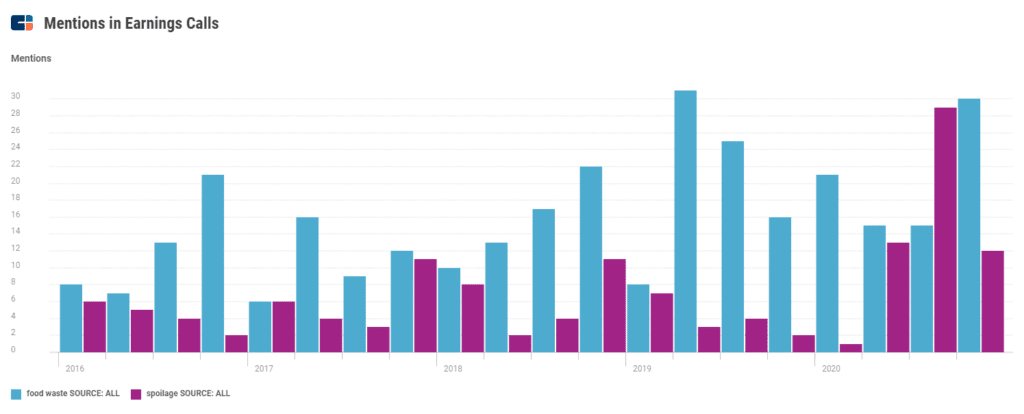 Source: CB Insights, 2021
While companies in the space are experiencing success, significant investment from both public and private sector players is still required to disrupt the agricultural sector, which is still largely dominated by analog systems. With digital finance naturally providing a platform for stakeholders to connect and transact, the opportunity to tap into this movement will only grow, particularly in emerging markets where excess food can be redirected to address hunger and poverty. As the food waste industry continues to grow, the digital finance community has the potential to discover and enable new business models through scalable technology that can enhance food systems and their operations.
© Mondato 2021
Image courtesy of Akin
Click
here
to subscribe and receive a weekly Mondato Insight directly to your inbox.