There's Something About Jio
~9 min read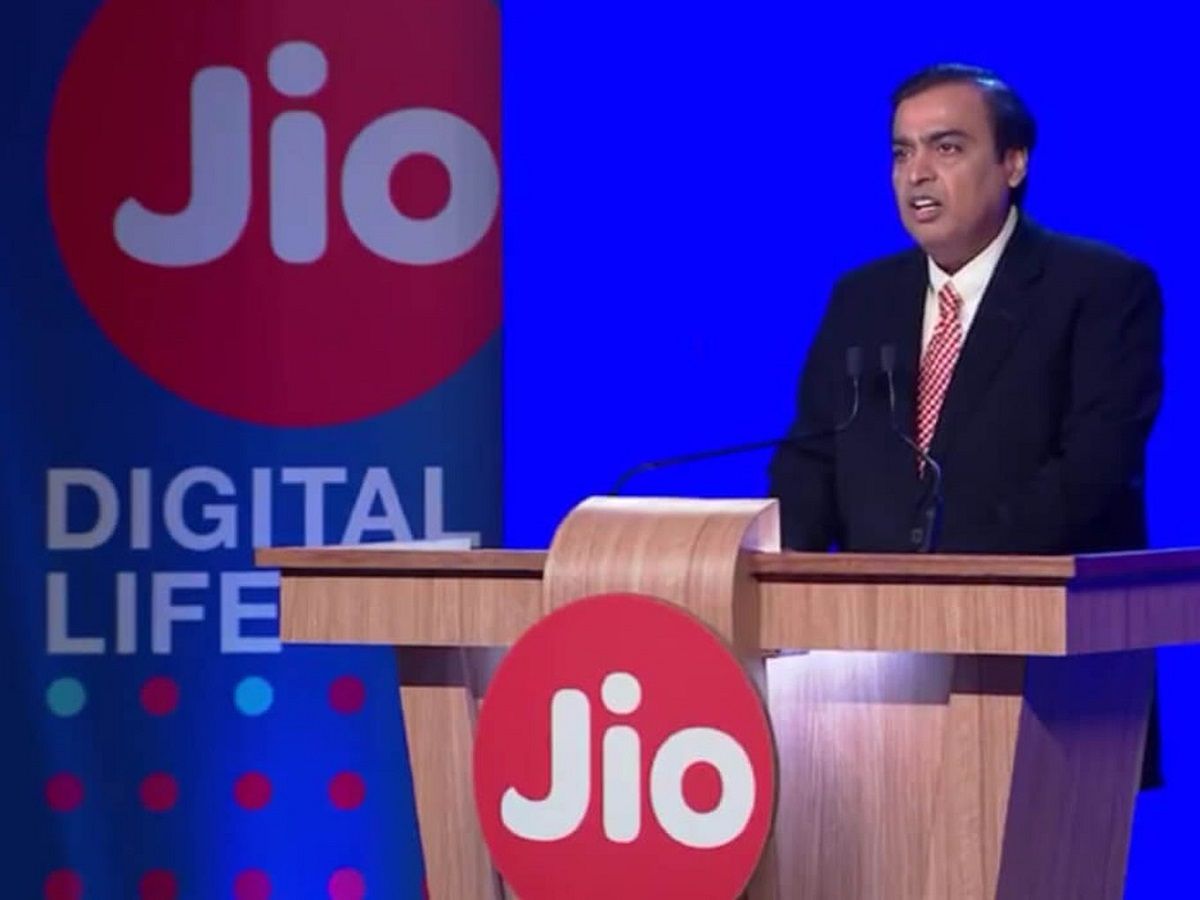 Over the course of the past several months, the telecoms and digital arm of Reliance Industries Limited (RIL), called Jio Platforms, has attracted $20 billion from global investors, stirring much excitement and hype over India's famed conglomerate that promises to revolutionize India's digital economy. Jio Platforms is no ordinary company, as reflected in the astonishing rise of its mobile arm, Jio, in a span of less than five years from market entrant to becoming the leading mobile operator in India. And now, with the muscle of some of the world's most powerful tech companies and marquis investors, can it truly deliver on its ambitious vision?


Neo Jio
But first - what is Jio Platforms? Less than a year ago, RIL created a wholly owned subsidiary to hold its telecom and digital businesses, including Jio, India's largest mobile network operator. In the transaction, the US$15 billion liability of Jio was transferred to RIL and in turn, RIL was given preferential shares of Jio Platforms. Some have observed that the restructuring was meant to host the digital businesses within a debt-free entity, and that the move seems to echo the strategy Jack Ma has used to manage of Alibaba in China. Jio Platforms hosts a diverse collection of services, from a live TV streaming app (JioTV) and an e-grocery delivery platform (JioMart) to an online music streaming service (JioSaavn), a messaging app (JioChat), a video-conferencing platform (JioMeet) and even a digital currency (JioMoney) – to name just a few. In its efforts to lead India's digital space, Jio Platforms also acquired various companies for a cumulative value of around US$450 million to build its artificial intelligence capabilities. The platform was most recently valued in its entirety at more than US$72 billion, which is higher than all of RIL's other businesses combined.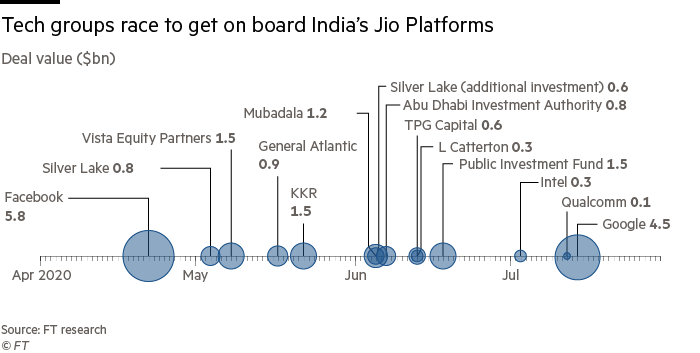 According to Mukesh Ambani, RIL Chairman and Managing Director, "This new company will be a truly transformational and disruptive digital services platform. It will bring together India's No 1 connectivity platform, leading digital app ecosystem and the world's best tech capabilities, to create a truly digital society for each Indian."
Tech giants like Google and Facebook have pledged billions in an attempt to capture a slice of India's rapidly growing digital pie. India's population of more than 1.38 billion people is second only to China, and is slated to overtake China as early as 2024. Moreover, this expansive market is rapidly going digital, a process which is only accelerating thanks to COVID-19 tailwinds; a recent study in fact found that Internet usage in India went up more than 13% since COVID-response lockdowns were initiated.
Some of the world's sharpest and most prolific investors seem to agree that Jio Platforms represents a unique portal to India's digital future. Henry Kravis, Co-Founder and Co-CEO of KKR, a global investment firm that announced a purchase of a 2.32% equity stake in the company in late May, explained that, "few companies have the potential to transform a country's digital ecosystem in the way that Jio Platforms is doing in India, and potentially worldwide."
Mubadala Investment Company, an Emirati state-owned sovereign wealth fund, also invested a significant sum in early June. The firm's Managing Director and Group Chief Executive, Khaldoon Al Mubarak echoed a similar sentiment in a statement; "We have seen how Jio has already transformed communications and connectivity in India…with Jio's network of investors and partners, we believe that the platform company will further the development of the digital economy."
Among the strategics which have announced investments in Jio Platforms so far, Mark Zuckerberg, Founder and CEO of Facebook, noted that the partnership will facilitate access to the 60 million small businesses in India and the millions of people who work for them. Google also bought 7.7% of Jio Platforms, with the intention of introducing an affordable smartphone via Android. Qualcomm put their US$97 million investment into upgrading Jio's 4G network to 5G, considering that 5G mobile subscribers will represent around 18% of the Indian market by the end of 2025.


Telco Origins
When Jio first launched its 4G services across India in 2016, Mukesh Ambani offered its customers six months of free 4G internet, leaving his competitors scrambling to compete. Jio acquired more than 100 million subscribers in less than a year and turned its sights on procuring the infrastructure of Reliance Communications, owned by Mukesh Ambani's brother, Anil Ambani.
The price war ended with Mukesh buying his brother's mobile business in 2017, and Jio successfully acquired over 100,000 miles of fiber optic cables and 43,000 towers. Jio then expanded to a triple play fiber to the home service, including broadband internet, television and landline telephone services. By 2019, the company had doubled its fiber infrastructure. By 2020, Jio had more than 400 million subscribers.
Jio's telecommunications success can be attributed to a number of factors, ranging from its massive US$32 billion network and services investment, a favorable ruling on an interconnect controversy that halved fees for cross-network calls, to its aggressive (or, as some have argued, predatory) pricing strategy. Jio's competitive pricing has forced other mobile operators to follow with their own severe tariff reductions, which ultimately lowered Average Revenue per User (ARPU) across the industry, with Bharti Airtel citing a 29% decline in ARPU in 2018. But to be sure, Jio had a positive impact on the affordability of telecom services across India, lowering the average price of data to approximately US$0.26 per GB, compared with the global average of US$8.53, which in turn has enabled millions more Indians to be digitally included.
More rapidly than expected, and to its competitors' detriment and surprise, Jio became a telecom sensation, lauded globally for its ability to connect such a large country with mobile and fiber so quickly, and at such a low cost to its consumers. Whether by purposeful design or not, the origins of Jio's trajectory into a telecom behemoth resulted in a perfect foundation upon which to build a ubiquitous digital ecosystem, potentially repeating the story of surpassing all of the incumbents and other competitors in its path.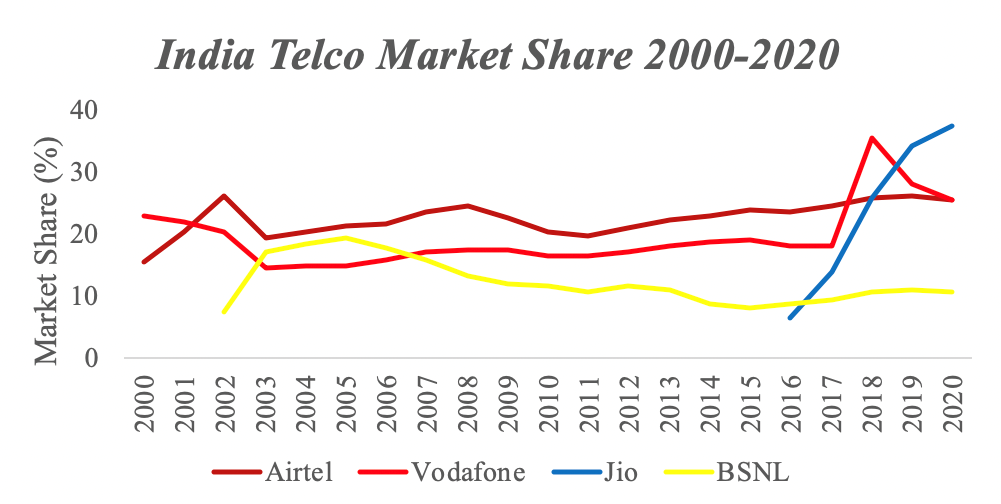 Source: HIP Consult analysis


Anthony Thomas, Chairman of MoMo, Vietnam's largest e-wallet, and until recently CEO of Mynt, Ant Group's JV with Globe Telecom in the Philippines, observed of Jio's transformation story,
It's a real master stroke by Mukesh Ambani… in terms of starting out as a telco, capturing 400 million-odd users, and now monetizing it with a platform model… it feels akin to Jeff Bezos [Founder and CEO of Amazon] in terms of making continued large platform investments with long term value.
Anthony Thomas, Chairman, MoMo
With India already making strides in the arena of digital adoption, the sphere of digital finance is only expected to expand, with the country's global digital payments market expected to grow 23.8% to reach a transaction value of US$12.4 trillion by 2025.


A Digital Destiny
Jio Platforms' rise comes at a time when Paytm, an online payment system and e-wallet, which has been considered India's digital darling and lauded as an "e-commerce success story," has experienced challenges with the expansion of Unified Payments Interface (UPI). Paytm's position has been further complicated by the recent political tension between India and China. Ant Financial, an Alibaba subsidiary, owns 29.71% of Paytm. In last year's report on global trade barriers, India was cited as having average applied tariff rate of 13.8%, the highest tariffs of "any major global economy" and also recently raised import duties on about 40 items in order to "provide adequate protection to the domestic industry." These protectionist measures will make fund-raising and expansion more challenging for digital Indian and foreign contenders alike.
This concern is not limited to a single firm. Chinese companies are invested in two-thirds of all Indian startups. Between Tencent, Alibaba, and its affiliates, the companies have invested in almost twenty Indian startups, of which twelve have reached unicorn status of valuation over $1B USD. The CEOs of both companies made public statements last year of their intentions to further investment in India's digital and mobile startups, prior to recent conflicts that have diminished availability to Chinese capital.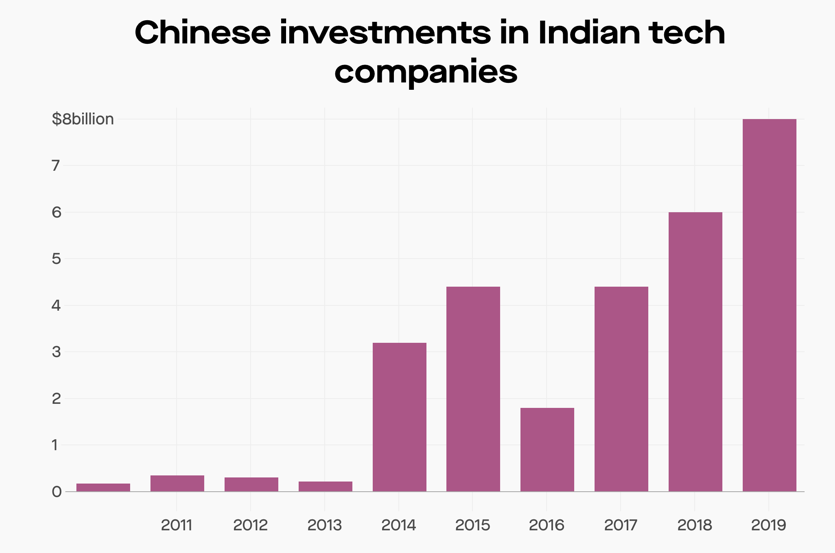 Source: The Atlas

The only other tech giant that market observers see as presenting significant competition for Jio Platforms is Bharti Airtel. Having launched its own payments bank, Airtel India is quite active in the digital financial services sphere. Earlier this year, a rumored investment from Amazon also reinforced the perceptions of its viability and indicates a potential expansion into additional digital services.
Other companies have flourished in the space. Some are large and established, while others are newer and nimbler, but none are as expansive or ripe as Jio Platforms. Walmart, for example, won a bidding war with Amazon over India's largest e-commerce company, Flipkart, in 2018, and earlier this month, invested US$1.2 billion to increase its majority stake. Just last week, however, Flipkart announced its acquisition of Walmart India, which will serve as a platform to launch its new digital marketplace, Flipkart Wholesale, that will offer small-to-medium sized enterprises (SMEs) access to its vast supply-chain. The move is said to be a power play to take on potential competition from Amazon, further proving that big players are pivoting to a less visible role as part of a more strategic approach to penetrating the Indian market.
Another example of a foreign player entering India through local entities is Facebook's WhatsApp partnerships with ICICI Bank and HDFC Bank, with plans to link up with more banks to expand banking services to rural and lower-income segments. WhatsApp announced intentions to expand to financial services like pensions and insurance as part of a pilot project with local partners as it waits for its own payments service to obtain regulatory clearance after data localization issues with the India's Central Bank.
Perhaps the stars aligned for Jio Platforms. India's Government has made clear it intends to encourage and foster more local representation in the digital space, and as the Government pursues protectionist policies, Western players have collectively chosen to invest locally as a means to tap into the Indian opportunity. Seen from a different lens, these tech giants may be hedging their bets by investing in Jio Platforms, ensuring entry into one of the world's most populous and important markets; if their initial direct forays does not pan out, then their investment in local favorite, Jio Platforms, will. Or perhaps both. While Jio Platforms is an impressive venture by any measure, the opportunity to invest was made even more alluring by the country's current regulatory and political environment, in conjunction with India's increasingly digitized population.


Go Big Or Go Super
In addition to the laundry list of digital services as individual offerings, there is another digital finance trend that may be in the cards for Jio Platforms and its new band of reputable investors: the "Super App", which is defined as an all-in-one app that incorporates many functions and features.
Facebook's investment with Jio Platforms extends beyond payments to other forms of commerce, with EdTech and digital media already on the horizon. Jio's e-commerce platform, JioMart, has the potential to be a major market disruptor, particularly since its supply chain is enabled by Reliance Retail, RIL's other business stream. Even before considering all of the other tech synergies inherent in the "Jio Gold Rush," Facebook / WhatsApp combined with Jio / JioMart already instigated whispers of a "Super App", though there has been no confirmation of that intention.
The trend of the "Super App" is becoming more popular. Vodacom announced a partnership with Alipay to launch a "Super App" in South Africa next year which will offer personalized financial, business and lifestyle services. The company's chief executive described the initiative as a reinvention of the mobile fintech ecosystem in South Africa. SoftBank Corp., a Japanese telco, made a similar move last month when it invested in app integrator Splyt in its efforts to build its own "Super App" filled with relevant services.
The biggest global "Super Apps" hail from China. Its entrenched digital powerhouses, Tencent and Alibaba, are heavily invested in this concept, and not only domestically, but regionally and further afield internationally as well, recognizing that this path promises a strategic foothold and invaluable piece of a given market's digital ecosystem.
Though the "Super App" promises to improve user experience and adoption, it may also thwart competition and present data privacy concerns. India itself recognized the threat when it banned 59 apps due to illegal transmission of data outside of the country, as explained in a recent Mondato Insight. But Jio Platforms is an Indian company, and therefore, may have the political capital to make a play for an all-encompassing digital platform.
As Jio Platform's ambitions and cash requirements continue to expand, the company will become increasingly complex, with more partners to consult and inevitablly differing views to reconcile. Though it has not been explicitly stated that Jio intends to make a "Super App" play, its current uptake and maturity offer a strong position to either establish digital ecosystem leadership through standalone, but inter-related apps or an integrated approach via a single "Super App" environment. In a sense, that provides Jio Platforms with the luxury of the best of both worlds, and an avenue to hedge its bets. With the world's most formidable tech companies and investors now involved, Jio's next move will certainly intrigue, and is likely to have major implications on the digital trajectory of India, and potentially many other markets watching closely.
© Mondato 2020
Image courtesy of Inc42
Click
here
to subscribe and receive a weekly Mondato Insight directly to your inbox.