Mondato Summit Asia 2017: Emerging Asia's DFC Moment
~8 min read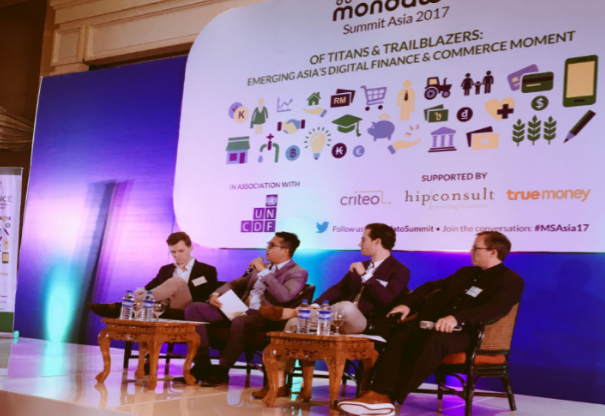 Fast growing Yangon was host of the fourth annual Mondato Summit Asia on November 28-29, 2017, focusing on strategies for driving innovation and building more robust ecosystems of digital finance & commerce ("DFC"). Occurring at the same time as the Pope's visit, and just blocks from St. Mary's Cathedral, there was palpable excitement in the air. And, that was appropriate given the momentum surrounding broadband mobile internet and smartphones in this market, representative of the accelerating pace of DFC across the wider ASEAN region.
Many presentations and panels zeroed in on this transitional period, especially as economic activity migrates to digital mediums, thereby empowering next steps to continue increases in financial inclusion and use case development. Yet through it all, several delegates brought up the need to also continue to emphasize core fundamentals underlying this success, such as continued investment in agent distribution networks and liquidity. This was very much in line with the event's title of "Titans and Trailblazers," as it is important to stay nimble in developing new propositions on top of the larger digital "rails", which continue to expand.


Next Generation of Digital Finance & Commerce
Mondato's CEO, Judah Levine, opened the Summit by remarking on how DFC is uniquely dynamic given its confluence of sectors including financial services, telecom, technology and retail, among a growing list of others. This means it is important to foster interaction and collaboration across varied industries, a reality that could still be greatly improved. Also mentioned was how Myanmar is a fitting location for Mondato Summit Asia this year given how the market has leapfrogged directly to ubiquitous smartphone ownership, putting it in an ideal position while other markets are forced to also provide a rear-guard for legacy USSD users in transitioning to app-based offerings. In closing, Mr. Levine also noted the importance of an enabling environment in helping to expedite greater bottom-up innovation, with Aadhaar and the India Stack being a prime example. Yet the challenge for many, regardless of structural factors, has been scaling beyond initial footholds while ecosystems mature and customer behaviors evolve.
Along those lines, Tanyapong Thamavaranukupt, President of Ascend Money and TrueMoney International, stressed that there is still a significant market gap with most of the population in the region still primarily under- or unbanked. TrueMoney is devoting significant resources to expanding their agent networks to facilitate cash-in / cash-out ("CICO") as a foundation for greater digitization of commercial activity. This is important given that bank penetration remains stagnant despite their recent efforts to attract new segments, and it is understandable that formal channels may take longer given the cost of deploying branches and ATM networks. And as TrueMoney experiments with new value propositions, it is finding regulators more open to ideas such as regulatory sandboxes for product experimentation, whereas regulators may otherwise take several years to implement the necessary rules absent a test environment.
The keynote panel provided varied perspectives on these issues. A veteran of mobile money in Africa, and m-commerce director of Ooredoo Myanmar, Jacques Voogt observed that it is essential that the small businesses which are to be mobile money agents grasp the use cases that drive transaction volumes to generate commissions, and justify ROI on holding cash and float, otherwise potential end users will be afraid to deposit funds into illiquid accounts. Michael DiGregorio, Vietnam Country Representative of the Asia Foundation, has experienced this challenge first hand in work with disbursements by the Bank of Social Policy in trying to manage the customer journey of cooperative group leaders with a graduated process of moving from SMS to USSD and finally app-based services, starting first in suburban localities but then eventually to the more remote and rural countryside.
Jamie Robinson, CFO of Kargo Myanmar, provided the perspective of a DFC enterprise customer looking to facilitate payments within supply chain logistics. According to Mr. Robinson, implementation remains difficult given variable cash-out liquidity across regions in Myanmar, and also the need still for easier integrations.


A More Dynamic Ecosystem to Grow the Addressable Market
Some of the following sessions considered how digitization is being applied to a number of sectors and use cases. Silvio Siow, Regional Head of Account Strategy for Southeast Asia at Criteo, a leader in commerce marketing that has built an ecosystem utilizing machine learning, provided findings from their recent study in APAC that retail apps are especially strong in the fashion & luxury (66%) and Electronics (61%), with 70% willing to spend over $30. Interestingly, Criteo found that over 40% of respondents report clicking on display ads in the retail app, a good opportunity for additional revenues. Some considerations before deploying m-commerce included the deletion of apps due to their complexity, or the lack of comprehensive and diverse payment options.
Ei Phyu Lwin, General Manager of Myanmar at Uber, shared the company's vision in shifting the concept of shared transport from being simply a substitute of car ownership to an integrated system which complements public transport in aiming to serve the cities where they operate. Other opportunities were demonstrated in a number of "rapid fire case studies" which followed, with one example the leveraging of virtual reality and augmented reality to revamp education, such as a virtual classroom for advanced education, as explained by Hla Hla Win, Co-Founder and CEO of 360ed.
Koen Kok, Country Manager of Hello Sayarwon (part of Hello Health group), described their platform as incentivizing better engagement with doctors to bring about earlier diagnoses, more effective treatment, and higher treatment rates. Devanshi Patani, Financial Inclusion Lead for APAC at Mix, explained their efforts to get stakeholders such as regulators and funders up to speed in order to more optimally determine data gaps, which is then used to develop tools which these entities can rely upon in rolling out financial inclusion initiatives.
Taking a look at the demand side, the conversation moved to the often under-served segment of women in DFC, a massive opportunity for those able to conceive relevant value propositions. Paul Luchtenburg, Country Coordinator for Myanmar at UNCDF, demonstrated this by pointing out that over 70% of women in Myanmar are currently excluded from the formal financial system in Myanmar, and UNCDF is playing a role in supporting propositions looking to address this gap, not just because it is inherently a social good, but also because it is significant commercial opportunity.
Ellie Swindon, a gender advisor for International Media Support, a Danish NGO, reinforced that gender equality exists along a spectrum as it interacts with different facets of our identity, and one sector ripe to address patriarchal attitudes is media law reform, which would then promote a greater diversity of voices and community outreach. Adam Elboim, Solutions Architect at Juvo, described how customers of their credit services for the unbanked were actually predominately employed by women (60%), but also that the services facilitated increased spending by women (more so than increases in spending by men). Finally, Gayane Manukyan, Communications Specialist at Microfinance Gateway, which was initially started by CGAP as a resource center, detailed how they also seek out and embrace opportunities to partner with experts in identifying gaps to increase financial inclusion among women.
The first day finished with discussions of how to better develop mobile money partnerships and ecosystems. Sophia Hasnain, GSMA's Senior Market Engagement Manager for Asia, said it is important now to raise the bar on responsible business practices to drive account adoption among the underserved, and to create growth enablers such as standardized APIs.
These themes were especially echoed by a particular panel discussion. Antonio Separovic, Co-founder & CEO of Oradian, provider of the core banking systems for MFIs called Instafin, related that the demand is there, but that supply needs to catch up. In some respects, the digitization of MFI operations allows management to better conceptualize and nail down growth drivers. Gonzalo Gonzalez, CEO of DAWN Microfinance in Myanmar, concluded that technology must take on a more pivotal role, such as loan officers collecting information with tablets for efficiencies to expand loan portfolios. Sajid Amit, Country Manager in Bangladesh of Water.org, has seen how Fintech still does not have enough depth in terms of local innovation, and this is an important step in unlocking addressable market segments through partnerships, idea exchanges or cost sharing.


Digitization to Realize New Revenue Streams
The second day of the Summit always results in a range of insights and applied solutions, with the latter including the Innovation Arcade and Mondato Awards finalist presentations. The Innovation Arcade included Impact Terra (digital solutions for small-hold farmers and agribusiness), Bindez (information search technology for Burmese language content), Oradian (software for MFIs, cooperatives and savings groups), SolarHome (pay-as-you-go solar home kits for bottom of the pyramid) and ThitsaWorks (data management for financial institutions).
The Mondato Awards included InfoCorp, NextBillion and Ooredoo Maldives as finalists for the Innovation of the Year Award, and MyCash Online, SolarHome and Wave Money for the Social Impact Award. Taking the Innovation of the Year Award was NextBillion with their social enterprise that offers a platform to extend marketing, insights and sales channels to rural areas in developing and emerging markets. The Social Impact Award went to MyCash Online for their e-marketplace service designed for unbanked migrants across Asia.
The day also included an impressive lineup of speakers, beginning with the keynote presentation by Mark Flaming, Chief Digital Officer of Yoma Bank. He stressed the importance of tailoring use cases to daily spending patterns if mobile money is to take off. In addition, DFC is another avenue to offering financial resilience beyond traditional bank accounts.
The following panel considered DFC for retail, and was hosted by Kang Wan Chern, Business Editor of Myanmar Times, who contextualized the session by commenting on the country's regulatory ambiguity and deficiency of payment solutions, which slows increased e-commerce in Myanmar. Sumit Jasoria, Regional Managing Director – Myanmar, Sri Lanka, Nepal of Rocket Internet, said that despite the nascent state of e-commerce yet, growth has been exceptional, and recent promotions around Black Friday and Mobile Week have seen spikes in purchases beyond anything that could have been imagined previously. This was validated by Rianne Roggema, Founder & Managing Director of Irie Digital, who has found it difficult to get messaging to the wider addressable market in Myanmar offline, and digital has been one of the few ways to build channels for the mass market.
Managing Director of Vendito Asia, Nico Poma, believed applications must look beyond email based registrations or engagement, a vestige of the desktop computer era, and to always own customer service and experience. Shady Ramadan, Founder & CEO of Yangon Door2Door, has a fleet of last-mile distributors to facilitate their delivery services, and while thus able to handle cash on delivery, is exploring incentives to try and warm end-user payers up to electronic payments given the large operational inefficiencies of cash.


Investment Opportunities and Market Evolution
Closing out the Summit was a panel considering investment opportunities and challenges in the Myanmar digital space. The moderator, CEO of Phandeeyar, Jes Kaliebe Petersen, admitted that a more robust pipeline of new propositions appears to be entering the ecosystem in Myanmar. Floris Bos, Managing Director of Rocket Internet Ventures Myanmar, asserted that the market has changed significantly in just the past couple of years with targeted investment in broadband infrastructure, the proliferation of smartphones, and emergence of e-money providers. Myo Zin, Advisor at Omidyar Network, reiterated the importance of investors working closely with entrepreneurs, so as to supply human capital support. David Schaer, VP Operations at MYPAY, too expressed confidence over the country's market, and ascertained that for the first time there is sufficient information available for each player to begin carving out their own space with targeted propositions.
The sessions over the two days revealed great levels of optimism by stakeholders from across the ASEAN region. Each of the markets are quite unique, and holding the Summit in Myanmar this year resulted in a unique perspective of a market where nearly everyone is still a first mover looking to tap into virgin territory with the benefit of smartphone ubiquity. Interestingly, however, bottlenecks common to other markets also remain, such as the still present need for channels that allow for digitization of cash, on top of only a handful of compelling use cases to encourage those deposits and account balances.
To this end, a number of key takeaways kept popping up across the sessions. One was the challenge of how to migrate potential customers away from large social media platforms, which have significant footprint, to proprietary company sites for greater engagement. Another was the process for gaining the traction needed to scale businesses to reach sustainable propositions. Finally, ecosystems are becoming increasingly diverse, and there must be a corresponding range of propositions from the underlying rails to propel highly segmented offerings.
© Mondato 2017
Click here to subscribe and receive a weekly Mondato Insight direct to your inbox.