NFC vs. BLE: The Rise of the Beacons
~4 min read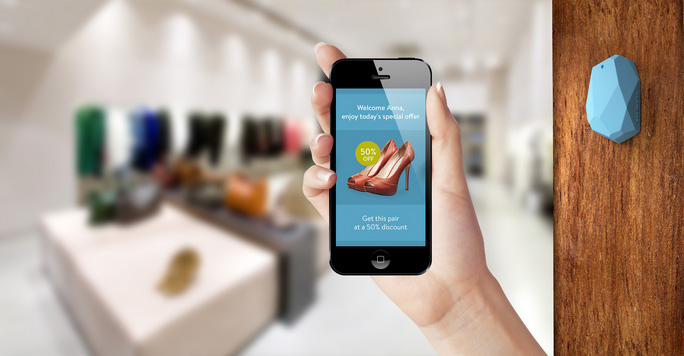 With NFC evidently on the decline, then what is emerging to take its place? If new product launches from Apple and PayPal are any indication, then the m-payment technology of the future might be Bluetooth Low Energy (BLE) technology, which powers the companies' recently unveiled m-commerce solutions.
We wrote about BLE some time ago, and it has since become a key buzzword in the m-payments world. It first made the news with the announcement of a new m-payment system that Microsoft was experimenting with, called 'Zero-Effort Payment.' The system employs a combination of BLE technology and facial recognition technology to authenticate a customer's identity and complete a transaction.
BLE Goes Mainstream
Now other industry heavy-hitters are launching mobile commerce platforms that similarly integrate BLE technology as an alternative to NFC. PayPal, for instance, introduced Beacon, an in-store GPS system that can plug into any power source and enables merchants to 'check in' any customer who has entered the store, downloaded the PayPal app and given permission to that merchant to be checked in. Via the BLE-enabled platform, customers can also make seamless and secure transactions using any compatible mobile devices (PayPal).
As described in the previous article, the Apple iBeacon similarly leverages BLE to create a more customized and streamlined customer experience, while enabling retailers to more effectively interact with shoppers. With consumer electronics giants such as Apple and PayPal embracing BLE technology to power m-commerce solutions, it is likely that we will be seeing much more of this innovative tech moving forward.
NFC vs. BLE
Can BLE succeed where NFC has (seemingly) failed, and power the next generation of mobile payment solutions? It seems possible, as BLE offers a number of advantages that go above and beyond NFC.
For one, while not all smartphones have NFC, most have bluetooth, including the iPhone. According to a recent PYMNTS article, "since 100 percent of smartphones have Bluetooth, solutions that leverage BLE are compatible with 100 percent of smartphones, at least in theory." With worldwide smartphone shipments expected to surpass 1 billion units in 2013 (IDC), BLE could significantly shake up the m-commerce space. NFC, in contrast, requires users to have specific NFC-enabled hardware, limiting the potential user base (though the number of NFC-enabled mobile phones is on the rise).
An additional benefit of BLE for mobile commerce is its ability to determine the location of mobile devices (and thus customers) within stores, enabling location-based offers and information (Verifone Blog). This is not possible using NFC, which transmits data only across very short distances (the optimal NFC range is less than 4 cm). Further, BLE is designed to consume only minimal battery power, even if used frequently, and is relatively cheap to buy and operate (PYMNTS).
What Does This Mean for Commerce?
All things told, the future looks bright for BLE-powered m-commerce, but the proof will be in the implementation. How can payments providers in the retail space leverage this technology to add value for both retailers and consumers? According to the PayPal Beacon website, the technology "eliminates one of the last remaining points of friction for consumers." For consumers with BLE-enabled smartphones, payments can be made without even taking their mobile device out of their pocket; rather they can simply walk to the country and say they are paying with PayPal, and the merchant takes care of the rest. For merchants, Beacon offers an open API that enables retailers to design tailored experiences for their customers.
A number of startups are also discovering ways to use BLE to enhance commerce, such as US- and Poland-based Estimote. The company hopes to capitalize on Apple's iBeacon launch by creating BLE-based Beacons that can broadcast micro-location data to any nearby devices that support BLE. According to the Estimote website, potential retail applications for the technology include in-store analytics, proximity marketing, indoor navigation and contactless payments. Ultimately, the company aims to enhance the customer experience – which can in turn boost the bottom line of retailers.
What Are the Weaknesses?
As the volume of data transferred across networks continues to grow, the potential for hacking and security risks inevitably grow in concert. With iBeacon, users may be concerned that data could be stole, remotely hacked or exploited while travelling across radio channels. However, according to FastCoLabs, this may be more of a perceived threat than a real one, and "with the right kind of encryption, the hacking and theft issues go away." Further when using an iPhone, the TouchID fingerprint sensors can bolster user identification, ensuring that the payer is the actual owner of the device.
According to the Verifone Blog, there are also various infrastructure investments that merchants must make in order to create a functioning BLE ecosystem. While most smartphones are BLE-compatible, merchants often must install the necessary infrastructure and/or change mobile apps to incorporate support for BLE. Further, if used for payments facilitated via digital wallets, merchants may be required to pay card-not-present rates, a potential barrier to merchant adoption.
In the face of security concerns and infrastructure needs, perhaps BLE-based commerce solutions will be slow to enter the mainstream. But, as NFC mobile payments fail to build momentum, the technology provides an exciting alternative. It is easy to imagine that the announcements from Apple and PayPal will spur other companies in the m-commerce space to look into the technology and perhaps develop their own innovative solutions or complementary services. We could be on the brink of something big.
© **Mondato 2014. **Mondato is a boutique management consultancy specializing in strategic, commercial and operational support for the Mobile Financial Services (MFS) industry. With an unparalleled team of dedicated MFS professionals and a global network of industry contacts, Mondato has the depth of experience to provide high-impact, hands-on support for clients across the MFS ecosystem, including service providers, banks, telcos, technology firms, merchants and investors. Our weekly newsletters are the go-to source of news and analysis in the MFS industry. Click [here](http://mondato.us1.list-manage.com/subscribe?u=9457c9e258d5d195271b4a9ab&id=b4cb05c7b7) to subscribe and receive a weekly Mondato Insight direct to your inbox.