Mystery Box Commerce
~7 min read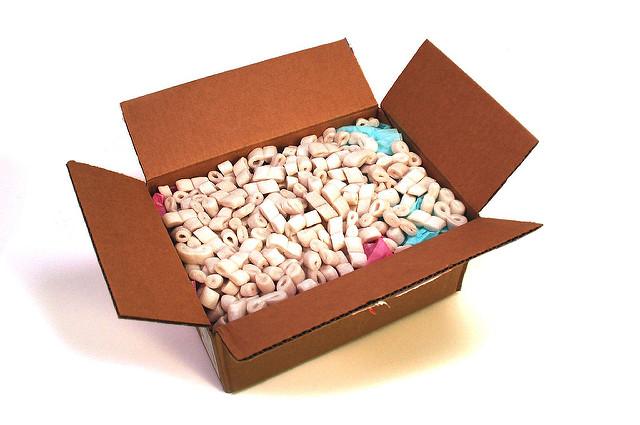 San Francisco, 1998:
So you are telling me that in the future people are going to be able to go on the World Wide Web from their computer at home, and shop for anything they want?
That's right.
And it will get delivered in a box directly to their front door?
You got it.
And what will they buy?
Everything. Sometimes they won't even know in advance what they are getting.
Excuse me?
Sometimes the customer won't even know what's in the box.
...
I mean, they will know roughly what sort of thing might be in the box, but they won't know for sure.
So, you mean that.......? No, no, you've completely lost me.
Consumers will sign up to get sent a box of make-up, or clothes, or meat products, or things for their dog, but they won't the exact contents of the box as they vary from month to month.
Is that because they are so fat they can't go outside? Or maybe their muscles are so week from only sitting at a desk in front of their computer they can never leave home?
Oh no, they go out a lot. And anyway, they do it mostly on their phone, not a computer.
Wait, what? I thought you said it was on the Internet?
Never mind. Just believe me, it's going to be huge.
OK... People like their pets. Those boxes for dogs could be big. I am going to go in heavy on Pets.com.
Oh, is that the time? I need to be somewhere...
---
Even through the end of the last decade, the idea that businesses could persuade consumers to sign up to receive boxes of goods that they hadn't specifically ordered in advance seemed fairly fanciful. Why would consumers agree to accept merchandise that they might not want? And how would merchants know what to send them? And who would pay for the postage and packaging? And probably most difficult of all, how would you sign them up? It certainly made for a tough pitch.
That all changed in 2010, when Katia Beauchamp and Hayley Barna launched Birchbox, the original subscription that spawned 10,000 boxes. Copycats of every stripe and flavor soon followed, and it is now possible to get a monthly boxful of whatever tickles your fancy: from meat products to art supplies to lingerie to kids' toys, and at prices starting from US$5.75 per month for a piece of art in the mail every month from Papirmass, to Svbscription's invite-only club that will set back those lucky enough to be invited a mere $539 per quarter (though it is not immediately clear from a visit to their website what you will get for your money).
But what explains the proliferation of subscription boxes and what can they tell us about the future of Digital Finance and Commerce (DFC)?


In Vino Veritas
In some respects, the idea is actually much older than Birchbox. Wine clubs have been sending their members shipments of wine each month or quarter since the 1970s, on the basis that they like wine and they like discovering new wines. This process of exploration, the disappointment of a wine not living up to its expectations and the delight of finding a hidden gem, is a central component of the subscription box consumer experience. And for the merchant, as well as guaranteeing a fixed number of sales well in advance, subscription boxes are often intended to be drivers of future sales as consumers proactively order additional quantities of their newly-discovered favorite product. But why did it take forty years for the model to move beyond wine and into other consumer products?
Part of the change that has made the model possible is both psychological and logistical. In the late 1990s, Amazon UK's Managing Director Robin Terrell would regularly receive letters marveling at the fact the customer had hopped on a computer and a few days later their book arrived in the mail. Fast forward 17 years and these days, according to Mr. Terrell, customers are more likely to call up to complain that they got a different type of asparagus from the one they ordered. This speaks to a rise in comfort and expectations among consumers and, crucially, a significant increase in the logistics capacity of the companies entrusted with last-mile delivery (itself the subject of a recent Mondato Insight).


Like For A Like
Even so, improvements in parcel delivery and changes in consumer psychology were both necessary but insufficient conditions for the birth of the subscription box movement. About a decade ago, however, social media provided two key tools that refined the value proposition of a subscription box into something targeted and deliverable (in the metaphorical and literal senses): big and small data. Combined these two tools allow for the fairly precise targeting of marketing to on-board new customers, as well as educated guesses, right from the beginning, about the sort of things that customer is likely to appreciate in their subscription box.
This element has been a vital key to the success of subscription boxes. 'Delight' has become something of a buzzword, and is the target and destination of retail customer journeys. Like wine club subscriptions, even though most of the stages in the customer journey are skipped, surprising and delighting the customer is the goal. Creating an experience in which consumers get the emotional satisfaction of discovering a product they didn't previously know that they liked, in the comfort of their own home and at a time of their choosing, is what sells subscription boxes, not the products within them. But unlike wine clubs, before the customer even opens their first box, the merchant is likely to have already collated significant amounts of data on the customer as an individual, and massive troves of data on what people similar to that individual consumer like.
And of course, the consumer is not a bit player in their own story. Mobile phones have been central to facilitating a positive feedback loop between consumer and merchant, allowing customers to use what otherwise would be dead time, whether on the bus or pushing a stroller, to leave feedback on the contents of each box, or write a review, thereby better ensuring that the next dispatch will be even more finely attuned to their own personal preferences.


Canary In A Coal Mine
The result has been the creation of a very profitable business model, with a proliferation of "me too" businesses with subscriber numbers running from the tens to the hundreds of thousands. It is impossible to estimate the estimate the value of the subscription box market, since it is, in effect, any number of different markets, but one estimate reckons that there are as many as 10,000 live subscription businesses in the United States, as well as spin-off industries such as Cratejoy and its Subscription School that provide niche, small-scale and Mom-and-Pop businesses the tools they need to get a toe-hold in the subscription box market.
The return on investment for businesses investing in subscription boxes can be big. Having a loyal subscriber base not only allows for better revenue projections, but it also, somewhat ironically, puts something of a ring fence around those consumers, keeping them safe from the predations of Amazon, and indeed likely to keep them away from temptation in competitors' brick-and-mortar stores. But moves by trail-blazer Birchbox into the physical retail space had to be abandoned last month, as VCs shorten the length of runway that are willing to give young companies before attention turns to taking off into profitability. VC funding for subscription box startups plunged to an 11-quarter low of only $35million in Q1 2016, barely 10% of what was seen only six months previously.
At first blush, Birchbox's 1 million subscribers, each paying $10 per month, seems to indicate the basis for a healthy business model (and was valued two years ago at $500 million). Valuations, however, have shrunk across the board over the past few years (see a previous Mondato Insight on whether there is a tech bubble brewing here), and as demonstrated by the growth of businesses such as Cratejoy, the barriers to entry into the box business are low. It is believed that Birchbox has a churn rate of about 9%. As a result, Ipsy (a truly 21st century phenomenon, being the beauty box business from Youtube's Queen of Cosmetics, Michelle Phan) competes at the same price point as Birchbox and has 1.5 million subscribers, while Sephora recently launched its own line of Play! subscription boxes, backed by the strength of the LVMH brand. Just Fab, meanwhile, with its more than 4 million subscribers and line of accessories, is getting ready for its IPO.


Surprisemechannel Commerce?
Subscription boxes are a phenomenon that, like Pokémon Go, few saw coming. And given their expansion into every area of retail commerce imaginable, they are unlikely to go away either. The rise of subscription box grocery services such as Blue Apron and Home Chef speak to their convenience, but also the power that such services may have on not just steering consumer choice in cosmetics, but also what we eat, drink and wear. For subscription businesses, however, therein lies the danger. Unless modeled on Amazon's Subscribe and Save that sends refills of "essentials" (e.g. Dollar Shave Club), their ability to continually surprise and delight customers gets increasingly challenging, and for consumers the attraction of switching to a new service becomes clear. And given the relatively low barriers to entry, new competitors are not likely to be in short supply.
Although a very old idea, subscription boxes are a very contemporary phenomenon. They are, in some ways, the first iteration of post-omnichannel commerce. After the initial subscription, customer-merchant interaction may be very limited, or even invisible, taking the retail experience both offline and into the customer's home. The future is likely to involve some digitization of that experience, possibly through Pokémon Go-style A.R technology. The success of subscription boxes, however, demonstrates that consumers continue to prize not just products, but experiences. Retail merchants in this space are going to be continually challenged to surprise and delight their customers. It seems clear, though, that consumers don't want to have to wait for Christmas to open a surprise gift to themselves, and their appetite for convenience and pampering out of a box is unlikely to diminish. The challenge for entrepreneurs is how to do so on a clear path to profitability.
Click here to subscribe and receive a weekly Mondato Insight direct to your inbox. 
Image courtesy of Michelle.