The Next Element: A DFC Perspective of MWC17
~5 min read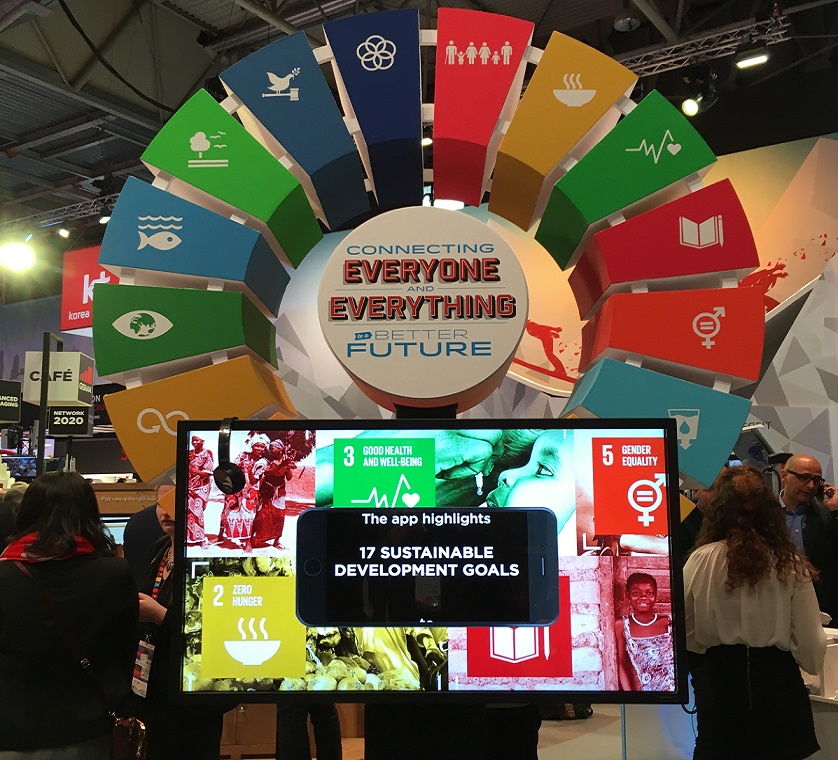 Mobile World Congress 2017 (MWC17), the industry's largest trade show, which convened in Barcelona last week, reached new heights in popularity and footprint with more than 100,000 attendees from over 200 countries representing almost 2,500 companies.
This year's theme was "The Next Element" and the show certainly lived up to the title – offering a taste of the technologies that will dominate our future – from connected household items and self-driving cars to real-time translation and chat bots. 322 speakers, all hailing from different sectors and sets of expertise, gave a variety of perspectives on not just the state of the mobile industry, but of more significance, how to remain relevant.
MWC17 reflected a prevailing effort to invest in emerging and innovative technologies as a response to the difficulties some telecom companies encountered in 2016. While many operators discussed imminent plans for 5G and increased data usage, the GSMA's 2017 Mobile Economy Report confirmed the continuation of slowed mobile revenue growth even though adoption is increasing. Trends of the mobile ecosystem creating jobs and contributing to economic growth were also cited in the report, with an expected jump from 28.5 million jobs generated by the ecosystem in 2016 to 30.9 million in 2020. Facets of future technology envisioned for smart cities – like virtual assistants and connected retail stores - however, will add to the progression of automation and replace certain jobs by 2020.
Key technology trends seen across the exhibition halls included the development of longer lasting batteries for smartphones, highly intelligent drones (as evidenced by the "Drone Zone"), and increasingly sophisticated virtual and artificial intelligence solutions. The conference also incorporated some of the year's most popular fads, like Pokémon GO. Niantic, in partnership with MWC, integrated PokéStops and Gyms into the venue, the locations of which were accessible via app for the more tech savvy of attendees, or available on a printed map for those a bit more old-school.
As the mobile continues to act as a medium to bridge reality and the virtual, too, will it bridge linguistic gaps. The Waverly Lab debuted a prototype of the "Pilot Translation Experience", a set of ear buds that, in conjunction with an application, employs machine learning to translate conversations in real-time.


Mobile For Development
A visible addition to this year's Mobile World Congress was the assimilation of the United Nations' Sustainable Development Goals (SDGs) - or a "world to-do list" to end poverty, reduce inequalities and tackle climate change - into the program. All attendees were encouraged to select a SDG and commit to an action that would help to achieve that goal. To further propagate awareness of the 17 SDGs, the GSMA, UN and Project Everyone collaborated to launch an interactive app at the event.
The app visualized the commonly accepted observation that mobile and digital technologies will help propel the SDGs forward, and in the process create a more equitable, fair world. The case for the SDGs, however, is not only humanitarian in nature. As new technology is sought out to remedy global challenges, opportunities will emerge that incentivize companies and providers to expand into new markets and industries.
Of all the periphery developmental goals, MWC put the SDG of gender equality front-and-center. A Women4Tech program was weaved throughout the four-day conference to proactively address how to reduce the digital gender gap. The conference track involved sessions dedicated to speed coaching and networking for female entrepreneurs, innovators and stakeholders with the hope of empowering women to thrive in the space.
It is clear, though, that MWC intends to more fully embrace the SDGs on a broader level as well. Following the publication of the Humanitarian Connectivity Charter in 2015, the GSMA complemented its research with the release of the inaugural Humanitarian Connectivity Charter Annual Report at MWC17, which details Mobile Network Operator (MNO) initiatives and guidelines to brace for and respond to humanitarian crises. With more than 100 MNOs and other technical and humanitarian partners active in its drafting, the Charter has the potential to reach 1.3 billion people.


Mobile For Development
In Hall 4, the GSMA's Innovation City hosted live demonstrations of mobile technology with a variety of use cases – from agriculture and transport to health and utilities. AT&T and Cisco Jasper showcased connected car solutions and "Smart City" products while KT Corporation invited delegates to interact with K-POP stars in their virtual reality ride.
KopaGas, a grantee of the GSMA's Mobile for Development Utilities Innovation Fund, in turn, presented their metering solution which allows customers in Tanzania to pre-pay for small amounts of LPG gas for cooking through affordable mobile payments.
In the same vein, the M4D Utilities Innovation Fund (conceived in 2013 with support from the UK government) announced that it is now accepting a new round of applicants for funding. The goal of the Innovation Fund is to test and scale mobile technology to improve access to energy, water and sanitation services. For this round of funding, 15 – 17 organizations will be allocated a total of GBP 3.3 million to trial or grow commercially sustainable mobile-enabled utility services. This is on top of the previously awarded GBP 5.6 million, which has been dispersed among 34 organizations spanning four continents.
Other events catered more to the needs and ambitions of the private sector. 4 Years From Now (4YFN) mobilized the growing tech startup community, with over 600 startups on display. This section of MWC was one of the focal points for experimental ideas, and was frequented by investors and corporations looking to connect or for new investment fodder.


No Blind Eye to Customer Experience
A central theme of many MWC presentations was the need for agility in responding to customer needs. Only companies that are exceedingly responsive will be able to survive. Jeff Lawson, CEO of the API company Twilio predicted that the industry will descend into a period of "Darwinian natural selection" and, unless companies are able to innovate and differentiate on customer experience, they will be unable to compete.
One technology that promises to revolutionize customer experience and transform communication is chat bots (as previously discussed in this Mondato Insight). Customers in the digital age need to be engaged - and chat bots are one avenue to hatch virtual advisors or agents. Messaging platforms like WeChat and Facebook messenger have already integrated chat bots, and many other companies – from T-Mobile to Google – have flirted with bots as a way to boost customer interactions.
CEO and founder of the messaging app Kik, Ted Livingstone anticipates that chat bots will eventually replace applications, as "consumers are tired of the app." According to Livingstone, apps create too much friction for users and chat bots allow for easier and more meaningful engagement.


DFC Is The New Revenue Base
'Mobile money' and 'digital financial services' used to be terms banished to the halls of development-focused circles and events. At this year's Mobile World Congress, however, exhibitors plastered marketing materials with references to mobile commerce, mobile money, digital finance and other buzz-worthy words. Businesses previously considered outside of the DFC sphere are recognizing the opportunity inherent in digital financial technology in both developed and emerging markets, which is a promising signal for the industry.
As of December 2016, there were 277 live mobile money services in 92 countries. With 62 percent of the population in emerging markets expected to be using smartphones by 2020, the opportunity for digital finance and commerce will only continue to evolve. Between more deployments and greater access to both broadband and smartphones, the potential for innovative and commercially viable use cases increases exponentially.
© Mondato 2017
Click
here
to subscribe and receive a weekly Mondato Insight direct to your inbox.