What M-Pesa and Apple's Empires Say About Platform Economies
~10 min read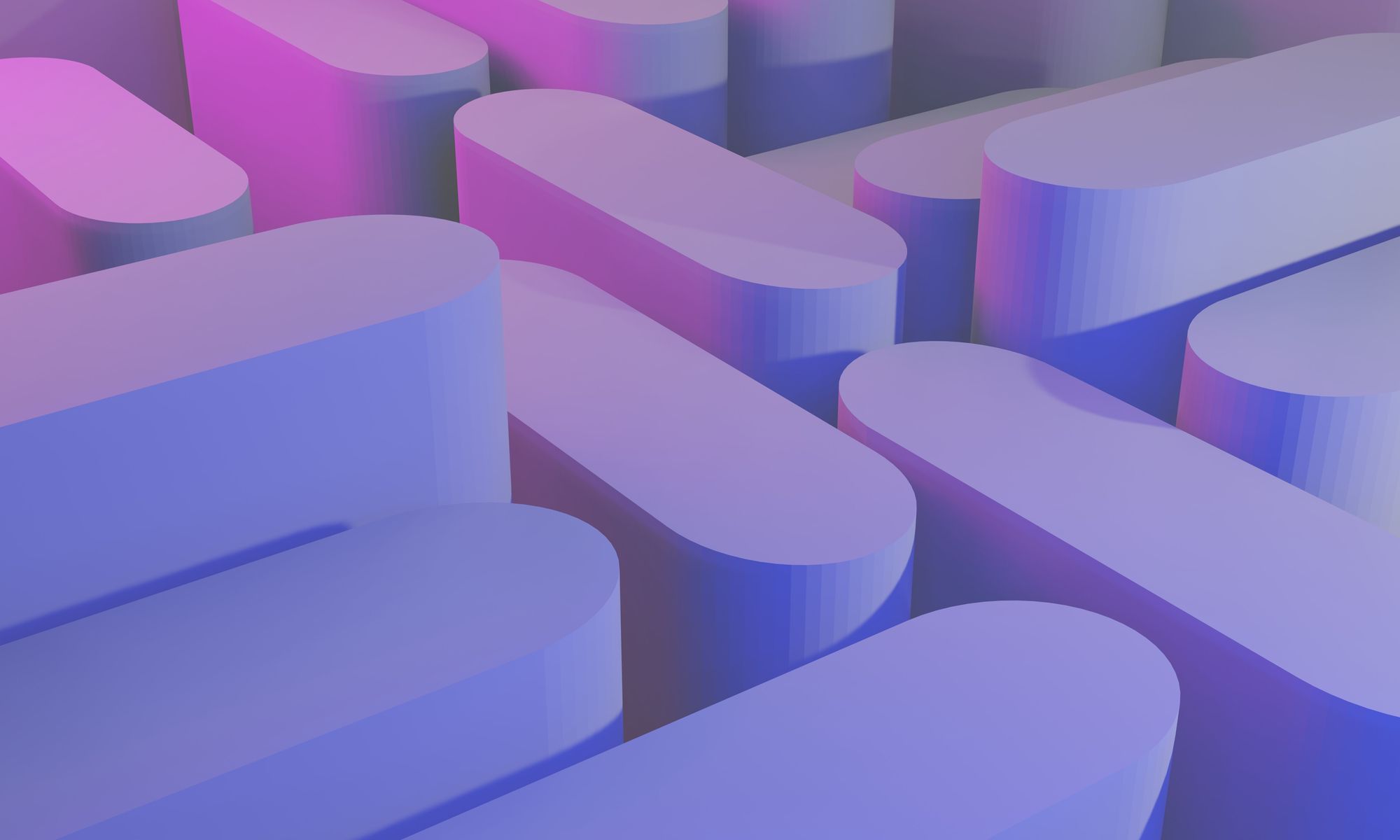 At first glance, comparing Apple to M-Pesa might seem like comparing apples to oranges (certainly no pun intended). Yet in spite of the dramatic differences found in their core products and their geographical and customer bases, both are the runaway leaders in their respective markets. The products that catapulted their businesses to modern-day supremacy — M-Pesa's USSD-based, P2P mobile money offering, and Apple's iPhone smartphone — both revolutionized their respective mobile markets beginning exactly 15 years ago, yet in completely different ways. How Apple and M-Pesa grew to this point — exhibited recently with M-Pesa's super app entry and Apple's deepening involvement in financial services — is prescriptive in understanding how platform economies manifest under emerging and developed markets alike — and whether, given enough time, the platform ethos slowly dissolves strategic differences among tech giants even of contrasting origins.


Two Empires, Two Paths
When they were launched 15 years ago in 2007, the iPhone and M-Pesa were two radically different products servicing completely different markets. Yet both M-Pesa and the iPhone weren't created in a vacuum; their success stemmed from external market demands as well as a sizeable market presence among their parent companies from the start — common attributes allowing them to quickly exploit network effects that became industry gospel within years of their launch.
In 2007, the same year M-Pesa launched in Kenya, M-Pesa's parent company, Safaricom, already had a 66% market share of Kenya's telecommunications industry. The growth (and limits) of M-Pesa's success in African markets — and Kenya in particular — is directly tied to the immediate access afforded by Safaricom. Offering solutions to unmet needs under such conditions, M-Pesa's ascension was swift: 21% of Kenya's unbanked population was using M-Pesa a year after its launch, and this figure rose to 75% by 2011.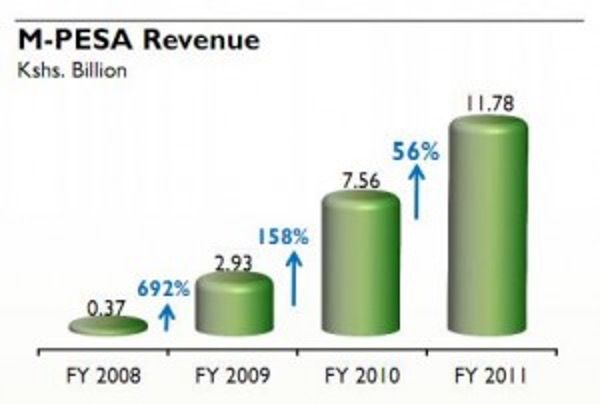 Source: GSMA

Unlike M-Pesa and P2P mobile money, Apple wasn't the first to pioneer smartphones. Rather, what set the iPhone apart was its superior, easy-to-use functionality and sleek design. Apple's illustrious history in technology hardware long preceded the iPhone, which again encouraged early on a significant customer base to build upon.
In the already-saturated mobile markets it operated in, Apple defined what would become the platform economy, with their hardware products serving as the foundation for its own ecosystem that would be fueled by services offered through its App Store, which launched in 2008. The App Store crowdsourced much of these services through third-party app developers, who were immediately attracted to the large amounts of Apple users.
"A key to [Apple's] success is the innovative combination of what I call a transaction platform — the App Store — and what I call an innovation platform, which is the iOS. They have been able to attract not only end users to their exciting and useful designs, but they attract millions of developers by offering them the tools to develop applications compatible with iOS. They reduced the barrier to innovation for millions of external innovators."
Annabelle Gawer, Director of the Center of Digital Economy, University of Surrey
Through its App Store, Apple managed to attain superiority in a holy trinity of platform economy components: hardware, software, and supporting services. No other tech company has managed to attain such market presence in all three areas — including M-Pesa.


New Terrain, New Challenges
As M-Pesa and the iPhone sought to expand their reach, the early benefits of conception under a large, preexisting company gave way to the limitations of such companies that until then were geographically specific and product-based, not platform-based. For years, Apple was resigned to compete within largely developed markets of developed countries, with efforts to penetrate emerging markets only successful among wealthier demographics.
Yet as a Big Tech wielding hardware, software and services capabilities, Apple cultivated the synergistic effects of platform ecosystems to their fullest. The rather uniform characteristics of developed economies also made expansion (and subsequent dominance) rather easy to attain among a similar profile of customers attracted to the strength of Apple's industry-leading ecosystem.
If Apple's ensuing success was product- and platform-specific, M-Pesa's initial success was market-specific — the formula being high mobile penetration (with Safaricom possessing a large market share), coupled with a large unbanked population. Offering higher-ticket products may limit Apple's reach to lower socioeconomic strata, but even in its forays in less developed economies, Apple can still find keen customers of a higher socioeconomic level, if not to the same degree as in wealthier markets. In the case of M-Pesa, servicing poorer and more remote populations through its telco services — those who for decades were ignored by traditional financial services for the challenges they posed and smaller revenues they offered — presented profound challenges during expansion in the variety of market needs and conditions Apple has never had to face.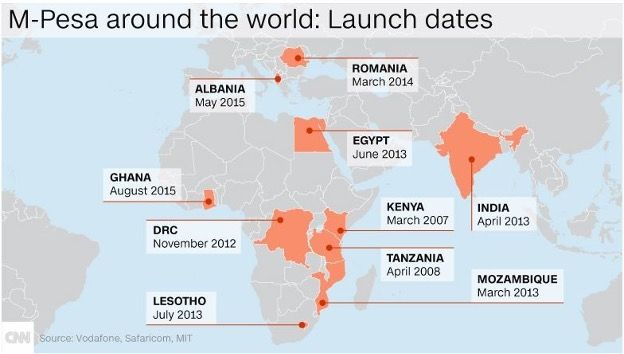 "Africa is not a homogenous continent like Europe is, and our financial product has been built on top of the telco product. And so our expansion within our current markets has been limited to the market shares of the telco, whereas for Apple, it's not. It's a product that can sit on top of anything as long as you have Internet combined with a smartphone."
Ogugua Osakwe-Adegbite, Head of Strategy and International Expansion, M-Pesa Africa
Thus, while Apple rather easily asserted market supremacy in various developed markets and found universal appeal among richer segments elsewhere, M-Pesa hasn't achieved quite the same market dominance in other locales as it has in Kenya, where Safaricom now commands 99.9% of the mobile money market. According to M-Pesa's Osakwe-Adegbite, M-Pesa's expansion strategy up until now focused on markets with high Vodafone (Safaricom's parent company) and mobile penetration coupled with low banking rates. Though becoming a leader in several other markets, success has not come quite so uniformly, even in markets with such characteristics. M-Pesa's expansion to India seemed to possess all the same conditions for its success in Kenya: high mobile penetration and high market share from Vodafone (Safaricom's parent company), yet low banking rates. However, M-Pesa India failed to take off in favor of competitors like Paytm due to a less enabling regulatory environment, with it having to operate as a true banking service.
From those early days as a P2P mobile money provider, however, M-Pesa is now branching out its solutions and internal ecosystem to follow in the footsteps of platform giants like Apple. In this sense, the demands of a platform economy have dictated the continuing evolution and growth of Apple and M-Pesa to possess similar aims, if by slightly different means to achieve them — and for M-Pesa, with certain limitations compared to the Apple juggernaut.
"We make use of ecosystem [and] network effects within the telco operators ecosystem. We centralized partnerships with other large financial services entities or remittance providers, payment processors — that's one in the same across all our markets. We're able to leverage those network effects across all our markets. But the ability to leverage network effects beyond that, like Apple has, requires a move into physical devices and other aspects of financial services that are independent of telco provision."
Ogugua Osakwe-Adegbite, Head of Strategy and International Expansion, M-Pesa Africa


Big Techs Break Out
Though they may have far outstripped their humble beginnings by now, how Apple and M-Pesa grow from here under a platform-based economy is still greatly influenced by the route and market conditions they traversed to get here. The platform economy demands a comprehensive ecosystem that maximizes customer bases and consumer engagement. In the case of M-Pesa, that equates to expanding its geographic reach as well as attracting customers higher up the socioeconomic ladder — namely, those who may be banked but are underserved, according to Osakwe-Adegbite. For Apple, that means strengthening its cross-market appeal and optimizing its powerful platform network effects.
Through such a lens, the most recent expansion efforts by M-Pesa and Apple make quite a bit of sense. Following its recent acquisition of Credit Kudos, a platform enabling alternative credit scoring, Apple is working to bring more financial services in-house. Code-named "Breakout," Apple is reportedly building on its Apple Pay and Apple Card products to develop its own payment processing technology for future financial products, including a prospective Apple BNPL product that could appeal to new demographics typically averse to Apple's high-priced items.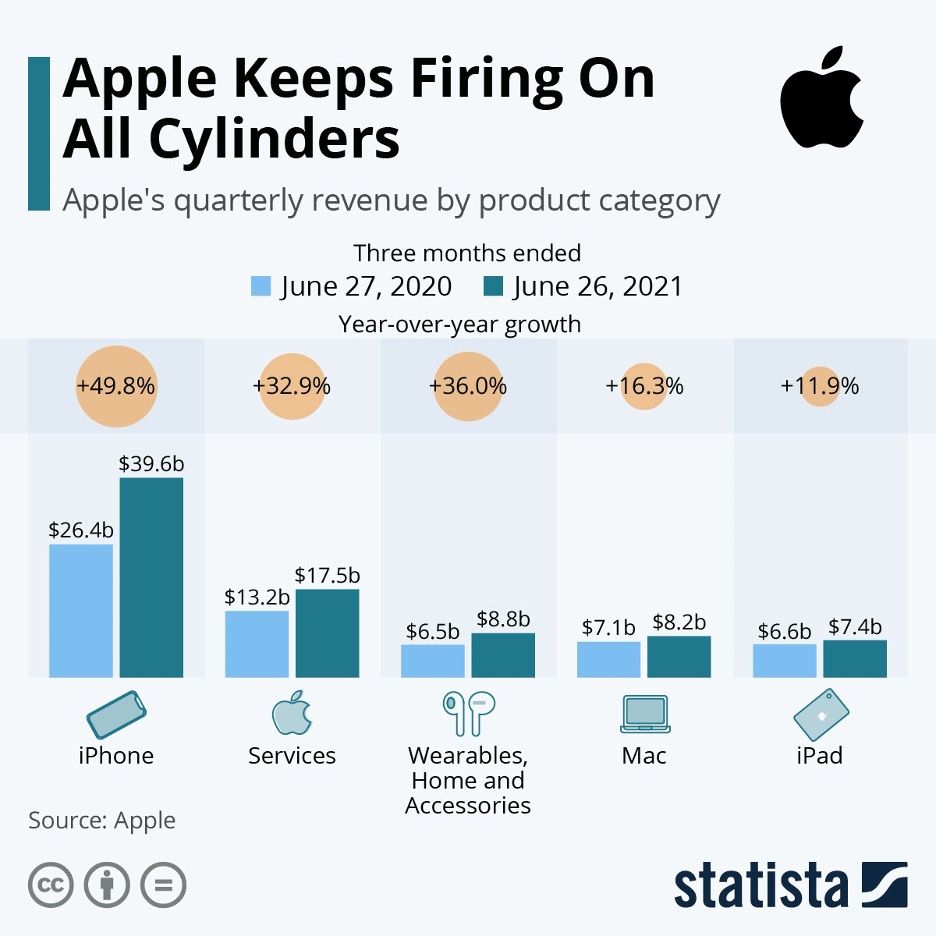 As Mondato has previously discussed although Big Techs like Apple enjoy unparalleled customer data and network effect advantages that would theoretically make them unstoppable were they to wade deeper into financial services, they choose to only engage in financial services with minimal regulatory burden and high profitability. While Apple is looking to engage in BNPL and lower-ticket lending, they are reportedly still looking to partner with Goldman Sachs for long-term, higher-ticket loans.
Through its App Store, Apple essentially fueled its platform supremacy through partnerships. Yet Apple has always been shrewd in determining what areas of their platform should be developed through third parties rather than in-house. Developing its own payment processor would be by far the deepest penetration Apple has ever gone into financial infrastructure, yet such a step would act as an enabler to widening and strengthening its payments ecosystem, where Apple Pay is already a $70 billion enterprise.
"Every [platform-based] company is going to care about the segment where they monetize, and that's going to be the segment where they will want to be as monopolistic as possible, or at least as little competition as possible. Where they will want as much competition as possible is all the other segments that will feed demand on their own segments."
Annabelle Gawer, Director of the Center of Digital Economy, University of Surrey
As the market leader, Apple gets to pick and choose what services to outsource and what areas to control in-house — and considering its tremendous capital, it has the resources to make that happen, including when it comes to payments. Processing payments in-house would better expand the geographic reach of its P2P and Apple Card products, which are currently limited by their processing partners' focus on the U.S, while keeping payment revenues to themselves and strengthening the breadth and seamlessness of its own payments ecosystem.
With its platform ecosystem already mature and absurdly robust, Apple essentially is facilitating the centralization of its ecosystem under one umbrella until it achieves maximum efficiency and scale, which now includes financial services as deemed fit. In the case of M-Pesa, however, the focus is on that very expansion of services in its ecosystem that Apple has long championed. The route to do so is in large part through partnerships, as Apple had done especially in its earlier stage of platform expansion.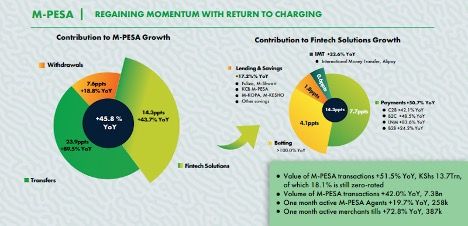 Source: Khusoko

"[Apple] decided that they want to play a big part in democratizing Internet and Internet services via their smartphone ecosystem. And so they created a marketplace for people to create products that people can download. That's very similar to what we're doing with our super app: we're looking to democratize the Internet for Africans."
Ogugua Osakwe-Adegbite, Head of Strategy and International Expansion, M-Pesa Africa
Yet if Apple "breaking out" translates to investments in payments infrastructure, "breaking out" for M-Pesa comes with challenges Apple never had. M-Pesa's expansion towards smartphone-based ecosystem faces obstacles in terms of the relatively lower smartphone penetration in Africa, as Mondato recently discussed. Calling it a "problem that all telcos across Africa are looking to solve," Osakwe-Adegbite proclaims getting smartphones into the hands of customer who don't have them the "next battle" — a battle that a hardware provider like Apple may in theory be able to promote through cheaper smartphones in emerging markets, but a non-OEM provider like M-Pesa has limited options in alleviating.
According to Osakwe-Adegbite, M-Pesa's other hurdle to "break out" from is extending beyond the comforts and limitations of Vodafone-led markets.
"We are looking to go into markets where perhaps there is no Vodafone/ Safaricom presence simply because you've exhausted those markets in Africa. I think there'll be a need to form partnerships with license holding entities or other telcos, depending on what the right fit is."
Ogugua Osakwe-Adegbite, Head of Strategy and International Expansion, M-Pesa Africa
Osakwe-Adegbite also noted M-Pesa has received considerable inquiries outside of Africa, expressing the possibility for partnerships on an "infrastructure-sharing level."
As M-Pesa expands its products and availability to beyond its core markets and core customer bases, broadening its appeal to higher up the socioeconomic ladder and potentially non-African markets, Apple is looking the other way, offering cheaper products with more adaptable infrastructure to more deeply penetrate emerging markets, where Apple now derives one-third of its revenue. The areas of increasing convergence of two very different tech empires is no coincidence — it is the natural byproduct of the platform economy's push for a comprehensive ecosystem that maximizes potential network effects.
Does this mean Big Tech platforms are hurtling towards some kind of ecosystem singularity, where all customers find appeal within a given platform's offerings strengthened by network effects? Let's not get ahead of ourselves; Apple will never target those at the lower levels of the socioeconomic pyramid through USSD-based technology, and M-Pesa will likely never find the same mass appeal in developed markets as it does in Kenya and elsewhere. A platform's foundational product remains a lodestar to grow on top of, not to be replaced.
Both Apple and M-Pesa highlight the importance that market conditions play in determining how viable a new product entrant, let alone an entirely different platform ecosystem, will be. Yet as M-Pesa and Apple's iPhone turns 15, it would be wise to reflect on the winding, variable paths that Big Techs may take — and the same approximate destination their platform economies steer them towards.
© Mondato 2022
Image courtesy of Shubham Dhage
Click
here
to subscribe and receive a weekly Mondato Insight directly to your inbox.