Smartphones In Africa: Reaching An Inflection Point?
~8 min read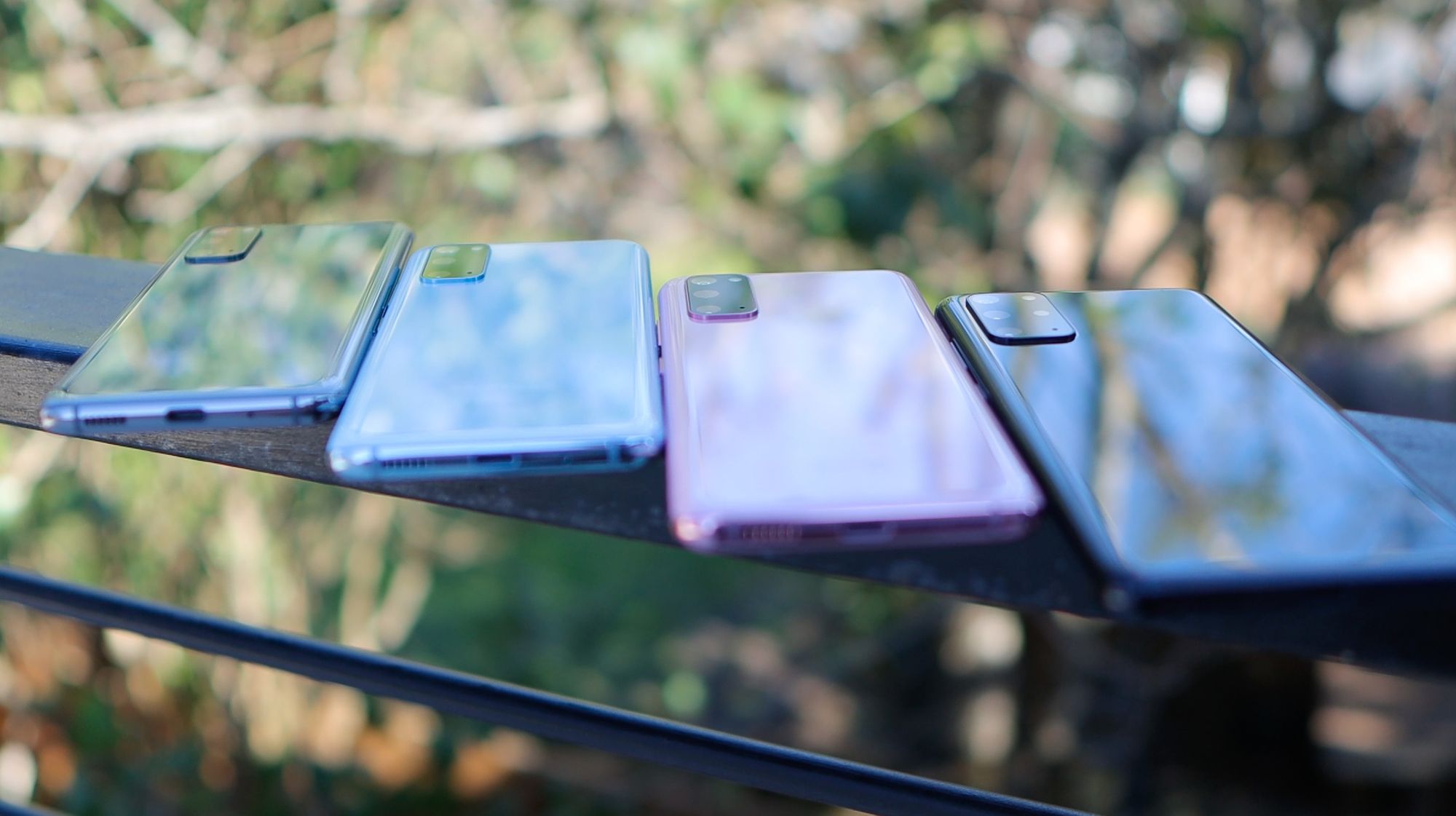 If Africa leapfrogged landline telephony into the mobile era, it has only shuffled towards the smartphone era. Yet after two decades of explosion in access to basic connectivity — an unprecedented era of African digitization enabled by basic phones and 2G networks, and later, 3G "feature" phones — the next wave of disruption appears inevitable as smartphones, like their predecessors, become less luxury than necessity. But how imminent is the inflection point, and who will reap the lion's share of the benefits of this next step change? This week's Insight reviews the drivers and players catalyzing Africa's smartphone adoption and explores the implications for its swelling cities, sprawling villages and increasingly digitally-native denizens.


Almost Halfway There
What characterized the feature phone's adoption in Africa was the breathtaking speed at which the technology diffused across emerging markets. Indeed, when one compares the proliferation of the technology in Africa to the globe, the lag is surprisingly small considering the vast gap in infrastructure and wealth separating African nations from their OECD analogs. Indeed, the trajectory of adoption in Africa seemed to follow the global trend by no more than five years, despite stagnation across access to many other more 'basic' services.



Source: World Bank Data Catalog 2021, World Development Report 2016: Digital Dividends

The smartphone story, however, is a bit more complex. While global ownership sits at around the 80% mark, the average in Africa sits closer to half that figure, with an unsurprisingly wide distribution across wealthier countries, like South Africa, and those closer to the bottom of the Human Development Index, like Mozambique.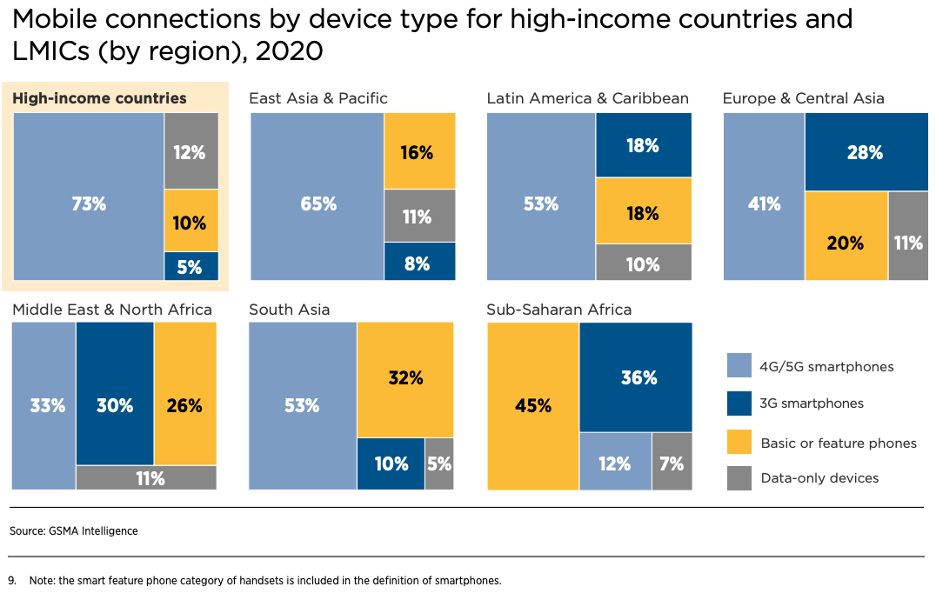 Source: GSMA, The State of Mobile Internet Connectivity 2021

Tempering the optimism that accompanies this trend is the oft-reported widening digital divide separating the marginalized even further from their better-off fellow citizens. Nevertheless, if smartphone adoption trends mirror that of feature phones, we should be witnessing multiple African countries stream past the 50% smartphone adoption threshold well before the end of the decade. The sales bonanza (an estimated 93 million handsets were sold in Africa in 2021, according to the GSMA) has driven a doubling in smartphone adoption over the past few years, with nearly another doubling predicted by the end of 2025. Soon, there will be more smartphones than 'dumb phones' on the continent.


The Difference This Time
Feature phone diffusion in Africa relied on many of the same technologies developed in richer countries: the ubiquitous Nokia, for example. For smartphones, however, a different set of characters has stepped onto center stage.
Chinese manufacturing has always been central to the diffusion of technology in Africa. This time, however, it isn't just Chinese manufacturing making its presence felt, but Chinese brands — and, some argue, Chinese strategic interests. Transsion, a Hong Kong-based vertically-integrated handset manufacturer, started focusing on the African market back in 2008. It has since become the undisputed smartphone champion on the continent, commanding a 48.2% market share through its Tecno, Infinix and Itel brands.
The difference this time around is that winning in the smartphone era in Africa is not just about moving physical products like handsets, but getting market share of what device users will spend continuously on: data-driven services.
Telcos, unsurprisingly, want to see device usage translate into higher data demand among smartphone users, as megabytes and gigabytes are precisely what gets 'metered' in their business model. No wonder, then, that we are seeing telcos like Vodacom get involved in the hardware game; their $25 Smart Kitochi — a 'smart' feature phone whose T9 keyboard and LCD screen belie 4G mobile Internet capabilities — has garnered them a reported 14.6% growth rate in mobile data traffic growth in 2020, a significant share of which came from 4G traffic. Similar cheap smartphone plays have been announced by telcos like Orange, Safaricom, Airtel, and MTN in recent years, with a cast of partners including Google, MasterCard and Samsung.
Whereas telcos are most interested in users gobbling up as much data as they can afford, app-based digital finance (also known as Over-The-Top, or OTT services vie for customer stickiness by doing the exact opposite. The Norwegian-founded Opera web browser claims a reported 10% of the entire African web browser market, largely due to its data compression feature, which they claim saves their users up to 90.36% of mobile data when browsing. And while Meta winds down its free Express Wi-Fi program across Africa, players like Opera see an opportunity to win new users with the strategic giveaway of data packages as a bonus for either downloads or referrals.
Digital finance companies, for their part, find themselves in a blue ocean market freed from the limitations of USSD. The smartphone play, for them, is to leverage the computing power and enhanced interface capabilities of a smartphone to respond to financial needs and desires in heretofore unaddressable ways.
Witness OPay, Africa's newest unicorn fresh off a $400m capital raise. The Nigeria-focused fintech has spun out a series of digital finance initiatives in e-commerce, e-food delivery, e-logistics, e-public transport and more. Though most of these initiatives eventually failed, principally due to market unreadiness, the flagship OPay wallet and payment vertical keeps paying the bills with monthly transaction volumes in the billions of dollars.
OPay's exponential growth in uptake in Nigeria relied on flawlessly adapting to local demands: a huge proportion of its partnerships involve aggregators for Nigeria's enormous betting industry. This, along with more traditional P2P transfers (leaning on an extensive agent-based Cash-On/Cash-Out network) and bill payments, drives OPay's business.
The hunt for "device-enhanced" customers has resulted in some interesting partnerships and synergies in the DFC ecosystem. Manufacturers are finding themselves courted by over-the-top (OTT) players seeking to get a foot in the door of a potentially life-long customer relationship, as existing mobile money users increasingly switch from feature phones to smartphones. This, again, gives the upper hand to the Chinese brands, who are becoming increasingly savvy about deeper, long-term engagements with African markets and users.
"Many Chinese smartphones come with a default music and payment app now — like Boomplay, which is the fastest growing music streaming service in Africa with over 68 million users. Boomplay was the default music player on Transsion mobile phone brands Tecno, Itel, and Infinix, and this preinstalled, incredibly popular music app came integrated with Flutterwave for payment collection on the Boomplay app."
Ifunanya Chiegboka, Expert in African Fintech and Digital Payments
Affordability remains the biggest obstacle to smartphone adoption, but here we should continue seeing rapid innovation. It was only several years ago that the lowest range covered in market reports surveying the smartphone market in Africa was under $100. Today, the price point is closer to the price of a basic phone a decade ago: $50, $30, even $25 dollars (largely thanks to the explosive rise of smart feature phones). However, smart feature phones at such a rock-bottom price may be constrained in terms of the spectrum of bandwidth it can access, requiring users wanting 5G access to upgrade.
Smarter financing plays for smartphones are also addressing the all-important affordability barrier, again thanks to a bevy of new partnerships between manufacturers, telcos and dedicated financiers leveraging expertise from the Pay-As-You-Go sector. Lighter taxation for telecom products may also usher in additional user segments into the affordable smartphone range; Chad's Ministry of Finance kicked off the new year with a moratorium announcement exempting telecom and Internet equipment, including smartphones, from duties and taxes for five years to stimulate the uptake of digital services.


Preparing For Takeoff
The biggest difference between the first wave of massive mobile uptake adoption and the current smartphone wave for the digital finance sector is the vastly superior possibilities offered by an Internet-enabled wallet for the unbanked. This greater usability — also dependent on adequate levels of digital literacy — opens the door for simplified scaling of merchant payments, QR codes and cameras, crypto usage, and Central Bank Digital Currencies (CBDC), with additional security functionalities offered by face recognition, thumbprint recognition and perhaps one day iris recognition.
A smartphone is not just a voice portal with the ability to send letters and numbers through text — it's closer to a computer. In that sense, perhaps the clues to look for in anticipating the inflection point catalyzing a step change in the DFC sub-segments are found not just in smartphone adoption curves, but in the penetration rates of computers. Yet for Africa, one has to imagine the progression taking place sans PC at all.
Devices, however, are only part of the equation. Coverage has to precede — and here we see hints of the coming convergence of the Internet and the phone. In the last several years, there were for the first time more mobile broadband connections (3G and 4G) than 2G connections in Sub-Saharan Africa. 4G is soon set to overtake 2G in usage, while 5G networks targeting the continent's larger and more formal businesses may soon prove a more reliable and attractive solution to commercial connectivity than traditional Wi-Fi infrastructure, like DSL, cable and fiber.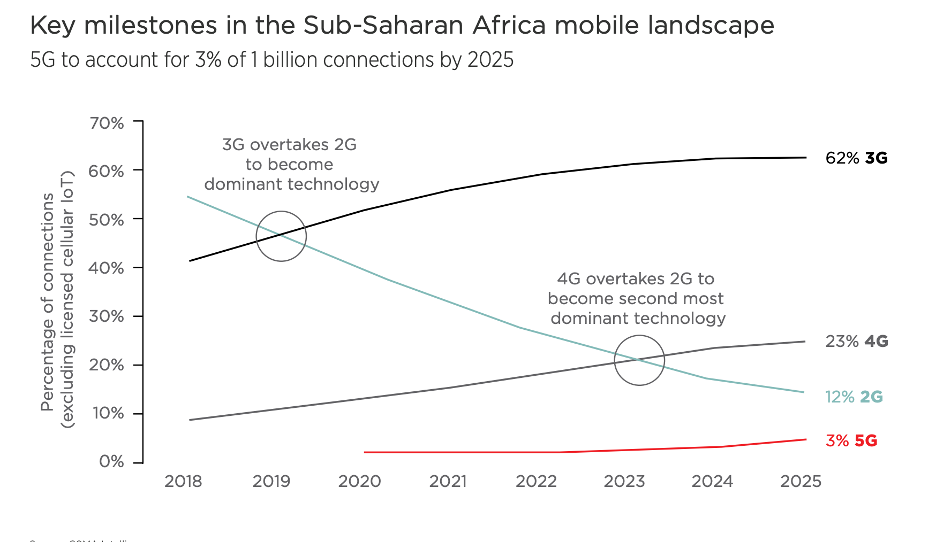 Source: GSMA (2019) 5G in Sub-Saharan Africa: laying the foundations

While smartphone adoption increases through Africa's different markets — and allies from different industries pair off to compete for the continent's new digital users through cheaper devices, pre-loaded apps, bundled offerings and rewards — it is likely that each DFC vertical will find a different combination of triggers that create unique pathways to scale for fintechs and digital finance players.
"There are so many different players and regulations across the distinct African markets: who can sell smartphones, how is it regulated? When it comes to financing smartphones, it's the same question. Most mobile operators today work with a financing company behind them to provide loans, but there is still no one-size-fits-all model. The regulations, the models, the levers are different in each market."
Anne Delaporte, Senior Insights Manager at the GSMA; co-author of "The State of Mobile Internet Connectivity 2021"
For fintech players focusing on expansion and scale, then, each market needs to be considered carefully in order to time market entry. If the fundamentals for a use case are ripe — whether it be payment integrations riding a surge in local betting demand, or a consumer shift in public transport payment options — then greater smartphone adoption can be the tip of the spear for mass adoption. Deeper still: user segmentation research is needed to understand which users are adopting the cheaper smartphones and smart feature phones with internet access, and for what: the affluent gaining a cheap backup? The enterprising auto-entrepreneur looking to market wares on social media? Government employees remitting cash back to the village?
Fundamentally, device ownership is just one piece of the puzzle that must be paired with other critical data points on customer behavior. It's thus no wonder that so much energy is being spent by telcos, manufacturers, and digital finance apps to be the first port of call for new users of the Internet: with an unstoppable wave of smarter devices in the next few years, we should all be ready for the new normal in which there's a computer in the majority of African pockets.
© Mondato 2021
Image courtesy of Daniel Romero
Click
here
to subscribe and receive a weekly Mondato Insight directly to your inbox.