New Initiative Aims to Dethrone Cash
~2 min read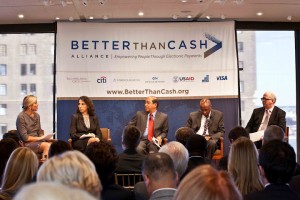 Cash payments to the poor, while well-intentioned, often prove costly, inconvenient and risky for both senders and recipients – stifling financial inclusion and economic growth. The recently launched Better Than Cash (BTC) Alliance aims to reduce these inefficiencies and inspire innovation in financial services by promoting a shift to electronic payments throughout the international community.
Founded by a coalition of international heavy-hitters, from the US Agency for International Development (USAID) and the United Nations to Visa and the Omidyar Network, the BTC Alliance promotes the adoption of alternative payment systems among governments, development organizations and private sector actors worldwide, many of which still primarily rely on cash for the disbursement of salaries, pensions, emergency relief, and social welfare stipends, among other transactions.
In many developing markets, this heavy reliance on cash transactions can be cumbersome, expensive, lack transparency and put women at risk of theft and violence everyday, as articulated by USAID's Priya Jaisinghani during the initiative's launch in New York last week. In these contexts, a shift towards electronic payments has the potential to open access to financial services and social benefits for millions, creating, Jaisinghani said: "a quantum leap forward for financial inclusion and, ultimately, for development outcomes for millions of families worldwide."
To facilitate the this leap forward, the founding members have pledged to provide policy leadership, technical assistance and funding opportunities for those that commit to transitioning a substantial amount of their cash transactions to electronic systems. Already, the Governments of Peru, Kenya, Colombia, and the Philippines, along with a number of non-governmental organizations, have signed on to the terms of the BTC Alliance. Peru, specifically, has included a pledge to shift towards e-payments as part of their national financial inclusion strategy.
By reducing the friction involved in transacting and serving the poor, this Alliance may "unleash a new generation of innovation and bring financial services to the poor and underbanked in creative ways," said Arjuna Costa, Director of Investments for Omidyar Network during the launch. Over the course of the five-year initiative, Costa said he hopes this infusion of electronic liquidity and financial innovation will bring meaningful change in financial inclusion and, ultimately, equitable economic growth over the long term.
However, while the BTC Alliance presents a promising step towards greater financial inclusion, the initiative will only have a long-term, global impact if more governments and organizations sign on to the terms – reaching a critical mass of members. This will require, according to Costa, creating a compelling body of knowledge and enough success stories to build momentum behind the transition.
Committing governments and organizations will also need to overcome challenges to implementation, including those highlighted in the above article: infrastructure limitations, lack of government coordination, and insufficient communication with the intended beneficiaries.
Anticipating these challenges, the BTC Alliance has set aside a pool of funding to provide members with technical assistance through each phase of the transition.  According to Beth Porter of the UN Capital Development Fund, which serves as the secretariat for the BTC Alliance, "the transition from cash to e-payments is still difficult and requires leadership, resources and technical expertise to ensure that it is a shift and not a drift to electronic payments."
Image: Courtesy of the Better Than Cash Alliance