Can Digitization Reduce Mass Migration From The Northern Triangle?
~7 min read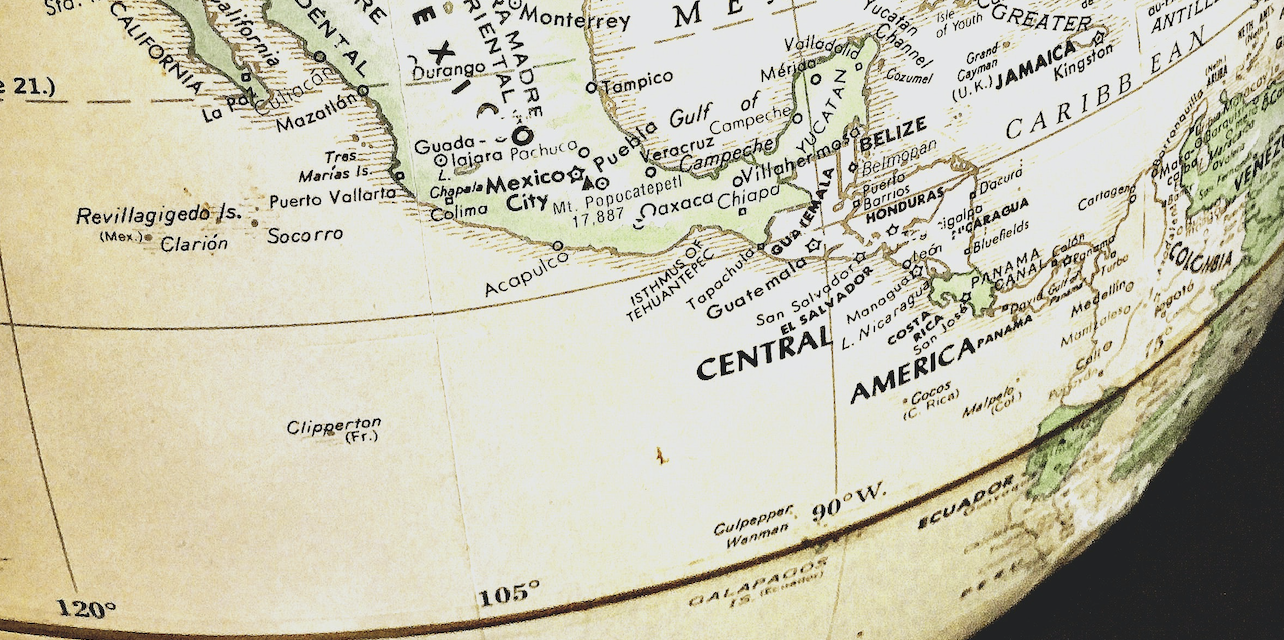 In an effort to curb the latest influx of migration to the United States from El Salvador, Guatemala and Honduras, the White House launched a recent Call to Action asking private entities, microfinance institutions (MFIs) and nonprofit organizations (NGOs) to help bring financial inclusivity and stability to the Northern Triangle of Central America (NTCA) by tackling the root reasons for the region's economic turmoil. Many companies and organizations pledged to address the core causes of migration through digital transformation and financial inclusivity. Fintech companies, financial institutions and social enterprises realize that to have long-term sustainability in El Salvador, Guatemala and Honduras, a solid digital ecosystem needs to include digitization tools that provide financial inclusivity for vulnerable but large populations and enable digital transformation for economic engines like micro, small and medium enterprises (MSMEs). Yet as fintech companies are learning, promoting economic prosperity in the Northern Triangle by focusing on digitalizing MSMEs is no easy feat in a region with poor digital education skills and a weak Internet ecosystem.


A Region Left Behind
For decades, high unemployment, poor governance, crime, and corruption have plagued the Northern Triangle. El Salvador, Guatemala, and Honduras. This region's interrelated challenges have made it one of the poorest regions, with an average GDP of $3,613 in 2017; the average GDP in Latin America and the Caribbean is $9,244. In 2019-2020, the ongoing pandemic exacerbated the region's poverty levels and economic instability, increasing mass migration. Aware of the compounding problems, financial institutions and nonprofit leaders with experience serving this region for years made a new vow to step up their efforts to foster economic growth. Accion, a global nonprofit leader in microfinance and fintech that responded to the Call to Action, committed to growing micro and small businesses with the assistance of its existing partnerships in the region in the span of three years, targeting to help 400,000 people.
"With the proper support and new technology, financial institutions already reaching the people most likely to emigrate can digitize their operations to get even more financially underserved clients, understand their needs, and create new tools that allow people to build better lives – ultimately addressing the root economic causes of migration."
Michael Schlein, President and CEO of Accion
Recently, in a panel discussion of financial institution leaders discussing how to expand economic growth in the most vulnerable populations of the region, Accion's Vice President of Latin America Program Management, Maria Camila Gomez, lamented how the pandemic magnified the region's financial woes by giving rise to unemployment, resulting in a loss of 300,000 jobs and 41% of the youth seeking work opportunities. In addition, another 300,000 people became displaced due to violence, and more than 600,00 people migrated, making it even more difficult for these countries to cultivate economic roots and sustainability.
However, the panel at the Accion session remained optimistic with how these challenges present opportunities for financial digitization to change the trend of these numbers along with the root causes of violence and migration by increasing efforts for vulnerable populations to use digital payments, providing access to more digital loans, and increasing financial digital literacy with the help of microfinance institutions (MFIs).


Creating a Land of Opportunity
For decades, microfinance institutions have led forces in El Salvador, Guatemala, and Honduras to empower vulnerable populations such as women and MSMEs by providing them with financial, educational and food resources to survive. Currently, MFIs reach 9% of the Northern Triangle Central American population, or 4 million people (62% of these clients are women and 60% live in rural areas), and they continue to grow capital through strategic partnerships and investors.
Most recently, Netherlands-based worldwide cooperative and investor Oikocredit funded a four-year loan of EUR 9.6 million to Fundacion Génesis Empreserial. Fundacion Génesis Empreserial is Guatemala's largest microfinance institution with 151 branches throughout the country and a portfolio of USD 248 million with 4,000 rural service points. They concentrate on economic development by lending for small businesses and household needs in Guatemala's rural areas and offering business development and financial literacy to women. Currently, they serve 216,000 clients, with an objective to help one million people. Partnerships like these are crucial for investing money in training these microfinance institutions on digital tools that they, in turn, will train and provide for the community.


A Burgeoning Ecosystem
In the Northern Triangle, SMEs comprise 99% of all businesses. According to Accion's Vice President of Latin America Program Management, Maria Camila Gomez, there are about 6 million SMEs owners comprising 99% of all businesses. 61% of these SMEs owners are women, and 60% of SME owners live in rural areas. 81% of these business owners borrow money for productive purposes, with 95% of these borrowers paying on time. Most importantly, small business owners and entrepreneurs are less likely to migrate, positioning them as a crucial linchpin to reducing migration and building a solid economy.
Along with offering business development and financial literacy training, microfinance institutions in the Northern Triangle provide digital tools that help entrepreneurs and small businesses owners become competitive in a growing e-commerce economy and sustain their businesses in case of a natural disaster. These offerings include digital payments to eliminate the need for cash, along with digital loans and digital tools that offer financial services combined with financial literacy. As is elsewhere, pivotal to such efforts have been the continuing increase of smartphone usage in the Northern Triangle; Guatemala has reached 58% smartphone penetration, with Honduras behind at almost 53% and El Salvador at 37%.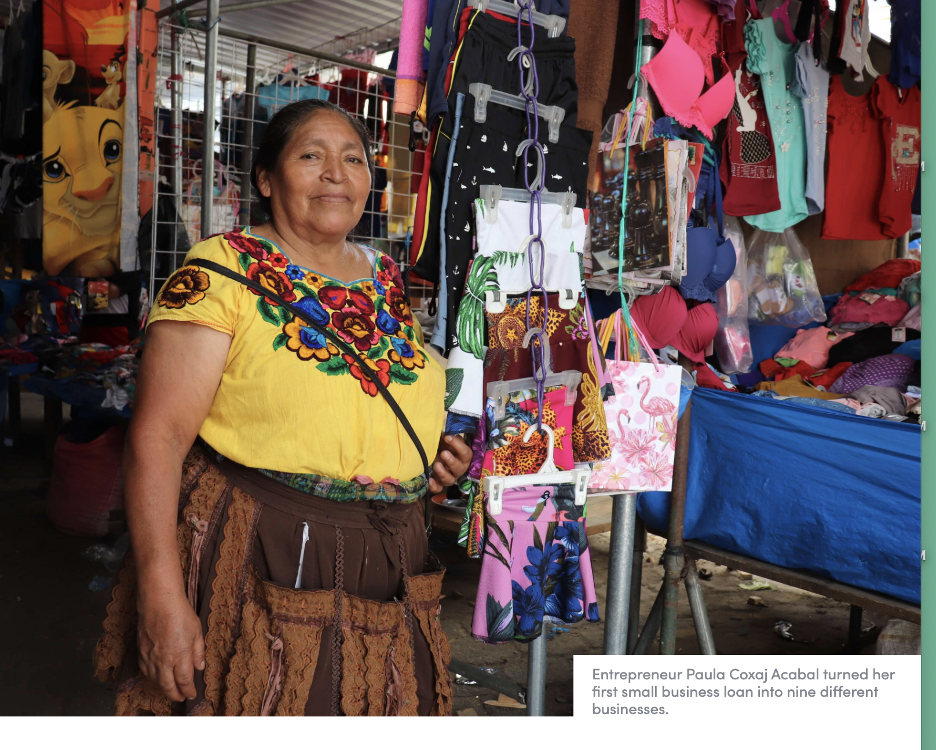 Source: Accion
Fundacion Génesis Empreserial utilizes smartphones to bring economic growth in Guatemala, a country where 7.5 million people do not have a basic bank account. Fundacion Génesis Empreserial's partnered with PRONET, S.A. a Guatemalan company with the largest network of service points in the country (6,000 payment points), to launch the akisi app, a digital wallet app that helps underserved populations left out of the traditional banking system receive, request and send money through their Android smartphones. The akisí app also allows for remittance collections, and Guatemalans can request and receive upon approval a nano credit up to Q1000 directly through their smartphone. Digital loans like the one accessible through akisi are vital for survival in an agricultural economy with a largely rural population, where the unpredictable climate can damage crops accounting for income loss. Investing in more access to digital payments has been a focus of local fintechs in helping MSMEs grow their businesses and eliminate crime, corruption, and extortion.
Davivienda, a multinational Colombian bank, also saw the need to invest in women and MSMEs and committed to the Call to Action by investing US$500 million in loans to support women and MSMEs through financial inclusion and access to credit and its digital payment system, DAVIPLATA. Davivienda has also committed to connecting 1 million unbanked individuals in the Northern Triangle to its services. But organizations and institutions are well aware that in order to create a solid digital ecosystem in the Northern Triangle, apps or digital applications are not enough to make a change: these services must come with an investment in teaching financial literacy skills and digital skills, the lack of which has prevented the uptake that institutions envision.


Searching For A Signal
While investing in digitization seems promising as more investors pledge money to develop digital tools and services to teach financial literacy, a digital ecosystem will not develop further in the Northern Triangle without an Internet ecosystem that can unleash the possibilities that digitization offers. In the panel discussion hosted by Accion to discuss economic growth in vulnerable populations, Luis Castillo, Founder of Integral, the largest microfinance institution in El Salvador, stated that the main concern for him was a creation of a solid digital ecosystem that encompasses digital tools with digital literacy and the ability for more digital development. El Salvador, Guatemala, and Honduras have broadband access that significantly lags behind most countries. Honduras ranks 85th place with 30.84 Mbps for mobile services, Guatemala 89th with 29.69 Mbps for mobile and El Salvador 94th with 26.85 Mbps for mobile — improvements from the past, though still insufficient in enabling a smooth digital transformation.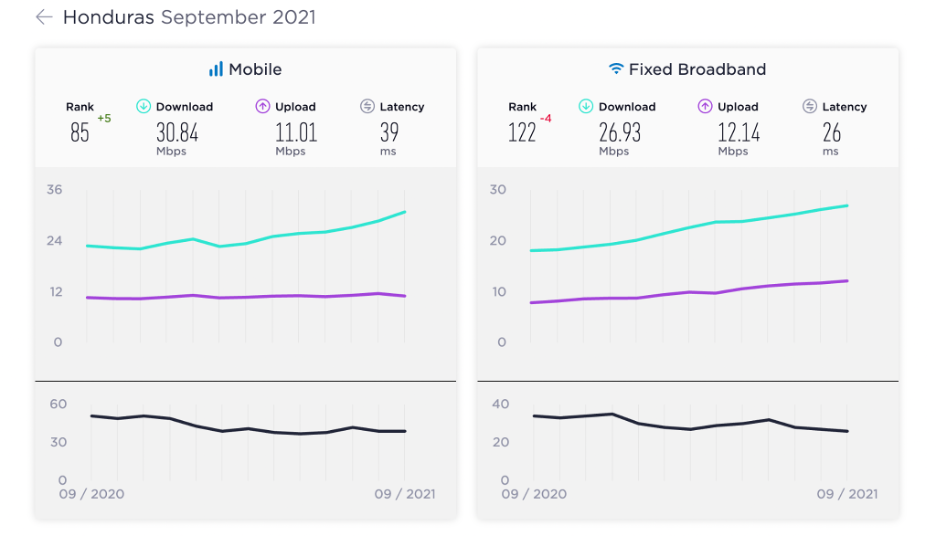 Source: Speedtest
Mobile usage is high in the region but lagging times and instability in internet connectivity still present a challenge for the developing digital ecosystem in the Northern Triangle. The promising news is that efforts are in motion to develop a robust Internet infrastructure. The Inter-American Development Bank (IDB) recently invested 70 million dollars towards digital transformation and access to fixed and mobile broadband connectivity in Guatemala, signs that more financial institutions feel confident in investing in the largely ignored Northern Triangle.
The problems that have long plagued the Northern Triangle are interrelated and complex; there is no one solution or formula to fix these issues, with issues like gang violence, police corruption and climate change requiring a multi-pronged approach. Although it may not solve all the Northern Triangle's root causes for low economic development and mass migration, fintech will undeniably play a critical role in revamping the region's MSMEs as the economic lifeblood for vulnerable populations. By doing so, the rural populations robbed of economic opportunities because of climate change and preexisting trade deals can build sustainable business models that strengthen local economies and the national profile as well. Though funding is now pouring in from international sources, the question remains whether infrastructure and digital literacy can be improved to realize the promises of digital financial services so that local resilience takes the place of dependence on foreign remittances.
© Mondato 2021
Image courtesy of Jen Theodore
Click
here
to subscribe and receive a weekly Mondato Insight directly to your inbox.