The GSMA Innovation Funds: Kick-Starting Scale
~6 min read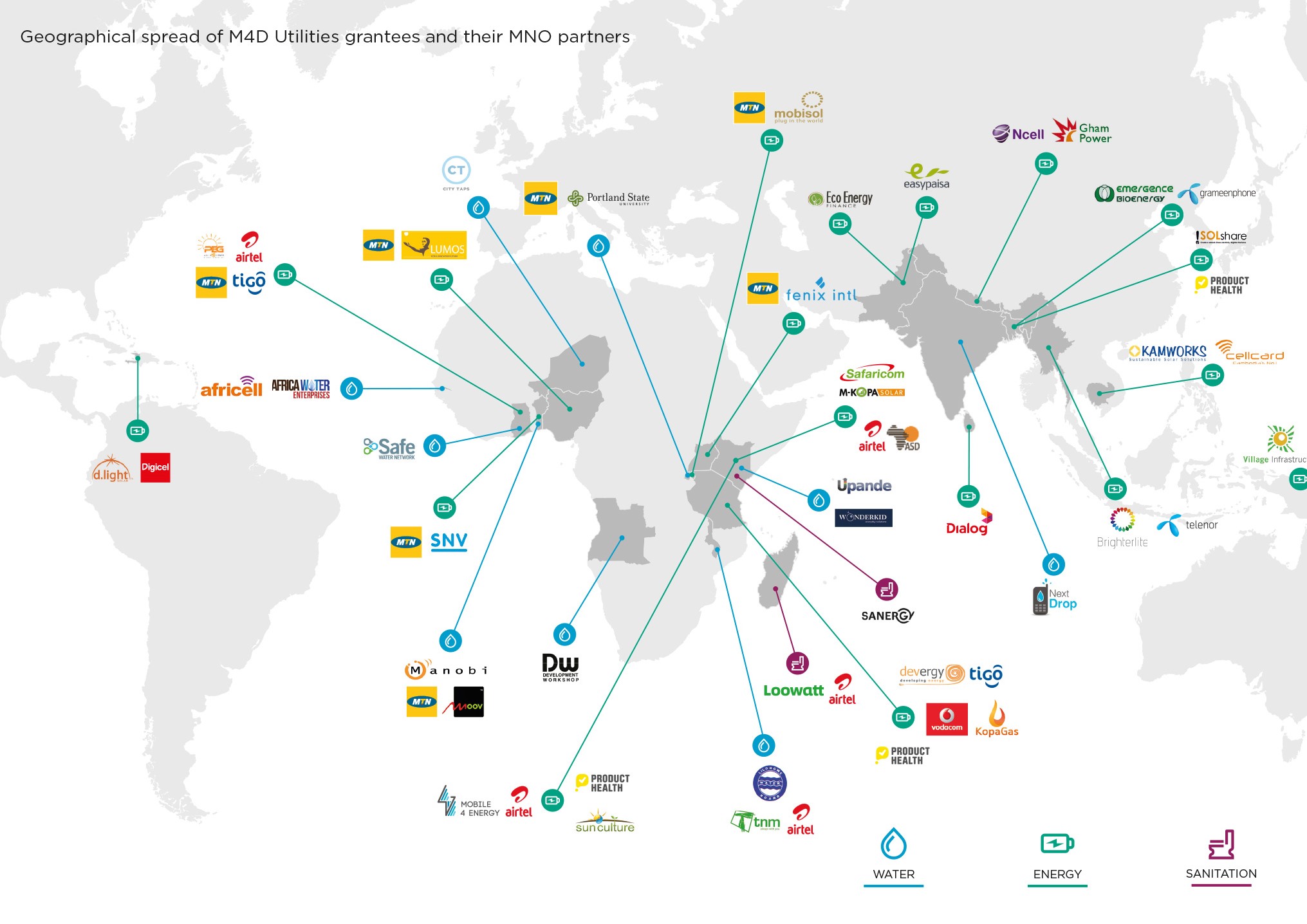 Somewhere along the way, the mobile phone came to represent the hinterlands of capacity-building in emerging economies. While an obvious vehicle for change due to its ubiquity - even among the poor or illiterate – its course remains clouded, uncharted and without a one-size-fits-all mold. But, the GSMA Innovation Funds are an engine that could tentatively power the theory and distill the potential behind the mobile into more digestible, replicable and, most importantly, sustainable parcels. How does the mobile marry development and business, especially in the framework of utilities? And, better yet, how might that holy union tumble into macroeconomic externalities or chip away at the SDGs?


A Fund For You, And A Fund For You
Due to the chameleon-esque nature of the mobile, the GSMA strives for a multi-pronged approach to sniff out and support the next big technology in mobile. While both the Mobile for Development (M4D) Utilities Innovation Fund and the Ecosystem Accelerator Fund partake in the same Department for International Development (DFID) partnership – an arm of the UK government that administers aid abroad – each manages its respective finances and operates within its own scope.
The former's sphere of interest is fairly straightforward, and recipients have pitched trials that pilot and expand mobile's role in improving or increasing access to energy, water and sanitation services. The latter's 'raison d'etre' is a bit more complex. Currently, the Ecosystem Accelerator Fund has identified two tracks it imagines as a brewing force for good across a diverse portfolio of countries: the sharing economy and services for Small-to-Middle Enterprises (SMEs).
"Both have the potential to bring positive socio-economic impact at scale, and in a commercially sustainable manner. With the sharing economy, finding a use for unproductive 'assets' – time, knowledge, cash, a tractor or more - becomes a way to increase the livelihoods of millions with existing resources. On the other end, there are nearly half a billion SMEs in emerging markets, most of them informal. There is no doubt that they play an extremely important role in the growth of developing economies, and in providing jobs for the younger generations. Improving their productivity is key for development, and eventually job creation." Max Cuvellier, Head of the Ecosystem Accelerator Programme at GSMA
And while these themes currently incarnate the GSMA Innovation Funds, there is no beginning or end to the value-add of mobile. Other initiatives at the heart of GSMA's mission touch upon digital identity, connected women, m-agri, m-health and a whole of host of development-driven use cases.


Mobile Channels Galore
Similar to the plurality of mobile's possible impact, too are there an assortment of technologies begging to be leveraged. In 2013, the M4D Utilities Innovation Fund isolated 5 burgeoning channels that could significantly alter reach, profit and efficiency of mobile-enabled utility deployments: Mobile Infrastructure, Sales, Distribution & Branding, Machine-to-Machine Connectivity (M2M), Mobile Payments and Mobile Services.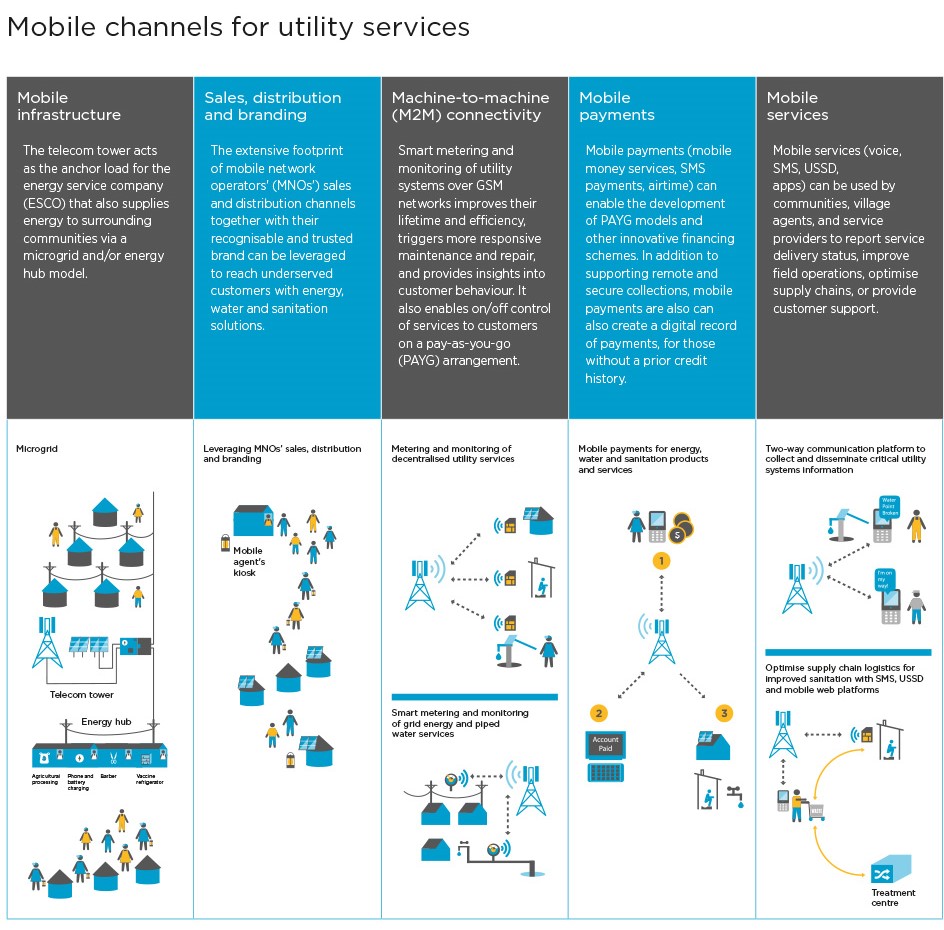 Source: GSMA M4D Utilities Innovation Fund
But, as technology is not static, neither is the classification of channels. The fund recently introduced Mobile Operator Customer Data as another avenue to milk the power of mobile. Strategic use of this channel would likely manifest as segmenting consumer data (with consent, of course) to enhance targeted marketing of products.


Treading New Ground, Precedents And Patterns
How utility providers in low-to-middle income countries *could* integrate the mobile, then, yields countless theoretical combinations. Therefore, how utility providers *are* integrating the mobile into business models offers a more prudent glimpse into what is scalable and commercially-viable. While the M4D Utilities Innovation Fund derives its insights from a pool of 488 applicants - and thus is not a comprehensive snapshot of the industry - it is still indicative of broad trends.
According to the lastest round of participation, the mobile asset most ubiquitous among utility operators (especially those specialized in water and sanitation) was traditional mobile services. Within the subset of mobile services itself, the frequency of SMS and mobile applications dwarfed that of voice and USSD - with the former employed at a rate nearly twice that of the latter.
"This reflects the needs of these sectors, as many of the water and sanitation services are aimed at improving existing service delivery through communicating information to multiple stakeholders, building capacity of operators and users and operational management of infrastructure, which often require mobile services to relay information and build accountability." Areef Kassam, Director of the Mobile for Development Utilities Programme at GSMA
Mobile payments trailed next, and remained indispensable for payment collection. The latest analysis registered gains in water and sanitation operators' implementation of mobile money payment schemes. Energy utilities continued to heavily depend on mobile payments to facilitate Pay-As-You-Go (PAYG) services.
On a regional basis, Asia is imperiling Africa's hegemony as the cradle of mobile payments. Concept notes revealed that Asian utility providers increasingly exploited mobile money - a jump, in fact, from only 44 percent of applicants in 2015 to 56 percent in 2017. For context, Africa dominated the leader board in 2015, with 60 percent of utilities adopting some form of mobile money.
As far as forward-thinking is concerned, Machine-to-machine (M2M) connectivity is on the radar of most utilities, though asymmetrically across markets. 50 percent of applicants in Asia communicated an intention to realize M2M ambitions, in contrast to just 41 percent in Africa. Technological capacity might, in part, explain the divergence. The GSMA Intelligence Report estimates that nearly half of Asian Mobile Network Operators have added M2M capabilities to their portfolio of services (the lion's share originating from India, Pakistan and Bangladesh). Africa has somewhat lagged behind, with only a third of operators boasting the same.


Privately Vindicated
The business case for mobile's meddling in utilities isn't validated because the GSMA wishes it was so - instead, a positive reception by the private sector would go further in convincing skeptics. Many recipients of GSMA's Innovation Fund have done exactly that.
Fenix International is the brain behind the ReadyPay power system. Through the funding of the M4D Utilities Innovation Fund, ReadyPay installed its solar home system in 13,000 Ugandan homes. As the solar technology was distributed on a 'lease-to-own' system, not only were beneficiaries consuming electricity purchased with mobile money, but were paying the loan installments on MTN Uganda's platform. As a consequence, payments to Fenix International - in terms of transaction volumes - represented the third largest bill pay account for MTN Uganda. ReadyPay's success in Uganda (now present in over 115,000 households, or 700,000 Ugandans) has set the stage for its roll out in Cote d'Ivoire and Senegal through Orange.
Lumos, another grantee of the M4D Utilities Innovation Fund, trialed a program that allowed the use of airtime to access PAYG solar energy in conjunction with M2M connectivity to monitor usage, billing and performance. To further scale the project across Nigeria, in addition to the resources provided by the GSMA, Lumos raised $90 million from private investors and development banks - the largest investment ever pooled in the off-grid solar market.
Even more indirect improvements have snowballed into padded revenues. Wonderkid engineered a suite of mobile tools for water operators and consumers, from lodging complaints to bill queries, to upgrade customer service features. Although mobile bill payment was encouraged by Wonderkid, it was not requisite. In Wonderkid's partnership with utilities, financed by the GSMA, KIWASCO witnessed a 28 percent bump in revenue from August 2015 to December 2016.
From contributing to healthier and heftier profit margins to accelerating expansion efforts, it appears, then, that the mobile is worth its salt. But commercially sustainable business practices are only one side of the equation. Through the GSMA's M4D Utilities Innovation Fund, 4 million people have been connected to affordable water, sanitation and electricity vendors. While 14.7 percent of the globe still trudges on without electricity, and a further 9 percent exist without an improved water source, 4 million is not a shabby number. Especially since many of the advances pioneered by grant recipients will likely be transplanted and forge a way forward so that the mobile can become a catalyst of development.
© Mondato 2017

Image courtesy of GSMA.

Click here to subscribe and receive a weekly Mondato Insight direct to your inbox.