Mondato Summit Africa 2019: Scaling DFC Innovations
~7 min read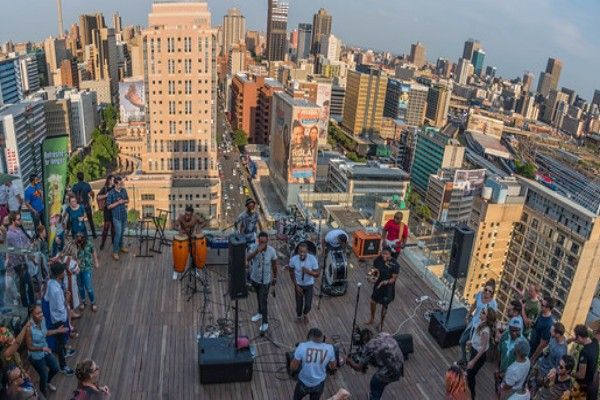 Last week in Johannesburg's picturesque Summer Place in Sandton, a group of about one hundred executives, entrepreneurs, subject matter experts and public sector leaders met for the sixth annual Mondato Summit Africa. The Summit's theme was "Scaling Digital Finance & Commerce Innovations in Sub-Saharan Africa"; its content focused on distinguishing premise from praxis, filtering out industry noise, and striking a collaborative chord. All told, we believe the Summit set the stage for another exciting year of activity in the African Digital Finance & Commerce (DFC) space.
Attendees were treated to presentations, fireside chats, panels and an innovation exhibition session whose aim was to both share knowledge and open new lines of questioning. Some common threads ran through much of the day's content: the maturation of DFC and need for collaboration between players of different types; how actual, practical value can be derived from the most buzzed-about technologies of our time; as well as the ascendant role of women here in Africa, both as entrepreneurs and consumers of DFC products. Any one of these topics would be a challenge to cover on their own and it was, no doubt, a day full of material, networking and insightful discussion. However, we are proud to say that it was among Mondato's most productive Summits to date.


The Evolution Of The Digital Economy
For the second year running, the African Women in Fintech and Payments (AWFP) hosted a breakfast before the morning's keynote address. Led by FSD Zambia CEO Betty Wilkinson, this year's theme was "Women Winning: How to be Successful in Digital Finance Without Losing Your Identity." The talk would foreshadow a theme which would re-emerge throughout the Summit — a need for a women-centered approach within key areas of DFC.
Mondato CEO Judah Levine delivered the keynote address, "Scale Versus Specialization: Re-Ordering the Digital Economy." DFC in Africa, he explained, has undergone a maturation process which demands a new emphasis on de-risking. No longer is the space a "wild west" where players seek to leverage first-mover advantage and take over multiple sectors at a time; instead, players from different corners of the ecosystem— be they banks, fintech firms, or even regulators — are finding more and more reasons to collaborate and find common solutions which play to each of their strengths. This process still takes place in the form of acquisitions, to be sure, but partnerships and regulatory consulting are also becoming common, mutually beneficial avenues for de-risking and innovation.
The presentation highlighted how this new trend is challenging long-held assumptions about African DFC. Former "no-brainers" are today objects of vigorous, creative discussion. The Blockchain hype train, for instance, has slowed down enough to allow for serious discussions of the technology on a case-by-case basis.
On a similar note, (echoing a recent missive by Mark Zuckerberg in the Washington Post) Mr. Levine identified regulation in Africa as an area in which the old ways of thinking are reaching their expiration date. The long-standing paradigm, in Africa and elsewhere, has been to view entrepreneurs and regulators as cops and robbers; the role of regulators, in other words, was to interfere with innovation, progress and profit. Recently, however, DFC leaders have recognized that regulation can in fact contribute value to an industry by protecting consumers and granting equitable access to players of all stripes.
The panel which followed the morning's keynote address drilled down into some of these industry-wide shifts. Panelists Hangwi Muambadzi (VP of Digital Strategic Initiatives, Absa Africa); Tramayne Monaghan (Chief Innovation Officer, Tencent Africa); and Antoine Paillusseau (Founder & CEO, FinChatBot) tackled the topic of "Pushing the Bounds of Commercial Viability" and offered unique insights and answered a handful of thought-provoking questions from the audience.
Interestingly, the panel disagreed on the central question of whether Africa at large is ready to implement mobile money in the style of Kenya's M-Pesa. Proponents of adoption cited increasing smartphone penetration and the real, persistent frustrations of cash. But it was also pointed out that consumers in many markets have been slow to trust mobile money, and that this exact problem has been taken on before with disappointing results. However, the panel did agree that a more realistic approach is needed when it comes to product design in DFC. If a product or service does not satisfy a need, it will not find much success—no matter how many exciting new technologies it incorporates. That said, the panel did express optimism for some emerging technologies, including automation, the gig economy and intra-regional remittances.
Following the panel discussion, the group broke for coffee and to visit to the ever-popular "Innovation Arcade", which this year featured exhibits from Infranav, Centbee, FICO, FinChatBot and Ntsu Aviation.


From Foundation To Future Catalysts
The second topic brought together experts from different corners of the ecosystem to discuss specific technology and its implementation. Stephen Peachey and Natalie Baatjies of Oxford Policy Management sat for a fireside chat about the gap between the formal financial services and the informal savings mechanisms in use in the region. Michel Hanouch (Financial Sector Specialist, CGAP) shared a deep dive into the potential of open APIs, and Lorien Gamaroff (CEO, Centbee) proposed a suite of region-specific uses for Bitcoin (including, importantly, remittances).
A panel discussion followed, moderated by Yolande Steyn (Director, FNX Consulting) and covering the topic of "Remaining Competitive in a Converging Digital Ecosystem." Felix Kamenga (Chief Officer for Digital Financial Services, MTN South Africa), Tayshire Khan (Head of Africa, Azumi Mobile), Rodger Dunn (Head of Transactional Banking, Sasfin) and Marcello Schermer (Head of Expansion, Yoco) made for a diverse, energetic group discussion. A driving question for the panel: what do users actually want from a mobile money experience? Panelists offered contrasting answers to this question, but it was agreed upon that without access to affordable mobile handsets with suitable specs, users are unlikely to "go the distance" when it comes to using a mobile money service. In other words, access to hardware is a real bottleneck to financial inclusion -- one which will likely take some time to resolve.


Translating Trends Into Investment
Following lunch, the Summit moved into its third main topic. A fireside chat with Lelemba Phiri (Principal, Africa Trust Group) and Libby Dreyer (Head of Investment Support, Development Bank of South Africa) captivated the audience; the two discussed gender-lens investing in Africa and the need to recognize (and in turn create formalized responses to) both the challenges and opportunities particular to women in the region.
The early afternoon was full of entrepreneurial energy thanks to a pair of small-business presenters. Dale McErlean (Operations Director, Ntsu Aviation) gave a talk on drones and their near-future use cases in the region. Dare Okoudjou (Founder & CEO, MFS Africa) then took the audience through the journey of his firm "from tent to cabin" over ten years of operation on the continent. Mr. Okoudjou cited interoperability as a key to the success of his firm, but also made sure to credit the constructive entrepreneurial environment of our host city of Johannesburg as a boon to his efforts.
As a follow-up, Mondato's own Arielle Jaffe (Head of Ecosystem Engagement) moderated a panel with an entrepreneurial inclination of its own. She was joined by David Gluckman (CEO, Lumkani); Polo Leteka (Executive Director, IDF Capital); Mathebe Molise (Founder, Beauty on TApp); and Matthew Piper (Founder, Khula). The panel discussed the frustrations of running a startup in South Africa in 2019, including securing seed money, establishing sufficient proof of concept to satisfy investors, and attracting and retaining talent.
The panel also shared their thoughts on the somewhat murky practice of impact investing. While some of the founders on stage do consider social impact a core objective of their business, the definition / quantification of (and consequently, the attitude of investors toward) impact continues to be elusive. Challenges on the investment side are in no short supply, either; investors in this region in particular find it difficult to evaluate the long-term potential of projects, which hinders the ecosystem at large. A final, practical note from the panel: keep the development of your core technology in-house. On this point, at least, the Summit as a whole seemed to agree.


Policy Considerations
The Summit's final topic engendered a surprisingly involved conversation. Lebo Mokgabudi (Managing Director, EagleQuest Africa) served as moderator while Jimmy Couvaras (of the Central Bank of Zambia), Michaella Allen (Senior Research Analyst, Cenfri), Lizelle Vaughan (Divisional Director of Digital, Liberty Group) and Lauren Breetzke (Specialist Legal Advisor, FNB South Africa) comprised the panel. Their topic was "Policy Makers and Regulators; Entrants and Incumbents." The role of regulators, as Mr. Levine touched on in his keynote, is changing. Regulators are not necessarily in the business of spoiling the fun of over-creative business minds, nor should they be perceived as such.
In fact, contact with regulators during the iteration process can make or break a project. Too often, businesses go to market without understanding the regulatory implications of their product and are consequently checked by regulators who demand changes in order to meet compliance standards. Why not stay one step ahead? Regulation may become a more integral part of developing new initiatives in the near future if what the panel suggested holds true.
However, from the point of view of regulators, it can be almost impossible to stay up-to-date on technological development. It is part of the status quo that regulators play catch-up to trends, addressing problems and encouraging growth in promising areas as they see fit. This creates a problem: how can regulators bear the burden of ensuring that an entire industry is compliant when that industry is dynamic, cross-disciplinary and profit-sensitive? The panel considered a few solutions, which in tandem could lead to improved regulatory involvement in DFC.
The "sandbox" approach, for instance, allows businesses to develop and test technology with input or supervision from regulators in real-time. Also, given the cross-cutting nature of DFC businesses, regulators of different sorts (e.g., financial services, telecom, data access) would likely benefit from increased coordination. Finally, the panel noted that it is incumbent on the business community itself to practice "responsible innovation." This includes anticipating what social implications a particular DFC innovation might have, as well as following compliance guidelines as set forth by regulators.
The Summit closed with some thoughts from Mr. Levine. Sustainability, scalability and collaboration have replaced the hype cycle of years past. Impact and social responsibility loom larger on most organizations' radars than ever before. The maturation of the DFC ecosystem in Africa calls for a friendlier relationship between business and regulatory leaders, as well as recognition for the contributions of women in the space. So, with that, Mondato extends a sincere thank-you to this year's participants for the enthusiasm and curiosity which fueled our sixth African Summit.
© Mondato 2019
Image courtesy of Paul Saad
Click
here
to subscribe and receive a weekly Mondato Insight direct to your inbox.