Women In Charge: A FinTech Business Case
~9 min read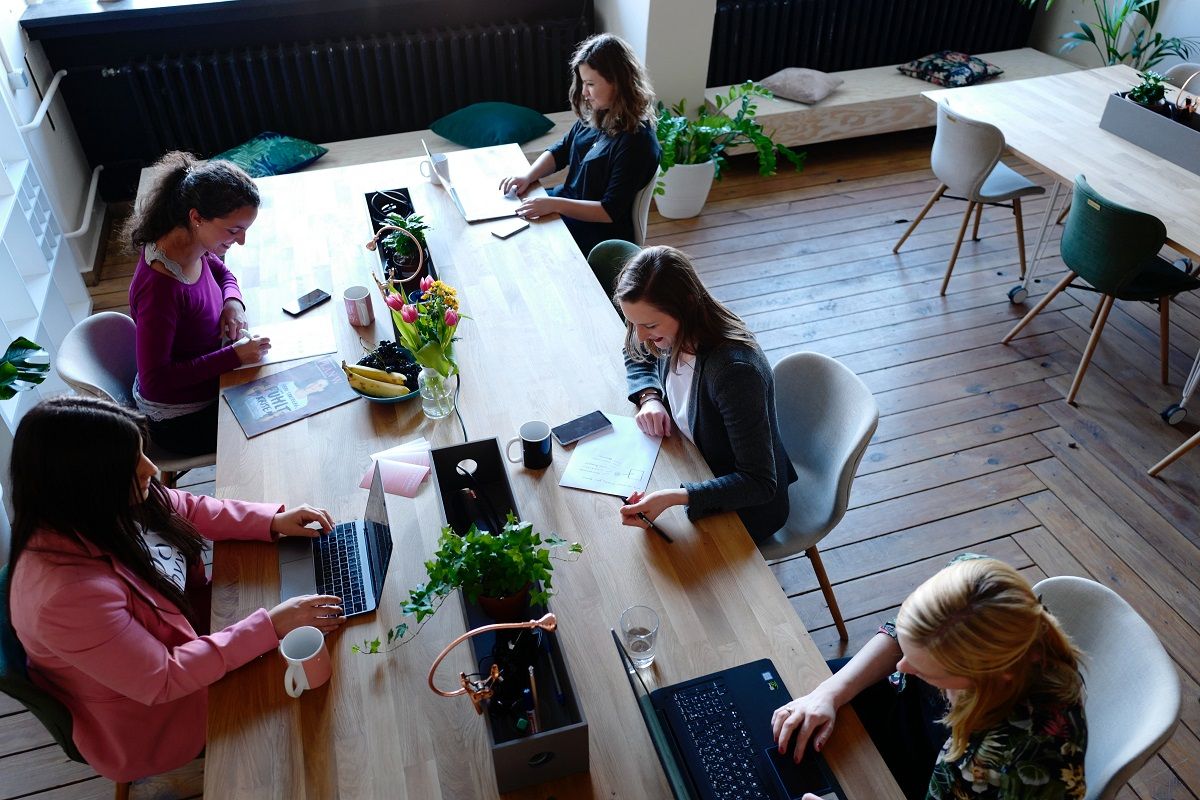 Is the role of women in the workplace a question of corporate social responsibility, or also one of competitive business strategy? Research on diversity in the workplace, and especially in executive leadership, increasingly shows that gender equality is not just a matter of the "right thing to do," but is actually correlated with higher profits and value creation. However, the leadership gender gap persists in many sectors, including finance and technology where women occupy respectively just 27% and 19% of C-Suites. Given that women produce strong results, but have yet to capture an equal share of leadership positions, what will it take for this imbalance to correct itself, and for the fintech industry to wake up to the promise of women-led firms?


Fin + Tech
At the intersection of two historically male dominated sectors, fintech as a whole has failed so far to buck a significant gender gap, even after years of rhetoric stressing the opportunities presented by fintech to level the playing field both in terms of corporate culture and access to financial services. While fintech hasn't yet achieved its touted potential on the gender front, doing so could unlocking the huge untapped market of women currently unsatisfied or underserved by their current financial services and products. For these same reasons, female leadership in fintech matters.
How big is the gender gap in tech entrepreneurship? According to an OECD report, only 15% of startups in OECD and BRICS countries have at least one woman on the founding team, while exclusively women-led startups comprise just 6%.
Women entrepreneurs in fintech face barriers from the get-go, even as early as the first attempt to fundraise. Analyzing data from Crunchbase, the OECD report highlighted two key findings about the funding gender gap. First, it only takes one woman on a startup founding team to tank the probability of securing funding by 5-10%. Second, those women-led teams who do succeed receive on average one third less in funding than their all-male counterparts. And while women with high achieving educational and professional backgrounds can overcome the issue of securing any funding, the difference in the amount of funding doesn't budge.
Despite recent hype about investing in women founders, venture capital dollars in the United States still go overwhelmingly to male founders. All-women startups received just 2.8 percent of the $136.5 billion dollars venture capital firms invested in 2019, an astoundingly small slice of a very large pie.
While this figure is still tiny, it actually marks a step forward for women founders. All-women teams in the U.S. have gone from raising $2.1 billion in 2017 to $3.3 billion in 2019, representing a 57% increase in just two years. While growth is good, investment in women founders cannot continue to creep along in the single digit percentiles of venture capital investment portfolios if the gender gap is to be adequately addressed.
Although venture capital is not the only way for a startup to become a successful enterprise, nor is it by any means a definitive predictor of success, research shows such funding is increasingly important. The OECD cites that 42% of public companies founded in the United States between 1974 and 2013 were backed by venture capital. And in no sector is venture capital funding more important than in technology, where VC-backed firms boast approximately 75% of the software and computer-related services industry market capitalization.
Several venture capital firms have cropped up over the last decade seeking to close the gender gap in the make-or-break industry in which only 26% of firms have a female partner. These gender-lens firms make investmests exclusively or with preference for women founders, and sometimes women-oriented products. One example of the former type is the Female Founders Fund, which was established in 2014 with an all women team and invests in early stage technology companies with women founders. The firm has raised $59 million since its opening and invested in 57 women-led startups.
But the firms who back female teams are concerned with more than optics. Research increasingly shows that it pays to back firms with women in founder and executive-level roles. The famed venture capital firm First Round behind the likes of Uber and Mint made a splash when they highlighted the success of their female founders in a 10 year anniversary report. The firm found that "companies with a female founder performed 63% better than our investments with all-male founding teams."
First Round's findings are consistent with broader industry-wide research which confirms that women's leadership means as much to a company's bottom line as it does to branding. A recent McKinsey and Company report on inclusion and diversity surveyed over 1,000 companies in 12 countries, finding that the top quartile of companies, in terms of gender diversity, were 21% more likely to have above-average profits compared to the bottom quartile companies. Moreover, the report found a statistically significant penalty for companies with the least diversity in leadership.
Importantly, the report highlighted that it matters whether these leadership roles are line or staff positions. Line roles are those that have direct impact on the core business strategy and innovation, whereas staff roles are supportive or operational positions like legal, accounting, and human resources. In order for firms to reap the reported benefits of gender diversity, women must occupy positions from which they can influence the direction of the core business.


Better Product, Bigger Market
Fintechs in particular stand to gain from women founders and executives. Women are widely acknowledged as an untapped market for financial services, especially in the developing world and in policy conversations on financial inclusion. However, one of the hurdles to accessing this market's potential is that traditional financial products and services are "gender-neutral." Again and again, studies have shown that in the financial sector, gender-neutral effectively means male-centric. As fintech stands poised to revolutionize so many areas of finance, the needs of women users may serve as guidelines for inclusive product design more broadly.
Designing better financial products for women doesn't mean adding pink fonts or offering separate products and services, Women's World Banking says. In general, women potential customers ask more questions, demand more product information, and rely more on peer review before making purchases relative to men. This makes them a suitable user group for product design and testing:
"Women are more discerning customers because they have much more to lose if a financial product does not work for them. They need to understand how it will specifically benefit them, but also what systems of recourse they have if things go wrong."
Catherine Highet, Technology Lead, FinEquity
Addressing these preferences would result in further inclusion of women without alienating male customers. In many instances, designing with women in mind results in a stronger product and overall customer experience.
This point of view is in line with what Ben Schack, Head of Digital Partnerships for BMO Harris Bank, said to Mondato about the women-led fintechs in the bank's new WMN•FINtech program, launched in April this year. The bank has offered mentorship and support to select fintech startups with at least one woman on the founding team.
"Our intuition told us that companies led by women would be more likely to consider women's needs in the design of products and services, an idea informed in part by the work of Caroline Criado Perez and others. The companies that applied for the program this year reinforced that idea – and then some. The solutions seem to reflect more consideration of everyone's needs – not just women's. We saw solutions for those with special needs, for lower income consumers, the elderly, and more."
Ben Schack, Head of Digital Partnerships, BMO Harris Bank


A Community Effort
CEO of Women's World Banking Mary Ellen Iskenderian illustrated this diversity of the women segment for the fintech industry and indicated the two subsegments with the most marktet potential on a Roll Call podcast this week. She noted that fintech, somewhat paradoxically, is especially attractive to both very wealthy and very poor women. "We have a wonderful bank in Nigeria that's part of our network and they said that the two client segments that they probably serve the most efficiently digitally were first their very high end clients, and then their very low income clients because there was a service efficiency issue at the high end and a real transaction cost concern at the low end."
Even in developed countries where the financial inclusion gender gap is small in terms of owning a bank account, women are often dependent on male spouses when it comes to investing and financial planning. A 2019 UBS Group report studying women with assets over $250,000 found that this trend is actually increasing among millennial women globally compared with previous generations: 59% of women aged 20 to 34 defer to their spouses, up from 54% of women over 50. Even in the case of upmarket financial services, women represent an unaddressed market.
Although democratizing investing has been a popular fintech endeavor, few have made pointed overtures to women specifically. An marked exception is Ellevest, a robo advisor much like Betterment or Wealthfront, that has made redressing gender gap in savings and investing both its core business and its brand as something "built by women, for women." In practice, the product differs from its gender-neutral competitors in the algorithms it uses and goal-setting optionality. It claims that its robo adivising is based on a gender-specific salary curve, placing the average woman's peak salary at 40 years old, earlier than men's at 50.
By contrast, it is impact investors and nonprofit foundations targeting the subsegment of the low-income women in low-income countries, leveraging fintech as means to close the financial inclusion gender gap. DFS Lab, for example, invests in early stage fintechs in emerging markets and offers a Female Focused Fintech prize for startups prioritizing women in their products and business models. The prize is offered in partnership with other venture capital firms and foundations with a stake in financial inclusion, including Flourish, FinEquity, and Women's World Banking.


Inclusion Through Investment
Although many investors in fintech startups that offer products and services to poor women are from the impact investing and nonprofit spaces, this doesn't mean these aren't profitable businesses in their own right. The MIX Center for Financial Inclusion published benchmark findings from data collected by the 2019 Inclusive Fintech 50, an initiative that supports early stage fintechs with high potential impact on financial inclusion around the world, that support the notion that women-led fintech startups are, on the whole, more profitable.
Among the early stage startups surveyed, MIX found that those led by women had a 67% higher average revenue per customer than the average of those led by men. Although women-led companies also had average customer acquisition costs, the net average profit per customer for women led startups was still 35% higher (based on the difference between average revenue per customer per month and the average cost per customer per month).
Despite these promising outcomes, the extended White Paper, which includes data from the much larger applicant pool of startups, shows that women-led startups in inclusive fintech received significantly less funding than their male only counterparts at each funding round except for Series A and angel investment. Women-led startups raised fewer dollars on average from personal funds, grants, seed rounds, and Series B. These findings are consistent with those of the OECD report on startup funding throughout the technology sector when women do receive funding it is on average for less than what the average all-male team receives.
So, the verdict appears to be in: women-forward innovation in fintech is not only profitable, but also impactful for women across the socioeconomic spectrum. Investors and leaders in the fintech industry should acknowledge that both the impact and business cases for the financial inclusion of women will be best leveraged when women are in the driver's seat at the companies themselves, and that women-friendly product design guarantees user-friendly product design:
"When we treat women as a market segment, we run into problems – we are talking about more than half the world's population, who have diverse lives, wants, and needs... successful women-focused Fintech and DFS needs to be designed with women – and not just any women, but those who will be using the products/ services."
Catherine Highet, Technology Lead, FinEquity
Remembering and acting on the importance of women's leadership in fintech beginning at the founding level will be important as aspiring entrepreneurs and investors weather the current financial crisis imposed by the COVID-19 pandemic. Although venture capital firms may be making fewer investments in the coming months, analysts are predicting a future investing environment that has the potential to be favorable for the women of fintech.
Extending into the post-COVID-19 world, there will be increased demand for services like fintech that reduce the need for face-to-face interaction and move essential transactions to digital platforms. Pitchbook also predicts more deals conditional on financial milestones and preferences for startups that will turn profits sooner. The data shows us that entrepreneurial women possess the track record that matches the moment. The challenge, as always, will be for women to fight for their fair share.
© Mondato 2020
Image courtesy of CoWomen
Click
here
to subscribe and receive a weekly Mondato Insight directly to your inbox.