Zimbabwe's Cash Crunch: Boom Time for MNOs
~5 min read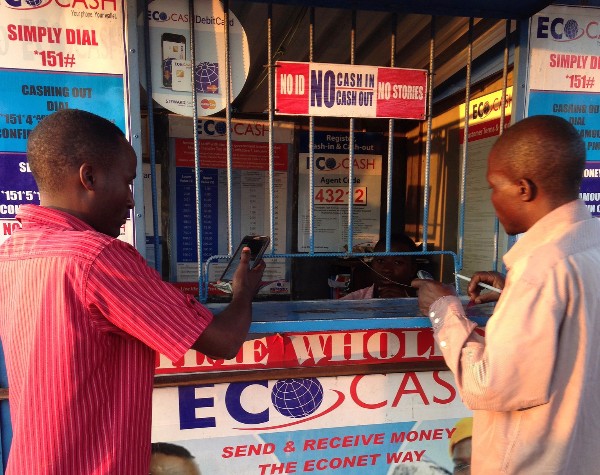 When historians assess the legacy of Zimbabwe's recently ousted president, Robert Mugabe, they will have plenty of material to put in the "negatives" column to balance against his leadership of the country's national liberation struggle against white supremacy. In particular, Mugabe's stewardship of the country's economy, including the disastrous hyperinflation that led to the country abandoning the Zimbabwean dollar entirely, will surely lead to strong censure. Still, it's an ill wind that blows no good, and in Zimbabwe's case, the cash crunch created by the economy's basket-case nature has been a boon for MNOs, who have seen mobile money revenues partially offset losses caused by broader economic stagnation.


Live Life The Ecocash Way
As Mondato Insight noted a few years back in an examination of the country's largest and dominant MNO, Econet, the struggle for a private MNO license in the 1990s between Robert Mugabe's government and Strive Masiyiwa, Econet's billionaire founder, played an important role in liberalising mobile phone markets across Africa. It also set the stage for Econet to develop and grow one of the strongest and most diverse mobile money ecosystems in the world. In addition to telecommunications and internet services, Econet Group has interests in solar energy, e-commerce, education, solar energy, bottling and hospitality.
EcoCash commands a hefty 99.8% of the mobile money market share... At 6.7 million subscribers EcoCash has 4.7 million more than banks have. That 6.7 million figure represents 80% of the adult population in this country or 52% of the whole population.
Techzim
Additionally (and crucially for its mobile money services), it also acquired Steward Bank in 2013, which allowed Econet Wireless to operate in partnership with a fully "in-house" financial institution, thereby overcoming many of the problems of misaligned incentives and conflicting interests that bank-led mobile money deployments have seen elsewhere, such as in Ghana.
While the hyperinflation that culminated in the abandonment of the Zimbabwean dollar in 2009 created widespread economic distress, a shortage of foreign coins and small-denomination bills in the country created a powerful on-ramp for mobile money adoption that allowed Zimbabwean consumers to receive their small change in a digital medium of exchange, rather than in the form of candies or condoms, as had sometimes been the case.
Consequently, Econet and its mobile money deployment Ecocash dominate their respective mobile phone and mobile money markets in a manner that perhaps only Safaricom and M-PESA could rival. And while Safaricom has entered into fruitful partnerships with a number of Kenyan banks to provide M-PESA customers with financial services beyond P2P transfers, Ecocash and Steward have, in partnership, made inroads into filling the gaps in interoperability and coverage in the holy grail of mobile money ecosystem growth: merchant payments. The result has been mobile money taking 12.5% of electronic payment value in the country by the middle of 2017, made up of over 70% of total payment system transaction volumes.


Frenemies?
Steward Bank has significantly expanded its network of POS card machines, reflected in the dramatic growth in POS in Zimbabwe from under 5000 in December 2013 to 16,300 in December 2015 and almost 21,000 by July 2016. Steward Bank POS can carry out card-to-mobile-wallet transfers from any bank card connected to Zimswitch (the national switch), including those that previously were not interoperable with Ecocash. This both makes it easier to fund mobile wallets by avoiding clunky USSD gateways, and helps bridge the gap between mobile and card payments.
Most significantly, however, "Swipe into Ecocash" removed entirely the need for the cash aspect of "cash-in", thereby relieving demand on the cash supply in the economy more broadly, and reducing the pressures for cash float faced by mobile money agents everywhere, but exponentially more so by Zimbabweans. Several of the country's banks including Ecobank, Standard and Barclays were not connected to the Ecocash network, meaning tranfers between mobile wallets and bank accounts were not possible for account holders with these institutions.
"Swipe into Ecocash" also created, as a side effect, a degree of cashless interoperability between the country's three mobile money deployments, as each of Ecocash, Telecash and OneMoney's mobile wallets come with a connected debit card. Although direct wallet-to-wallet transfers remain impossible, customers are now able to transfer money from Telecash and OneMoney into Ecocash by swiping at an agent or merchant terminal. Conveniently for Ecocash, travel in the opposite direction was not possible.
It is clearly entirely speculative to wonder whether a state-owned MNO would have delivered a mobile money network that was anywhere near as effective as Ecocash in meeting Zimbabwe's cash shortage, but it is difficult not to conclude that Ecocash's reach and effectiveness helped to mitigate some of the negative effects of Mugabe's economic mismanagement, and as such may have helped to prolong his tenure in office. Indeed, despite Econet's rocky start, the company came to have government support, even as the ZANU-PF government owned one of its two minnow rivals and brought the other into public ownership. As Ecocash's CEO recently commented on CNBC Africa,
The [government] of Zimbabwe has worked tirelessly and has worked in a very committed manner with us to date. That's the very reason why we have been able to drive financial inclusion. We require the commitment of government to continue the good work that we have been doing.
Natalie P. Jabangwe, Ecocash CEO


Swimming in Money
Nevertheless, it is generally accepted that the combination of a general cash crunch (in particular a shortage of U.S. dollars and its "homemade" Zimbabwean equivalent "bond notes" that circulate alongside digitally denominated dollars nicknamed "zollars") in recent years and (accurate) perceptions of corruption and flagrant extravagance in Mugabe's family and inner circle, set against a backdrop of continued economic hardship for the vast majority of Zimbabweans, were crucial factors in precipitating Mugabe's downfall. But for Econet Wireless's Ecocash, as well as NetOne and Telecel, the cash crunch left them, in the words of Techzim "swimming in (mobile) money".
Q3 numbers from POTRAZ, the country's telecom regulator, showed a 15% increase in mobile money subscribers across Zimbabwe's three MNOs. This comes barely a year after quarterly reports looked much more grim due to sharply declining voice revenues. Cumulatively, mobile money accounted for 18% of MNO revenues, posting a 4.9% growth on the previous quarter that mirrored a 4.9% decrease in voice revenues and a puny 0.3% increase in revenue from data. Although the trend is clear, the increasingly vital role that mobile money plays in Zimbabwe's economy when cash is hard to come by is further highlighted by the huge increases in cash-in and cash-out (meaning funding of mobile wallets, not necessarily by cash, up 36.1% and 27.9%.) And it is particularly noteworthy that these jumps occurred before Ecocash launched its "Swipe into Ecocash" functionality, holding out the prospect of further, even more profitable numbers, when end-of-year numbers are published.
So, while no-one knows what the future holds for Zimbabwe under its new leadership, the Zimbabwean economy that emerges from the ashes of the Mugabe years will have a very different shape from that of the country he took control of. And while few can be satisfied with the shape Zimbabwe is in today, its adversity has forged the country into a cashless, digital-money leader, allowing its dominant MNO to hold its own even in difficult times. The country has a long way to climb back to its former reputation as the "breadbasket of Africa", but in the meantime a new, 21st-century reputation as one of the "digital wallets of Africa" might be better suited. With Econet at the center, Zimbabwe's mobile money ecosystem is demonstrating that it truly is an ill wind that blows no good.
© Mondato 2018

Image courtesy of Kay McGowan, USAID

Click here to subscribe and receive a weekly Mondato Insight direct to your inbox.